Introduction –
With the restrictions in the UK almost gone for over a year, and most of Europe now fully open my head turned towards a long-distance flight, with the original destination planned as San Sebastian or Bilbao.
Initially, my planning was for April, however, due to the weather and some restrictions in France and Spain, I elected to wait it out till May and enjoy better weather, and a return to Barcelona having not visited in many years.
This also meant I had a passenger for the trip and so we looked at the planning together with Ryan concentrating on the location of our stay for the weekend including any transfers that would be required, allowing me to put all my efforts into the flying and the determination to fly it wholly IFR. I'd never flown to Spain and was very keen to do this trip before making the big journey to Ibiza which incidentally was originally scheduled to take place this weekend. This trip had now been moved again till August, as the party season begins in the later part of May.
Airport Choice –
There are 4 airports within the Barcelona area that would be doable. One is Barcelona El Prat itself, the other is Sabadell (VFR only) to the North of the city with Girona and Reus which are at least an hour away by train, in the nearby vicinity.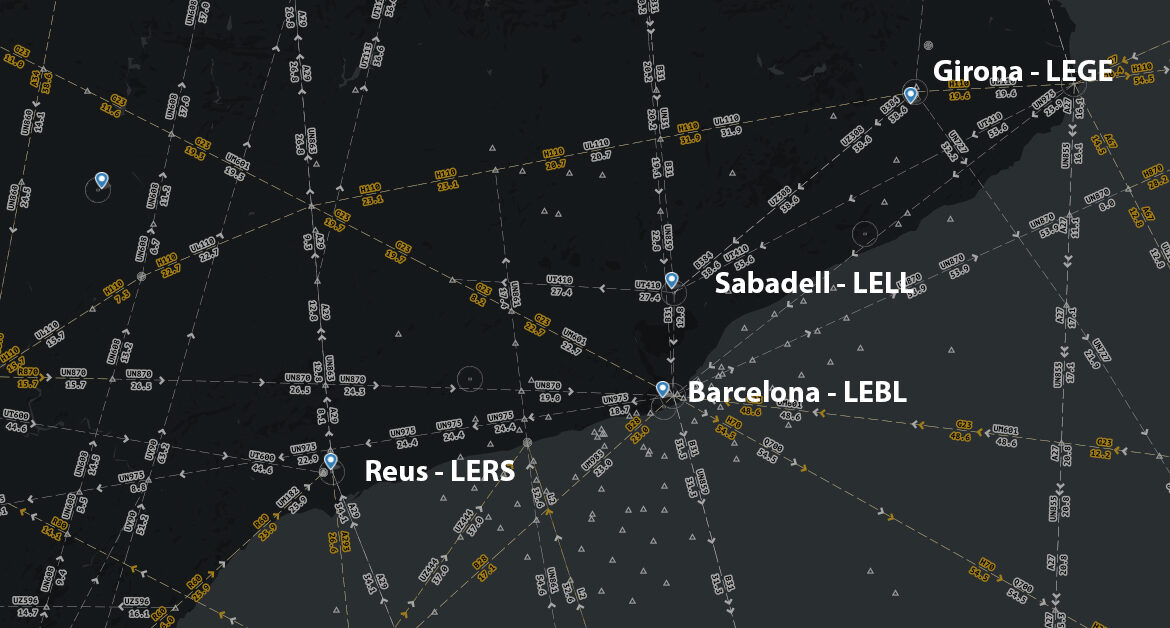 ---
Barcelona El Prat is the second largest and second busiest airport in Spain, and the sixth busiest in Europe located roughly 9.3 miles (15km) southwest of the centre of Barcelona. Whilst planning this trip, the airport was a choice but the cost was extremely prohibitive and on March 24th AENA announced that no SET nor any aircraft < 2000 kg MTOM are allowed to fly in or out of El Prat, which puts a complete stop to the idea of a visit in G-ZANY.
Reus Airport is roughly 55 miles from Barcelona and would mean almost an additional 30 minutes of flight time, and is more popular for those visiting the beach resorts of Salou and Cambrils.
Sabadell Airport is 12 miles (20 km) north of Barcelona and is an extremely busy GA airfield with 150,000 movements per year. I was a little put off by the article written by Peter of EuroGA that he had to spend a short time descending in a holding pattern above the airport to convert from IFR to VFR, the latter of which outside of the UK/France I was not familiar with.
I was extremely keen to fly this whole trip IFR for the purposes of experience and to gain confidence and so I looked at Girona. Girona Airport is used as an alternative airport for Barcelona as well, even though the airport is 46 miles (76km) north of the centre of Barcelona. The airport is well connected to the Costa Brava where we would eventually plan to reside.
The airport has good alternatives on the other side of the Pyrenees and a selection of airports that could be used in emergencies. The selection had more to do with my comfortability rather than strictly just flying IFR and I wanted to do the journey direct, so having a fully capable airport within the range of the aircraft was ideal.
The choice was Girona-Costa Brava Airport but work on the handling and approvals from AENA was next before this trip could get the go-ahead.
Airport Quotation –
In order to fly to Girona, one must take a detailed and thorough look at the AIP – this can be found online. The key things to look at are operational hours, customs, and immigration along with any remarks pertaining to General Aviation Traffic specifically IFR/VFR depending on preference.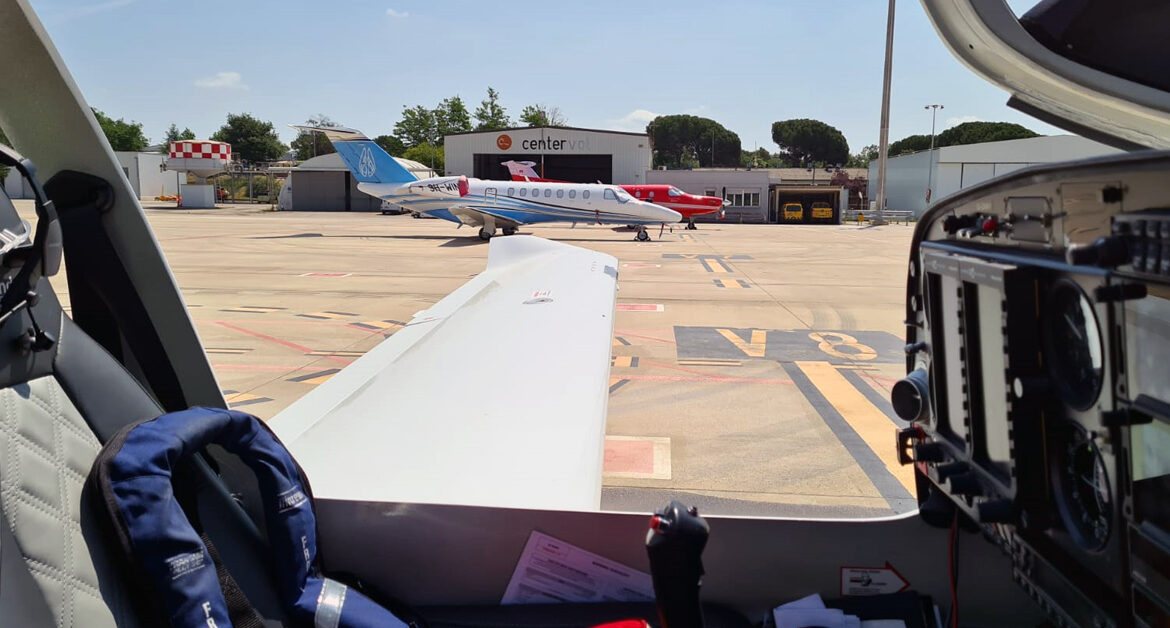 ---
It is noted that prior permission is required from AENA before operating the airfield at least 3 HR prior to operation. Although I didn't ignore this part, I went straight to the handlers to check on their availability and concluded that it was mandatory as per the AIP.
I contacted all handlers and all responded except one or two. Iberia did not respond and I was hoping for them to respond to our email as they are likely to offer the "Servicio de Acompañamiento" – they all wanted almost 300 EUR for all contact with us.
We did ring Iberia with a Spanish translation on hand and eventually got a response to our email, where we were given a budget of €24.41 EUR x2 for Ramp Handling and x2 transport of €7.74 EUR + an additional €20 EUR for the cost of security pass x2. This was a lot more than the expected cost set by AENA, however, was a lot cheaper than the other handling agents.
Iberia needed details of the fuel handler and requested as per the AIP that we sought permission from AENA to operate to/from Girona. So, without due delay, I contacted AENA and got a response of approval from AENA with a CC to Iberia in an email. Although no slot is required from the coordination office in Madrid for a visit to Girona, this process was still required locally by the airport.
The refuel company was a little harder, as there was no response to any emails, however when ringing them with a Spanish translation at hand, they thought we were at the airfield today. So, we didn't bother too much with the refueler as we were sure that Iberia would "Handle it".
We also had to fill in a GENDEC, which was kindly provided by a user on the EuroGA website which is of the ICAO standard. We sent this as soon as possible to Iberia who would use it and forward it to the relevant authorities.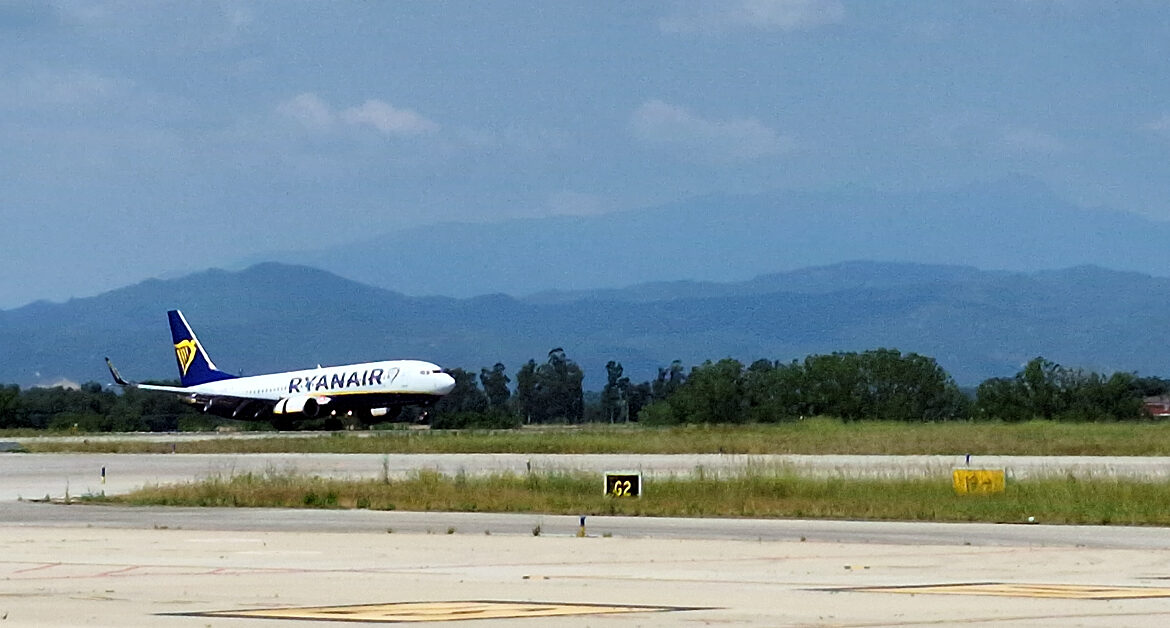 ---
My personal opinion is this seems like a lot to take in, but unfortunately, this is what is required if you wish to fly from A to B, with B being a Spanish airport near one of the busiest tourist locations in the world, but I quite like the challenge of organising everything for a memorable trip.
This left just the accommodation once we knew we had our eyes set on a destination, which also had reasonable options in case of a cancellation of the GA flight, which can still happen, even if you have an Instrument Rating.
Choice of Accommodation –
After a little deliberation on whether we would stay at Barcelona itself or treat ourselves to a more luxurious yet cheaper hotel with a pool in the Costa Brava, Ryan my passenger for the trip got to work on looking at hotels as he proclaimed to be an 'expert'. He quickly found two Aqua hotels located in Santa Susanna, and I then choose the one with the most reviews and highest rating.
We stayed at the Aqua Hotel Onabrava & Spa from May 20th till May 23rd, which was a total cost of £419.37 for the two of us for the 3 nights. This is £69.90 per night per person. The hotel is conveniently located 30 minutes from Girona Airport.
Within the vicinity of the hotel are the beach, many restaurants and a railway with a decent service even on a Sunday to/from Barcelona city centre.
Normally one would book the hotel with free cancellation at least till 14:00 the day of arrival, however, the option that was available was at least a week in advance of when we would not get a full refund if we cancelled. We took the risk, with an alternative being an airline flight and the weather looking half decent a week out, although that's still a gamble one can take.
Oxygen System –
On this flight, we used a Mountain High System AL-647. This is the first time I had ever used supplementary oxygen and received a full briefing from the owner along with some additional self-learning of all the functions. The bottle is 3.8kg or roughly 4kg with its padded cylinder carry-on.
I invested significantly in an MH-3 Flowmeter which is calibrated for use with the Oxymizer™ cannula. With the MH3 oxymizer cannular, you can specifically set the flight level/altitude to the desired level to save Oxygen consumption. According to the cylinder duration chart, at 10000ft one individual bottle will last 26.9 hours, and at 15,000ft – 14.8 hours. For any other figures, it's important to interpolate to get a rough figure for the set attitude.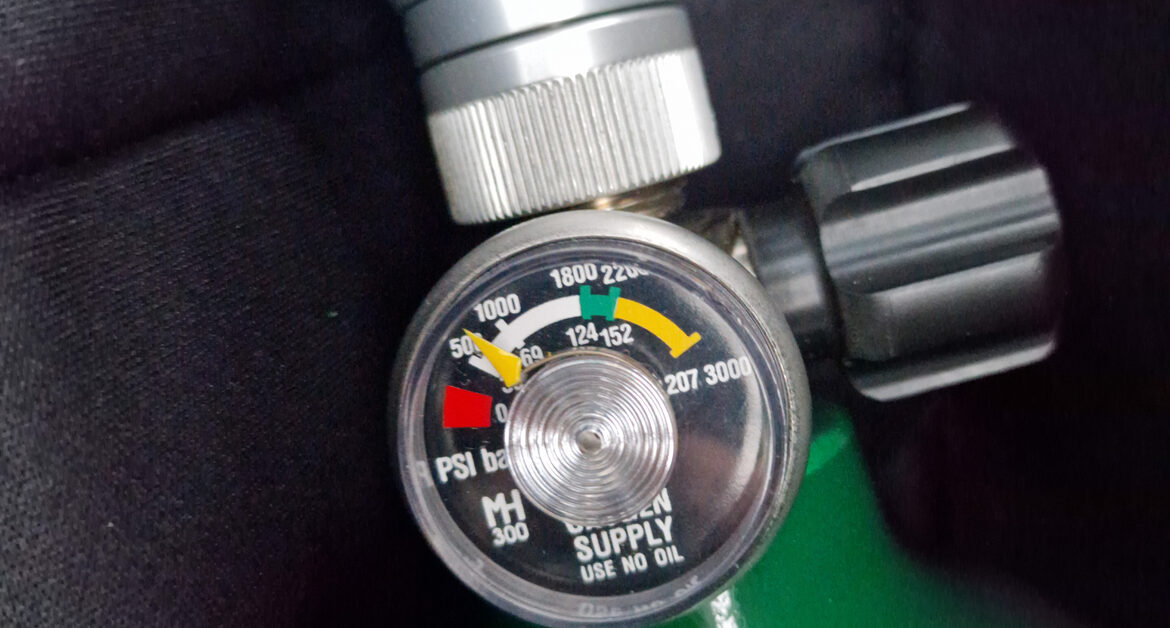 In the days leading up to this trip, it was proving very difficult to fill the Oxygen bottle with many places not accepting to fill an aviation bottle or having the correct connection. Many locations had the British Standard, but we had a US connection with a US-to-EU adapter. Very peculiar but worth noting for future reference as that then opens more locations for filling.
This setup proved its worth, allowing flights under the IFR system that would not have happened without it due to the vast distances flown above the weather. In order to further enhance safety and the ability to outclimb and fly further afield, I will invest significantly in a Mountain High O2D2 System (Incorporating an EDS, Regulator, and Glass-Fibre Filament Cylinder CFF-048). This is a 3,000psi cylinder giving roughly 83.6 hours at 10000ft or 40.5 hours at 15000ft with the EDS. The MH EDS provides oxygen only when you inhale, thus reducing oxygen consumption and doubling the duration available.
This trip probably wouldn't have been possible without the Oxygen System setup.
Change of Routing –
Planning for the flights I use Autorouter.aero and roughly 7 days out will give you the ability to see what conditions are forecast via the form of the GRAMET and an estimated en-route flight time which isn't very accurate, although occasionally can be. Confusing I know.
The quickest route was 4 hrs 30 minutes out of Stapleford via DETLING (DET) avoiding Gatwick and down via Le Harve, west of Paris and Limoges, Perpignan, before finally crossing into Spain via a waypoint called KANIG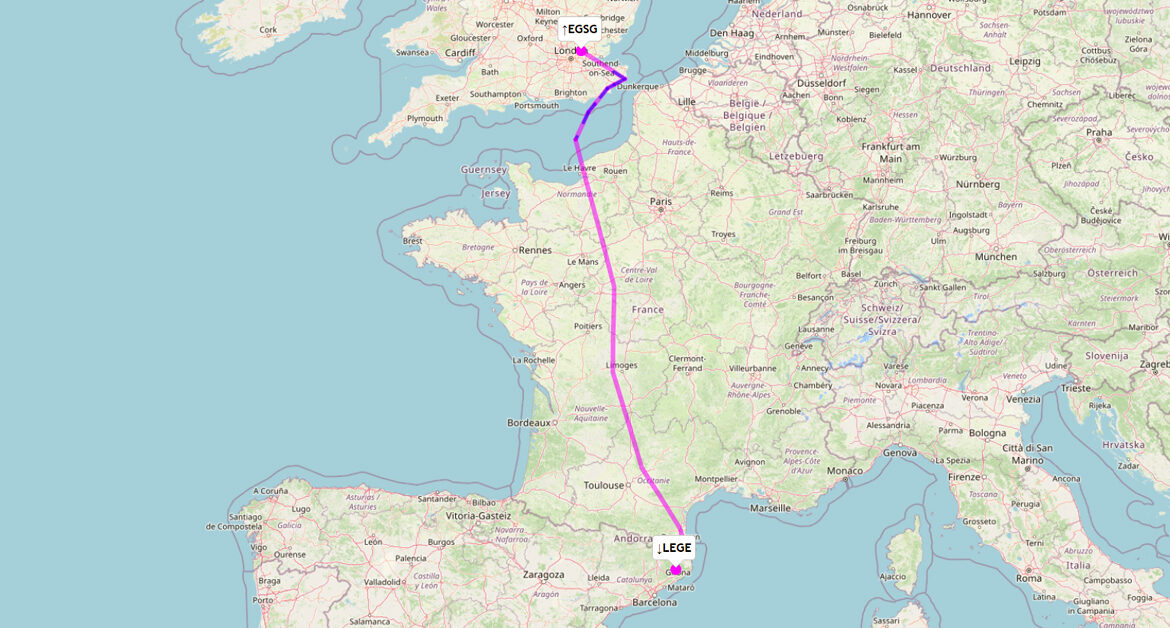 ---
As the day of the flight got closer and closer the weather became a little more impractical. We could either depart well ahead of the front early in the morning or depart after but face the difficulty of stronger than forecast winds which meant a longer flight or risk of a stop for fuel which would add almost an additional hour.
I'd been warned that flying in fronts isn't comfortable and have flown in a fair few weak affairs especially cold fronts in the Autumn and winter and it's not just turbulence you have to worry about, but icing, even in Summer.
Because of the stronger winds on the routing due west of Paris, I refilled via East of Paris which meant a delay due to the front and would put us into the mix of the next front which meant a fair amount of active Cbs. I initially elected to DLA my flight due to not wanting to fly in the front and be in thick IMC for an hour of the flight.
Once I placed a DLA message in the system, I got an ATC slot. This delay was fairly lengthy due to ATC capacity caused by the weather in the Paris TMA which we would fly through. I tried my luck by refilling an EOBT earlier than my second EOBT by deleting the flight plan and then filling a CHG message, to try to initiate a better slot, this gave us a worse slot but eventually, it got smaller by almost 2 hours of delay.
Whilst I made the mistake of refilling, never delete your flight plan from the CFMU system, because you'll get a new ID and thus a worse delay. Lesson learned, but incredibly frustrating for everything to go wrong on the day spectacularly.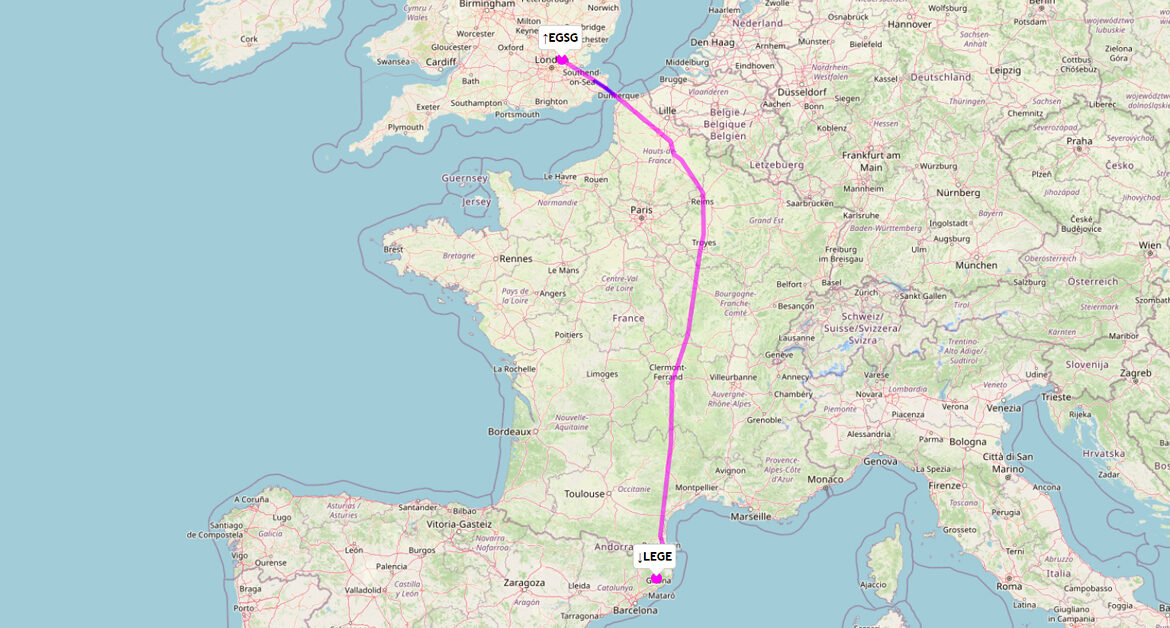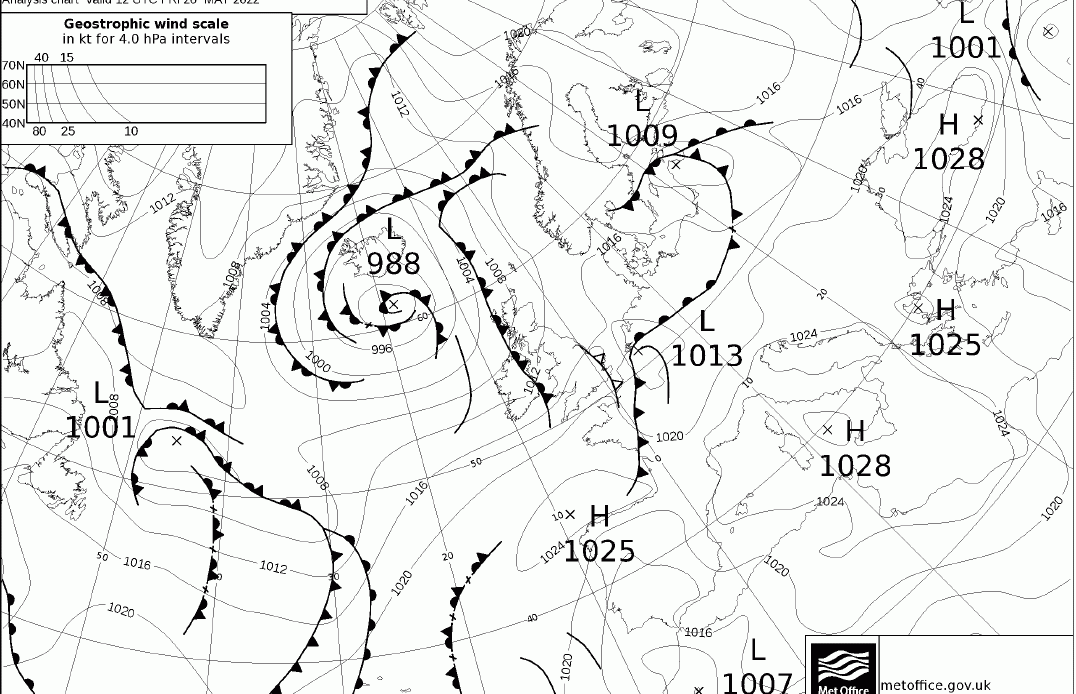 ---
Outbound Flight –
With our ATC slot slowly improving, we thought we would prepare ourselves for boarding. We taxied the aircraft over to the club parking as there was a spare spot and with nothing moving, we got our life jackets on and slowly prepared the aircraft.
When we elected to depart incidentally the weather had improved substantially and everyone from Stapleford Flight Centre also decided to start flying. We taxied the short distance to the runway and awaited our clearance.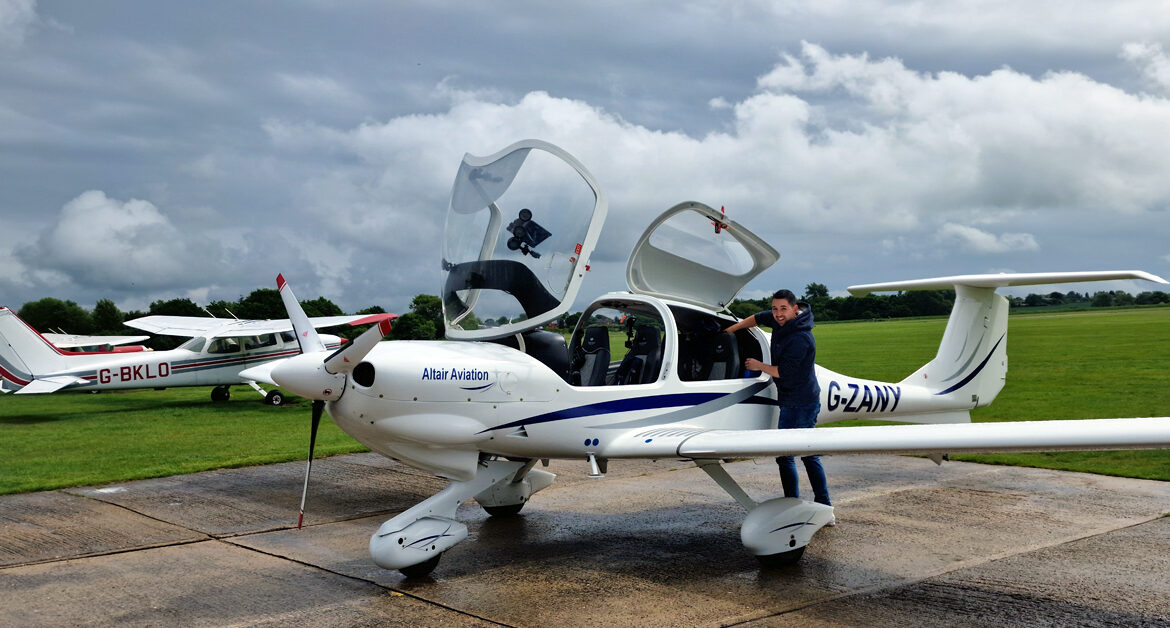 ---
There was some confusion with our callsign, and ATC couldn't find our flight plan. I opened up CFMU on the laptop and found our flight plan. I elected to ring Swanwick myself and the wrong callsign was given to them and thus they couldn't find it in the system. Eventually, the flight was found, and I got my release details in what was an unforeseen delay to an already delayed departure. I was getting heavily frustrated but had to now focus my attention on the flight at hand.
We lined up with the runway and departed towards the southeast and quickly changed over to Thames Radar where we were released too. We climbed up through a band of small, but relatively benign towering cumulus which made it a little bumpy.
We were airborne with a delay of 2 hours and 25 minutes from planned.
This was the first time with the oxygen system, so wanted to give us time. We were shortly when asked by London ATC to clarify our intentions which were to stop at FL110 to turn the oxygen on before our eventual climb to FL130 although this wasn't necessary as we were on autopilot and Ryan switched on the bottle.
We seemed somewhat paranoid because we'd both never used an oxygen cannular system to provide oxygen, but once we got the hang of breathing through the nose, something important to remember if you ever fly with oxygen and a nasal cannular.
With a tailwind of 40knots, we were cruising along in the climb at 120knots ground speed, which was totally unexpected. But as we quickly progressed towards France and enjoyed the views of the cloud below us, we had to make our plans to navigate around some convective weather in the not-too-distant future.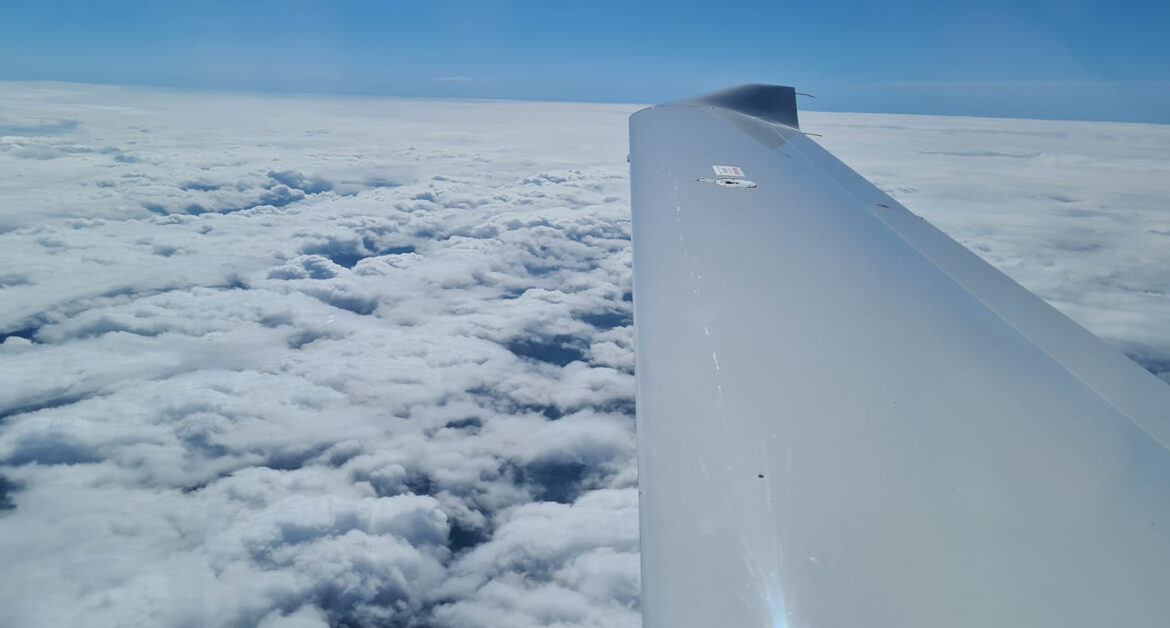 ---
Having very limited experience with both high-altitude flight and avoiding convective weather whilst at altitude I elected to play it safe and give the CBs a very wide berth. The frequency was very busy with airliners going into the main Paris airports and avoiding the weather, of which Paris Control had no problems. It's easy to see why they limit ATC capacity for the sectors involved, with the sheer amount of traffic requesting avoidance.
For the initial part of the cruise, the tailwind turned into a crosswind and 133knots in level flight was reached, but I quickly realised as my flight track would change, so would the wind direction relative to the aircraft direction and a slower flight speed would be attained.
We were quite keen to check our oxygen levels throughout the flight, but we were probably a little over the top for the first parts of the flight. My biggest concern was the total volume of the bottle, although we had sufficient oxygen for the duration of the flight expected and for the return.
The forecast winds, although not entirely unexpected were a lot stronger than forecast. At one point I referenced the fact, that what was forecast to be 52 knots across the aircraft was indeed 62 knots.
I choose the cautious side of flying my first flight with CBs, but as we continued further south, so did the towering cumulus structures below us, some even passing above us or rather worryingly in front of us as we passed over. With the relatively strong winds and the outflow from the storm clouds, we had a relatively lumpy hour or so, but nothing more than light chop.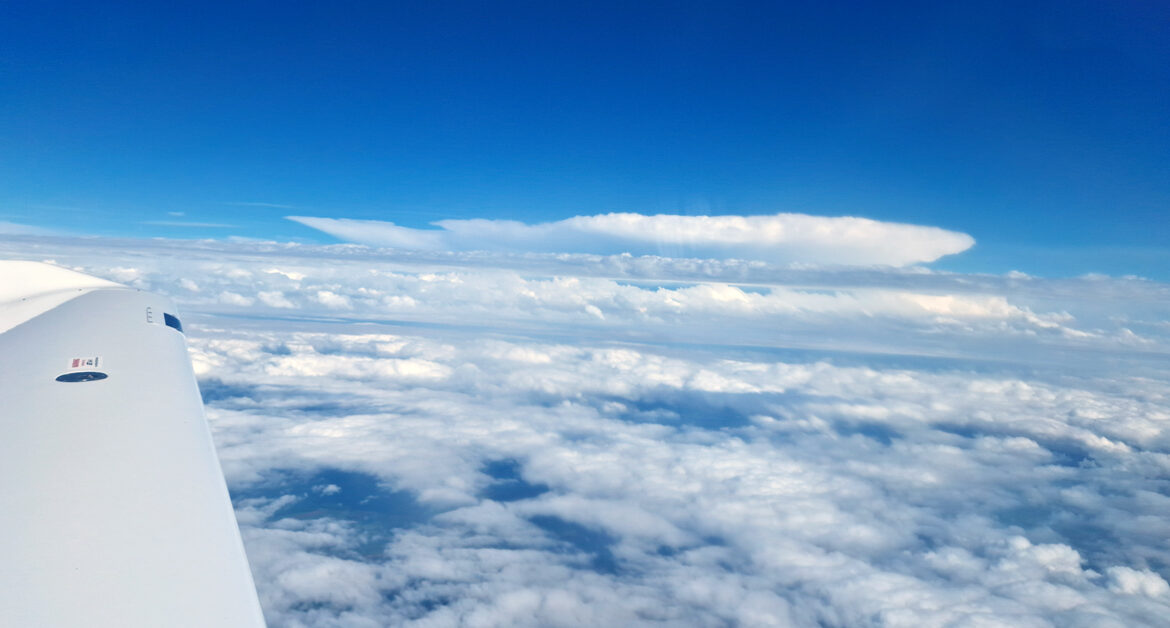 ---
We continued to get very close and personal with some of the weather, and I noticed the updraughts and downdraughts whilst on autopilot, which meant that I would lose airspeed or gain it. In one instance I lost 20 knots and had to apply full throttle and nose-down momentum to recover from the loss of airspeed. This was most likely due to choosing 60% power to reserve fuel, although my limited experience in the high-altitude environment.
I suspect with the strength of the wind coupled with the close proximity to the cells, it caused the aircraft to act in a way I'd never seen before. This was a very steep learning curve as I had to ensure we would not stall or overspeed the aircraft at high altitudes.
As we flew further towards the middle of France, the weather became more challenging, and perception meant I felt boxed in by the cumuliform below and the mid-level clouds above. We did not need to climb further or descend, and after a period of avoiding the weather and having a lower-than-anticipated ground speed, we continued to make further tracks for Spain. The visual perception was interesting, but you can always fly through it and hopefully don't pick up ice or fly a 180 out of the situation and re-access.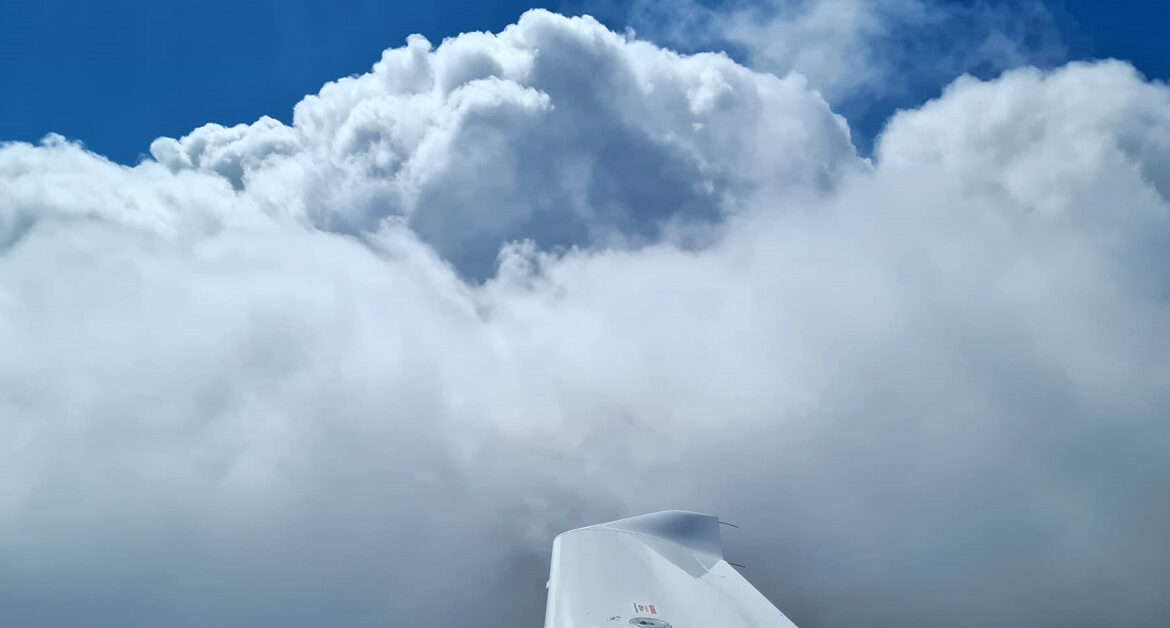 ---
ATC seemed to be very proactive in allowing weather avoidance, and we weren't the only aircraft being accommodated. ATC did routinely ask how long we needed the heading for and would also assist where possible with other requests. Once we got through a band of isolated CBs, some of which we believe were electrical we could continue with our filed flight plan.
By the time we had passed SW of Dijon, we were able to descend to FL120 to conserve oxygen. It then became a few hours of monitoring the fuel situation carefully as the predicted ETA was at the lengths of the endurance for the aircraft. One problem I created was by adding the alternate route and alternate aerodrome which then means the ETA at the destination is that of the alternate, not the destination. Confusing but makes sense as the GTN does not include the ability to set alternates and alternate flight plans. Although one could simply create the route and save it to the route database for future use, which makes sense especially if the weather at the destination is intense IFR and the last thing you would want to do is enter a route into the GTN whilst in solid IMC.
Once we were north of Clermont, we descended to FL110 where the Oxygen supplement was minimal. Due to the unforeseen delay in our departure, our ETA (once we got the gist of it) was after sunset, which meant I would be gaining an unexpected night landing on this trip. As the wind dropped off slightly, the ETA slowly pulled back but would fluctuate randomly throughout.
It really was the final push for Girona, and I carefully used my PLOG to estimate my landing fuel and that we would land with sufficient reserves for the appropriate weather. As we flew further south, the visibility reduced and even at our high level it was more difficult to see ahead. We elected to make a decent to conserve oxygen as it was mostly CAVOK, with very little in the way of clouds.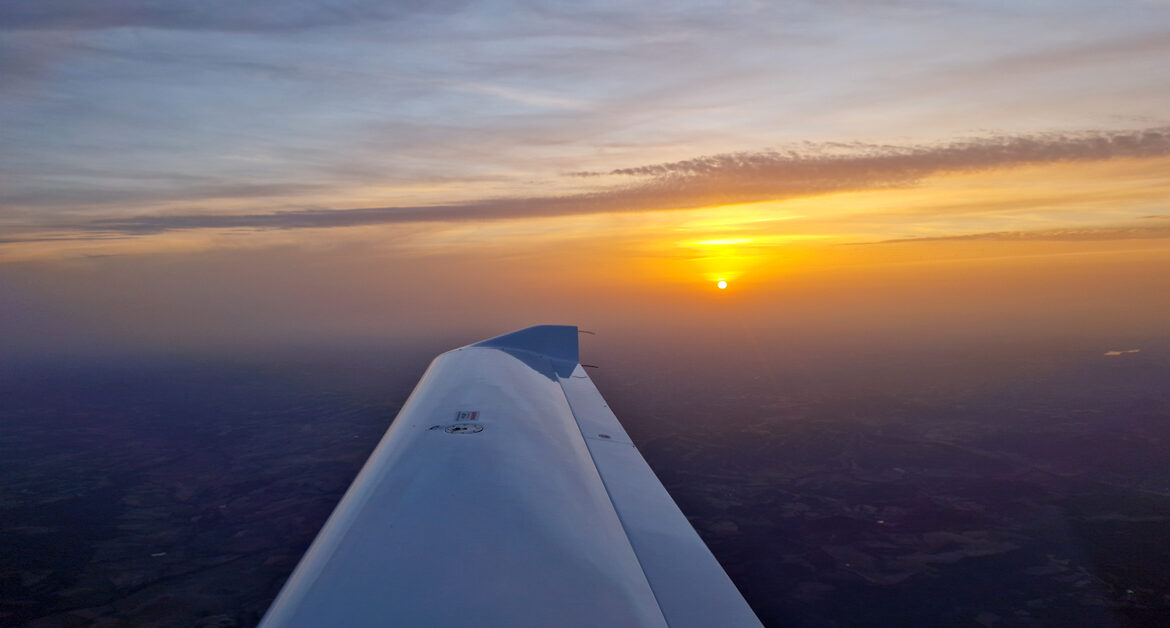 ---
Montpellier gave us a re-route due to what I believe were Military Airspace restrictions which meant a slight re-route to our west. As the sun went below the layers of the weather it reduced the visibility even greater and thus, we were definitely IFR with no visual reference to the horizon. After a quick look at the ground below and the wind finally dropping off, we were now chasing down our ETA into Girona and a further descent to the lowest level possible before our arrival over the Pyrenees.
With an hour to go, and some visible daylight we could see the French Coast and the Med, a sense that we had flown from one end of France to the other and the journey wasn't yet over. In the murky haze we could just make out the mountains, and this made me nervous.
I had the ability and time to enable some additional features on the Aspen Avionics showing the terrain and adjusting the cockpit lighting for the landing. The autopilot comes into its own here as is effectively flying blind with the terrain surrounding and the haze making for an interesting approach.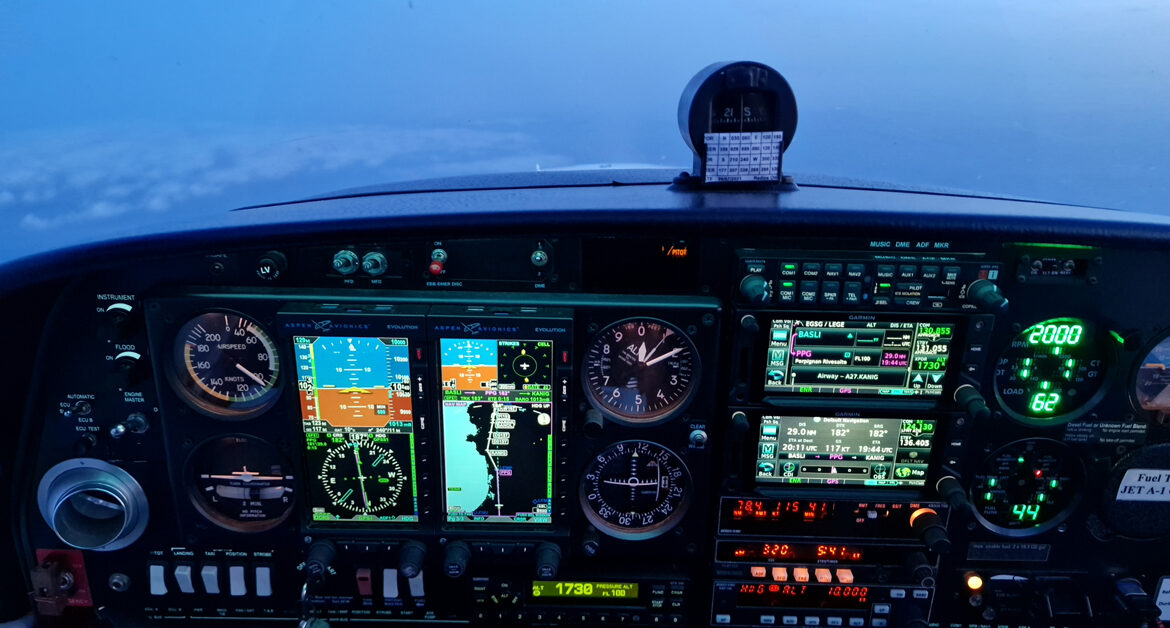 ---
After a very quick handover to Barcelona Radar, we were making our descent towards Girona, it wasn't long before we were transferred over to Girona approach, a probable fluke but a perfect continuous descent approach, the aircraft perfectly glided down towards the ILS and captured perfectly with my commands of the vertical speed (albeit with minimal changes).
I still couldn't see the runway lights in the haze, so had ATC turn up the intensity to help as this was a very different yet pulsating experience of flying into Spain at night. I kept the speed up before slowly reducing it to 90 knots. Unfortunately, I didn't pitch up enough to maintain the glide path and dipped below slightly once passing the decision height.
Whilst the lights were pretty impressive to an extent and did assist with landing, they became fairly intense very quickly and meant concentration after 6 hours airborne was a tough undertaking.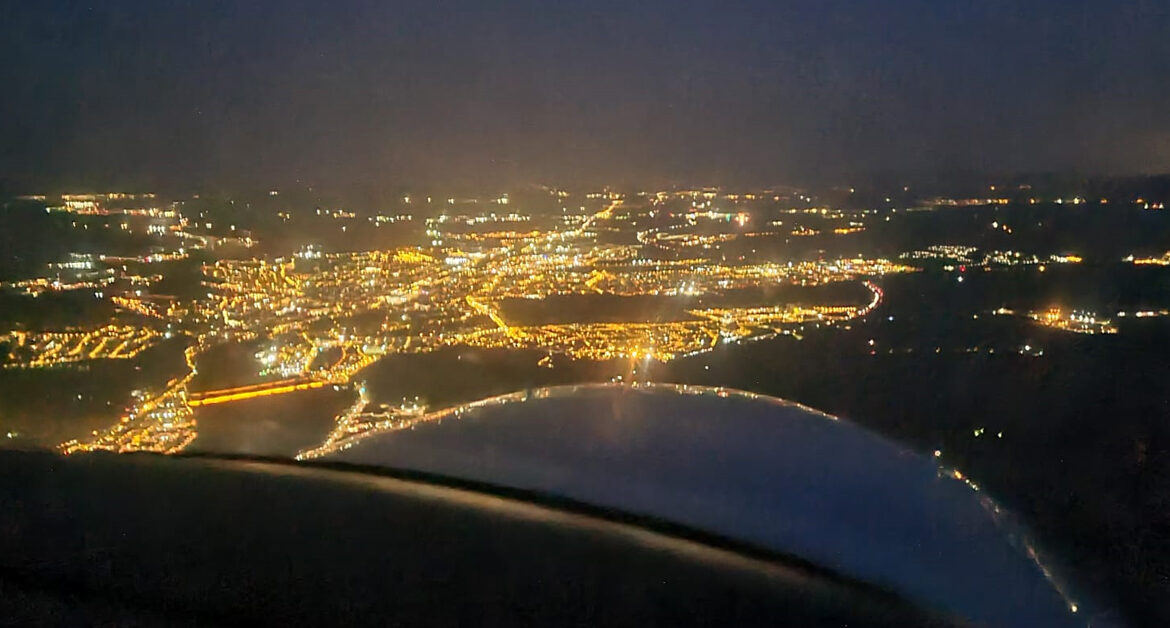 ---
I was immensely proud to have made it, this flight trumped all previous flights I'd flown, nothing compares. We landed 4 hours and 25 minutes later than planned, but the whole experience was surreal. From bailing out on the weather to experiencing severe convection en-route before making the perfect sunset arrival into the Pyrenees and a first, night IFR landing.
As we vacated, we were guided by a follow-me vehicle before slowly making our way to our stand. After 2 minutes to allow cool down, (some 7 hours of the engine running) we shut down. We were met by Iberia who seem to grow impatient (We were already late arriving) and he needed to take us to the terminal for processing by police and customs. This was fairly straightforward, and our passports were not stamped as we were "crew". Strange but nevertheless we proceeded to the terminal building and emptied our bladders for the first time in 7 hours. The trick was zero coffee.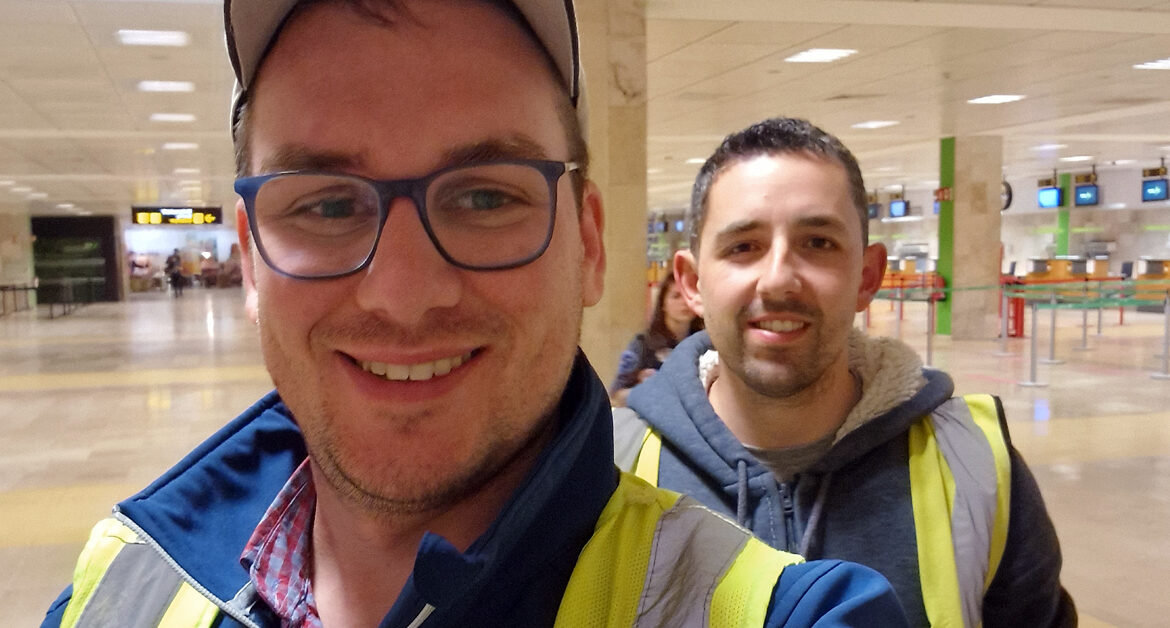 ---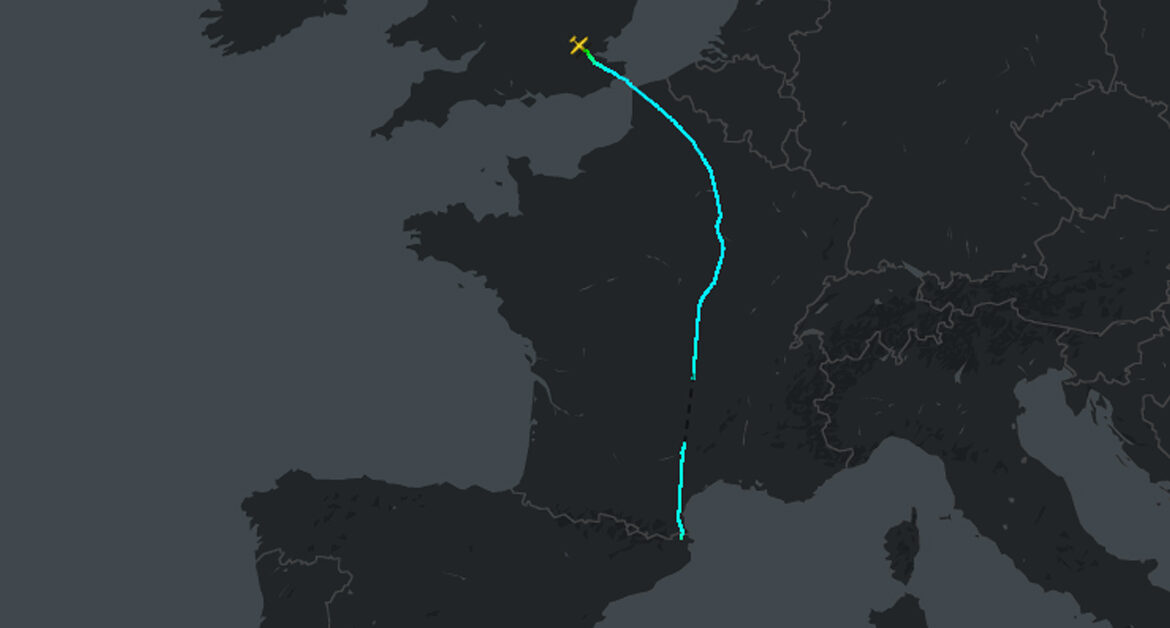 ---
Stay in Girona –
After a 7-hour adventure, we arrived at a fairly empty terminal building, with only a handful of flights to land shortly afterwards. This meant that our booked transfer would arrive most likely once all the flights had arrived before our coach would take us to the hotel.
We proceeded to the coach park, which was massive, and probably of similar size to a much busier airport, but not much was going on. A few coaches departed and ours arrived once we had a bigger gathering of people. What was funny is, we still hadn't realised at this point why there were loads of drunk Dutch people on our coach. They were having a great time, but we did wonder how they flew from the Netherlands to here in that state.
We were finally on our way to the hotel. The drive to Pineda de Mar was almost an hour long, where we initially went to Calella before turning back to our hotel where we dropped off very late. A short walk from the region we were dropped off was our hotel where we checked in and queried the bar for food and drink. Thankfully masks were not required and nor did I plan on wearing one.
We sat down at the bar and made the restaurant's last order with 5 minutes to spare. We ordered a simple Pizza to share and a pint of Estrella each. What a way to call in the day and to reflect on what had been a momentous and achievable day for myself and my passenger. With our suitcases and bags by our side, we discussed what we would do tomorrow and the possibility of visiting Barcelona, which wasn't that far away.
In some respects, this was just the beginning of the adventure, but it felt like a mission well completed. We arrived at the room and were provided with a double bed placed together out of two singles. We were both very tired and needed some sleep and set an alarm for a much-needed breakfast in the morning.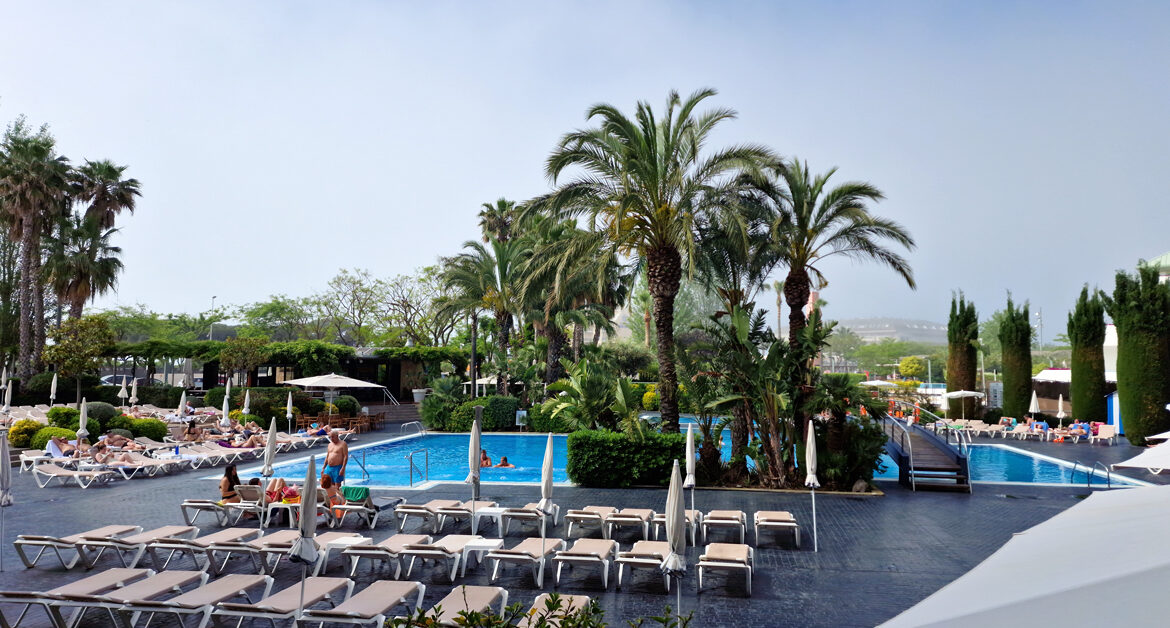 ---
Our room was perfect, bar the Air Conditioning that didn't seem to be working very well. We had a balcony, with a table and chairs, a shower and a bath along with free Wi-Fi across the complex. Before breakfast, we would report the much-desired aircon in the morning.
Onabrava's restaurant serves international cuisine in the style of a buffet for breakfast, which was included in our package. We arrived for breakfast just before 9 am as it would finish at 09:30/10:00 – provided was a mixture of hot foods, such as scrambled eggs, sausages of different variations including English and various pieces of bread and pastries. There were continental, cereals and yoghurts along with cold and fresh fruit providing you with a fulfilling morning. There were teas, coffees and fresh juice provided.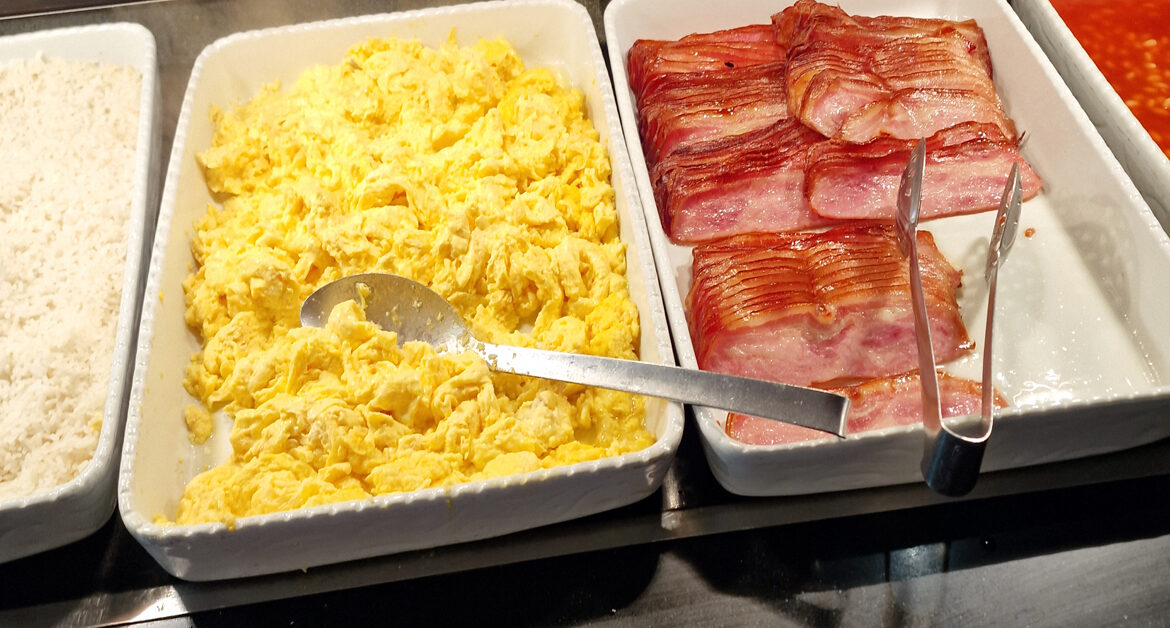 ---
It wasn't until this morning and the many Dutch Max Verstappen fans descending on the complex, did we realise it was the weekend of the Spanish Grand Prix in the fairly nearby Circuit De Catalunya. Like football events, this area was busy one moment and then deserted the next before many fans departed either by train or coach to the circuit. We did briefly look at tickets for the Gand Prix but there were no options available for what is usually a very popular race on the calendar.
After breakfast, we elected to take a walk along the shops and then reverse along the beachfront. The weather was fairly hazy this morning and the low clouds seemed to take an age to clear, albeit mist wasn't forecast but it seemed some had appeared over the Med at night.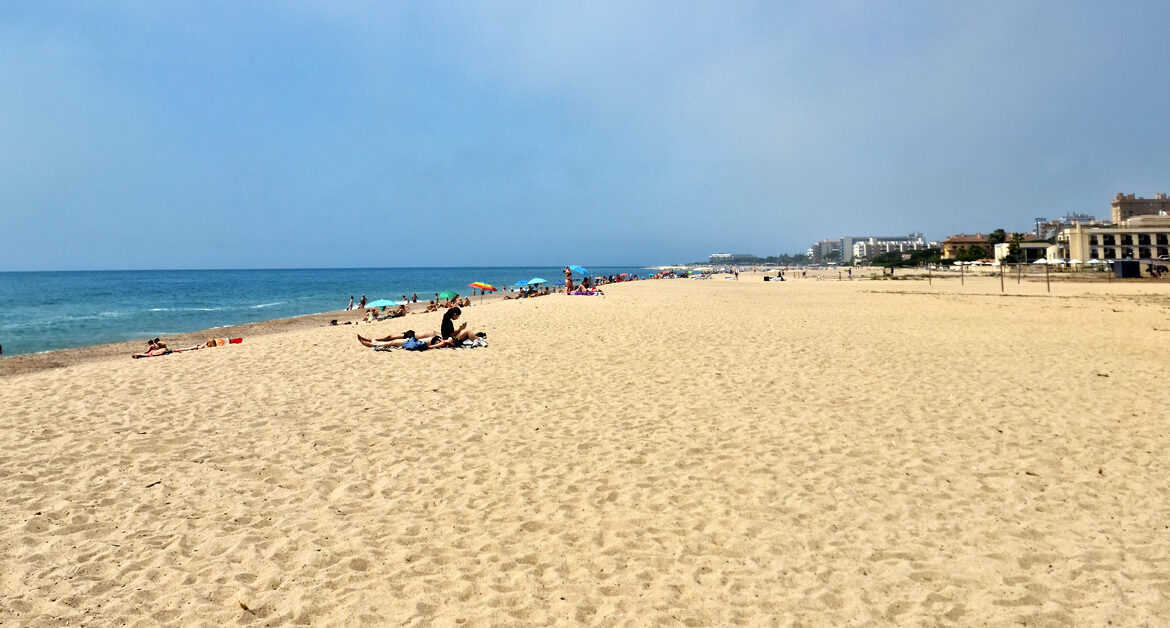 ---
Initially, we went back to the hotel room to try and rectify the issues we had with connectivity on the Golze. I initially believed this was related to the update, but where the system got stuck behind the seat, I accidentally loosened the connection and thus a fix was required. Luckily Ryan spotted this from his expertise working on aircraft avionics and systems. Unfortunately, Ryan didn't have the required tooling to fix the cable, but we were promised an engineer might be available to assist – but would have to check back later.
This mist at first was slow to clear but eventually started to clear as the late morning sun gathered strength. During the journey from the airport to the hotel, I had a look at locations that served food, and it seemed that by the beach there were many places that did food and drinks, so it was the perfect opportunity to find a nice place to enjoy the sun.
Whilst there were a few places we went to the Malamar Beach restaurant. Initially, we started on the beers, followed by some Sangria and then a bit later some Tapas to accompany the drinks. I am sure that's how we worked it as we had not long had breakfast, but we did spend a fair few hours at the beach.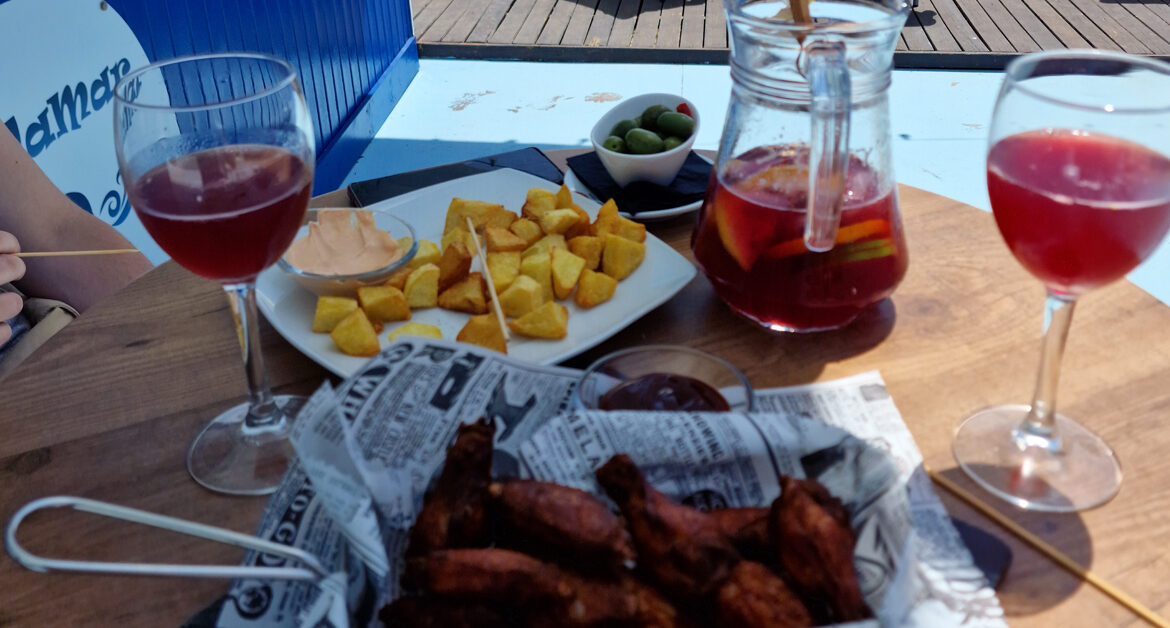 ---
It was starting to warm up quite a fair bit, so we walked back to the hotel, via the train station to check information regarding the journey to Barcelona. There was nobody available, so we stopped via reception and asked how to get to Barcelona, but the information for Sunday wasn't very clear.
After changing we went for a dip in the swimming pool. The pool wasn't as cold as I first thought but was still sharp, especially for the time of the year. After catching some much-needed sunlight we decided to go back to the hotel room. We both fancied Mexican, and I found one that was very close – it wasn't until moments later that I realised the place in question La Pèrgola Taqueria Mexicana was accessible via the hotel and the road that runs along the beach. It had great ratings and was part of the hotel. We asked to book a table but were told for the time we wanted to eat – we would have no issues in attending the restaurant.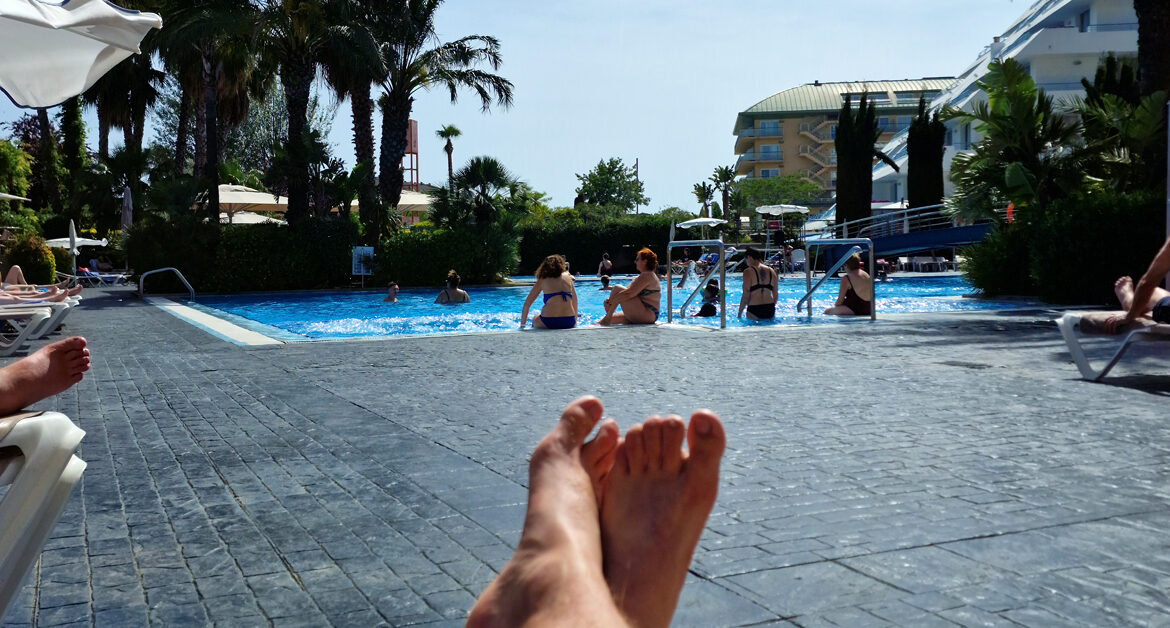 ---
We returned to the room for a few hours and tried to get a signal on the Golze after we realised what the issue was. We had updated the firmware, and this still did not resolve the issue. Ryan needed the tools but the engineer for the hotel that may have the grips would only work early mornings, so we would potentially be able to fix it in the morning.
We were fast approaching the time we wanted for dinner, so we headed down to the restaurant and barely managed to get a table. For whatever reason, it became very busy, which was extremely frustrating, but it was lucky we didn't wait long as were given a table fairly quickly being a party of two.
We both ordered potato wedges for the starters and chicken fajitas for the mains. The food quality was great. So good was the achievement of flying a small aeroplane all the way direct from the UK to Spain we treated ourselves to a well-deserved Sangria. Which was of great quality, but not as good as the one earlier by the beach.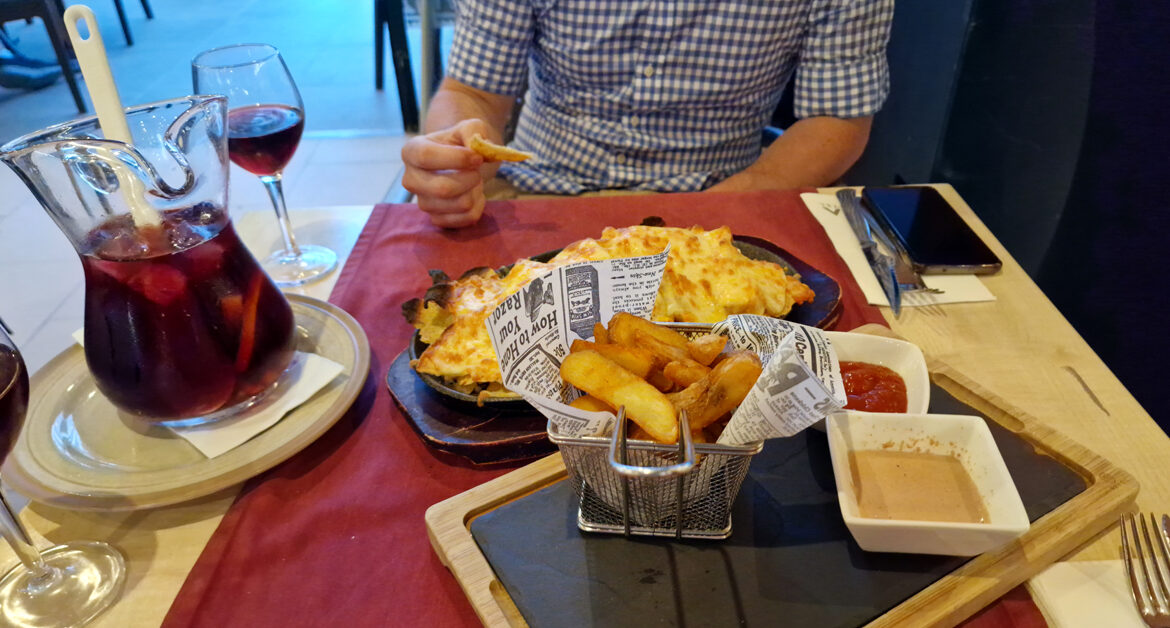 ---
Day Trip to Barcelona –
On our last full day in Spain, we elected to travel to Barcelona. We had breakfast and shortly after went to reception to speak to the engineer. He was currently busy and wouldn't be available for another hour. The trains were frequent, and we decided that we would go for a quick walk along the beach to the shops before returning to speak to the engineer.
We timed this very well as the train would arrive shortly after we had spoken to the engineer. Unfortunately, he did not have the right tooling to gain access to the cable and thus meant that we would have to buy this from a shop in Barcelona. This was a tad frustrating as it meant part of our time in Barcelona would be looking for a very specific tool, but this was important due to the forecast weather for the return flight.
On public transport, it was still a requirement to wear a face covering. This was extremely annoying as everywhere else including the airport, it was no longer required. So, we proceeded to the station having originally forgotten the masks and travelled to Barcelona. The train journey into Barcelona wasn't very expensive, at 11EUR and covered the return journey. The train was very busy as we travelled further along the route. This took just over 1 hour.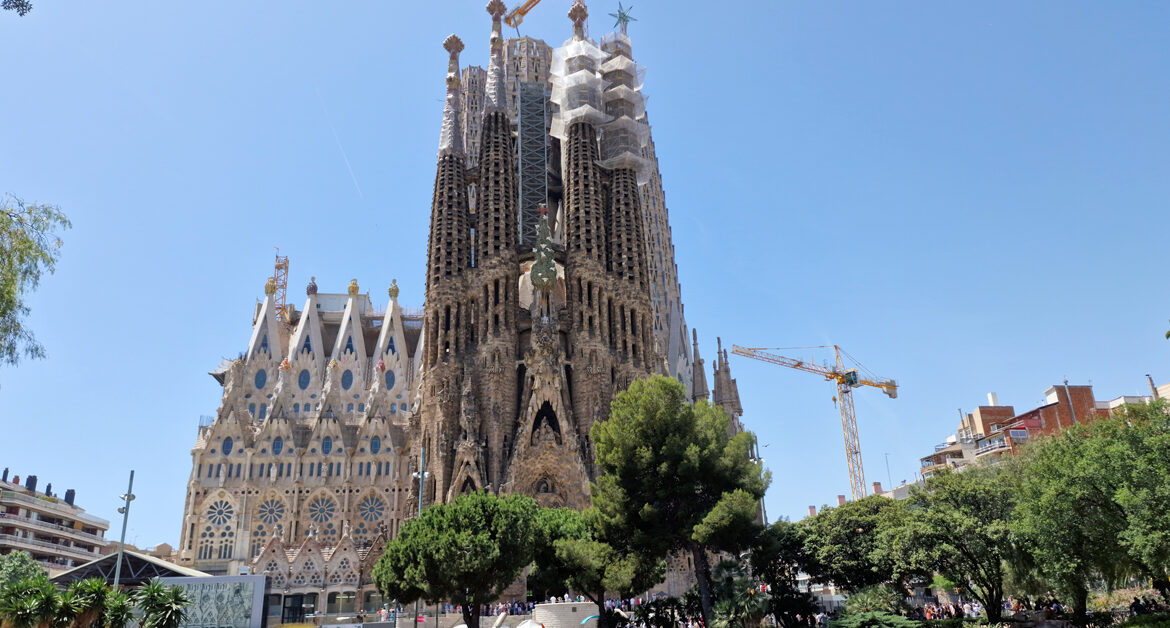 ---
We wanted to visit Sagrada Família, which is currently the largest unfinished Catholic church in the world. We got off at the nearest station and walked to the church. We found a Lidl which we thought would have the tools required to fix the Golze but this was to no avail. A short walk later and we decided this heat was unbearable and a much-needed visit to Starbucks was needed which was on the same street as our destination. We walked around the Placa de Gaudi for some amazing picture opportunities.
We only had a few more hours in Barcelona before the Grand Prix would finish and we wanted to beat the footfall traffic so walked down to the beach. Platja de Barceloneta is one of the most famous beaches in the world. On our way, we would stop at the petrol garage, where unfortunately there were still no tools but much-needed hydration.
We did find a small convenience shop which sold the required tools and purchased these to fix the Golze later today. At least there was now the possibility of a much safer flight home.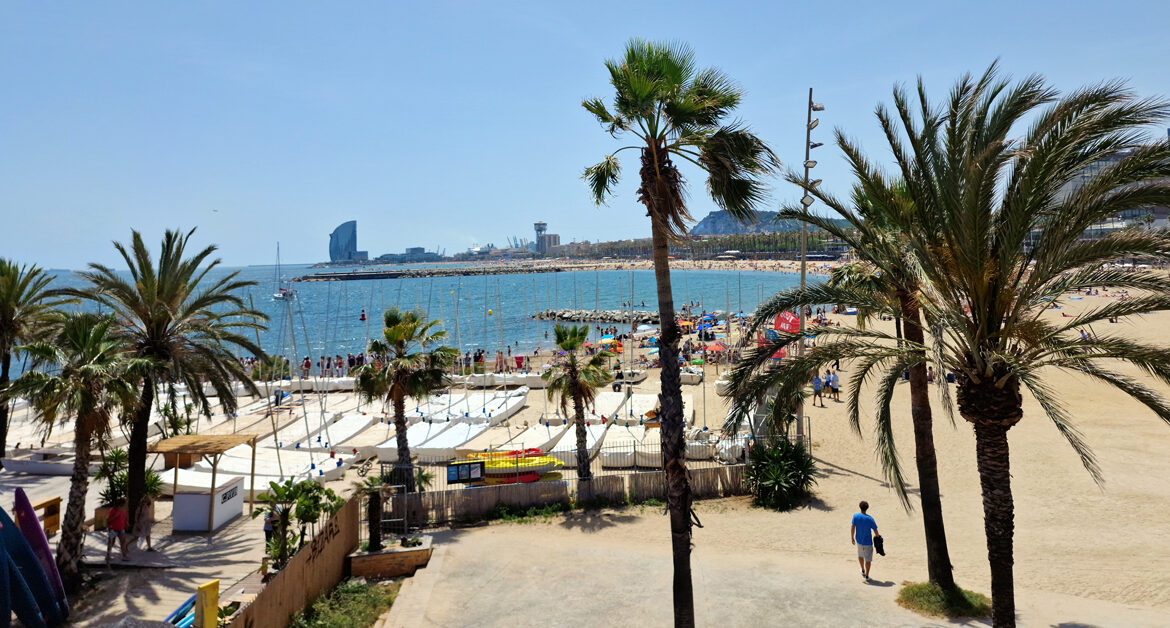 ---
We stopped for a short break by the beach and purchased two beers and a bottle of water. Unfortunately, being beachfront, the prices were absurd, but we wanted to treat ourselves. I timed that we would need to walk for a fair bit to catch the train from Arc de Triomf which is a station near a structure that is very similar to the one in Paris, and in many places across the world such as London.
This was such a short trip to Barcelona, but considering I had flown here all the way, and it was a short, yet fairly respectably priced journey – it was highly worth the visit. But Barcelona is not cheap, and most restaurants and bars are fairly expensive.
We headed back to the station to take the train back to Santa Susana. This wasn't without fail, when on the train the doors wouldn't open at one of the stations and we got stuck and kept getting stuck at every other station. We were so far behind, that when we reach the station with the depot, they took the train out of service and the one behind us caught up.
We got back to the hotel a little later than planned, but still managed time to destress and attempt to fix the Golze. We were lucky, the tool was bigger than what we needed but Ryan managed to fix the cable and thus we had a satellite feed and could download data. It was just a question of being more careful in the future and not pulling on the cable if it got tangled around the seating. But a more appropriate position may be necessary for the future.
We took our final dip into the pool before dinner, and the choice, the night before our flight was very risky. It was so nice to experience a pool having flown in a light aircraft all the way from the UK. I can't think of many pilots who have done this in a small aircraft, and the list has got to be in the hundreds rather than the thousands over the years.
Risking it with a Curry –
With an early night for us, with such a long day ahead of us we ventured out for a curry. With good reviews, we thought we weren't really being too risky. On our walk to the restaurant, most places that we had passed were full, with arriving Dutch Formula 1 supporters after the Grand Prix. So, we had very limited alternatives for dinner. When we arrived at Shaan E India, there were only two people seated which is never a good sign.
The food tasted good but was very oily, and full of Ghee and we had over-ordered. I would recommend Indian food because of its taste and flavour, but in hindsight never before a flight home. With no en-route toilets, it's not a safe bet. (Palm on face moment)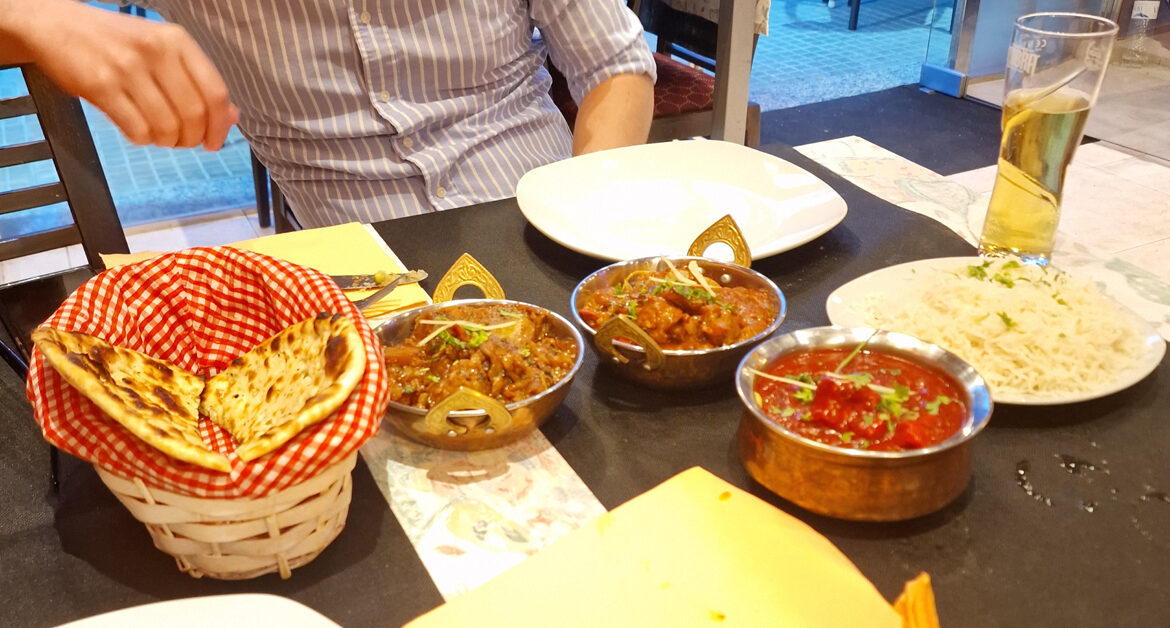 ---
It was sadly a fairly early start to have breakfast and make the coach to the airport. The timings were designed for commercial air traffic and that sadly meant the journey back was relatively early in the morning. The journey was 1hr to the airport via a few stops on the way.
We arrived very early, contacted Iberia our handling agent and asked if we could go to the aircraft to prepare it for departure. We informed them we knew of an ATC slot, which they sort of discussed with us without telling them and said if we could wait a little longer, they'd accommodate our request.
We went to the aircraft, prepared all the cameras, tidied the seating area from the mess we left on the flight out and checked over the aircraft. We required JetA1 so had this requested at this time so we could top the tanks and be prepared for any ATC slot coming forward.
---
We weren't the only one, as many aircraft heading northbound through French Airspace also had an ATC slot – this time not due to weather but an ATC shortage. We went back to the airport terminal and chilled in Costa Coffee. We checked to see if our slot had gotten better, but it had gotten slightly worse.
Change of Routing –
The flight home would be interesting. Almost similar to the flight out, a frontal system clearing through in the morning and another one following behind. The initially planned route would take us East of Paris and then in via Dover before our approach to London.
I elected to avoid the front and filed a slightly quicker route, west of Paris and into the UK via the bulkiest part of the English Channel. This became a race against time to beat the occlusion which was pictured west of our routing up France.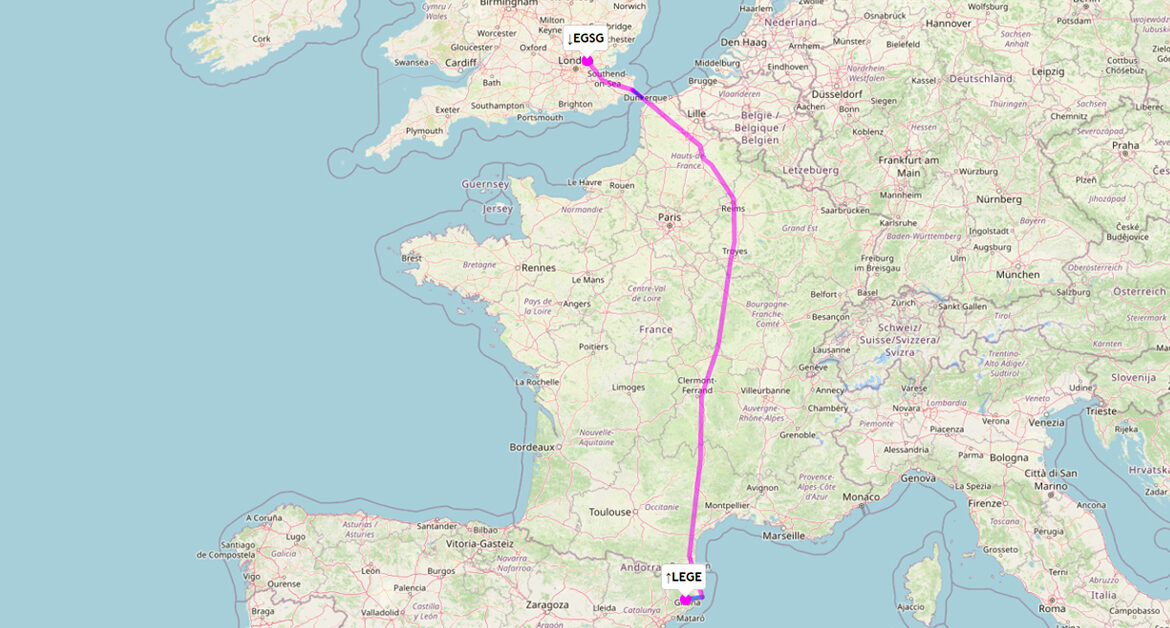 ---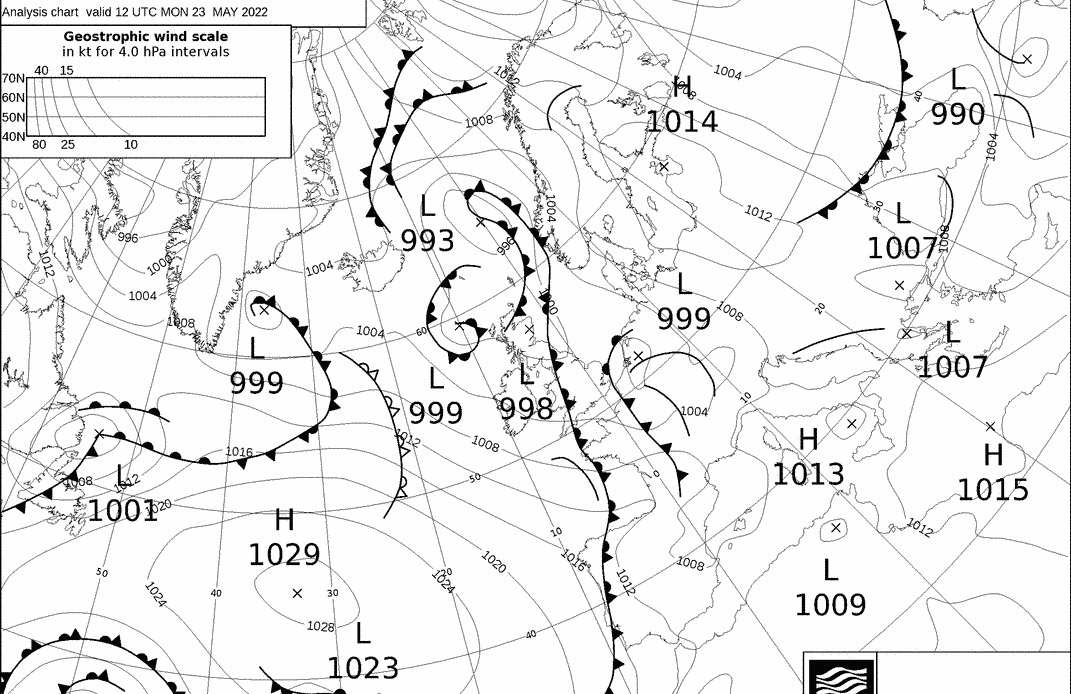 ---
Flight back to the UK –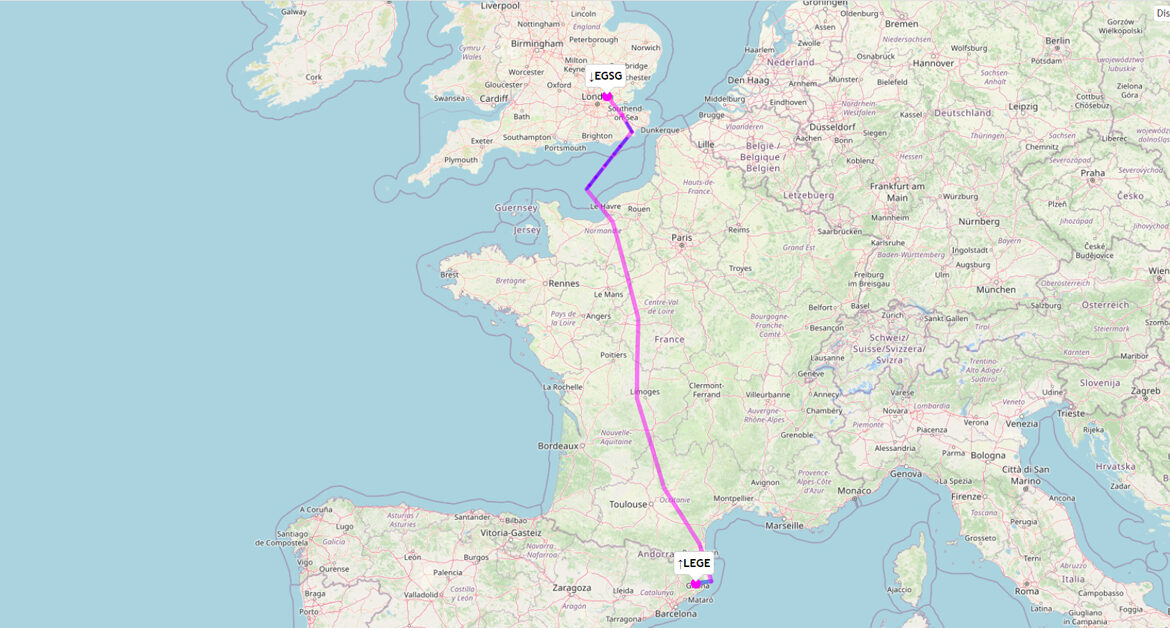 ---
In the hour our flight was delayed, the weather deteriorated slightly. The cold front was pressing up against the Pyrenees and causing some convection. Although this seemed very localised to over the mountains and a clearer patch was available to the East and over the Med.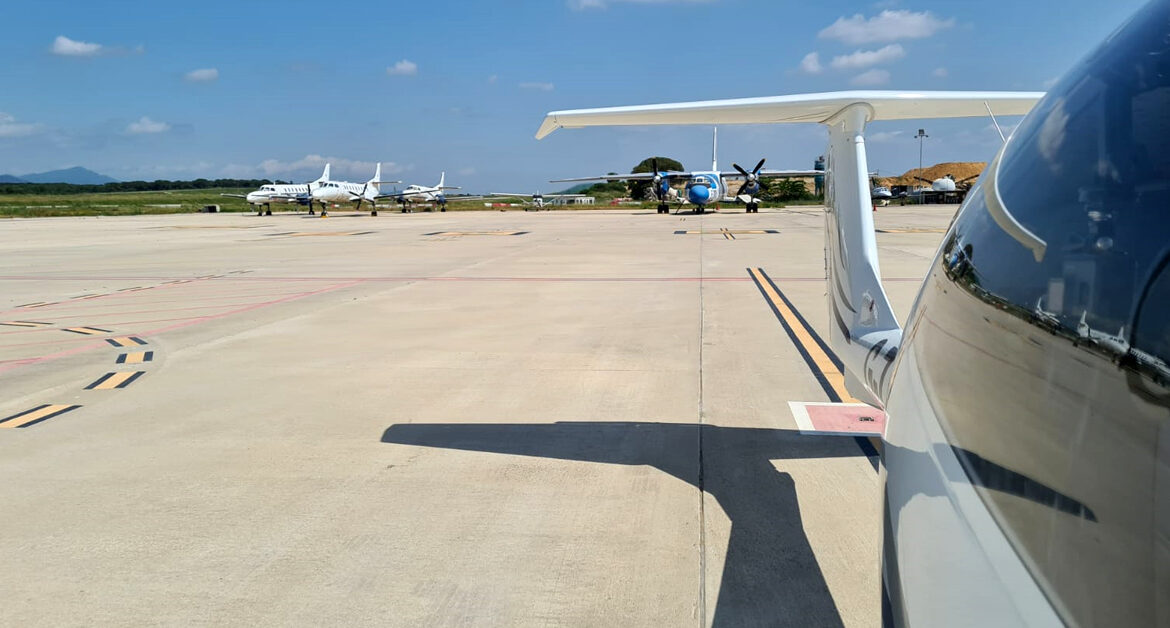 ---
We spoke to some pilots that had flown inbound and would have flown through the weather on the ILS. It was reported there was strong updraught, and they were unable to maintain level flight and despite the speed decrease, we were still climbing.
I made the decision that on departure, we would fly towards Barcelona before making the left turn to BGR to climb above the weather and clear it as necessary. This only needed additional track miles to gain altitude.
As we departed, the thermals made for a fairly choppy climb out and this did not smooth out till we were above 5 or 6000ft. Our initial request to start a left turn was declined but we were later turned back towards the SID and climbed towards KANIG.
Barcelona was giving aircraft inbound aircraft shortcuts, so our initial flight level of FL120 was quickly changed to Fl100. We had to turn around KANIG slightly but as we progressed further north away from the mountains the ride smoothed out and only some mid-level clouds were flown through but nothing of convective nature.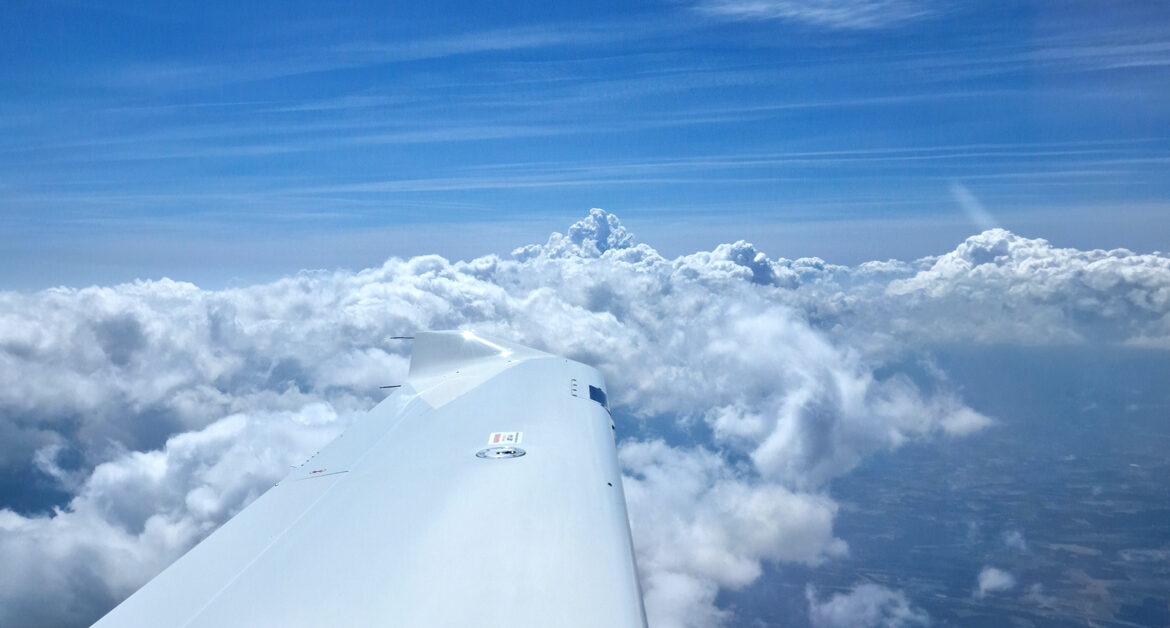 ---
As we continued our journey further north, we experience some fairly weird flying conditions with a drop in airspeed, and a high nose altitude followed by an increase in airspeed. I used the throttle to prevent any overspeed or stall. The wind was 30-36 knots across the Pyrenees, so I suspect this had something to do with it.
We flew east of Toulouse but would not see much as the cold front below us made it pretty overcast. It was after this we got a few routes directs and started making significant progress and turning away from the front. However, this put us towards some hefty showers that started appearing on the next data batch from the satellite so elected to climb up to FL120 to avoid them as these showers looked significantly likely to bust through our level and fairly quickly were rising ahead of us.
I elected to climb up and remained well above the weather for the majority of the flight. As we tracked towards Paris, the occluded front was making gains against our flight northbound. We had to fly due east of our filed flight plan and for whatever reason Paris was not keen on us turning any further right and wanted us to route towards the front with tops exceeding our climb ceiling.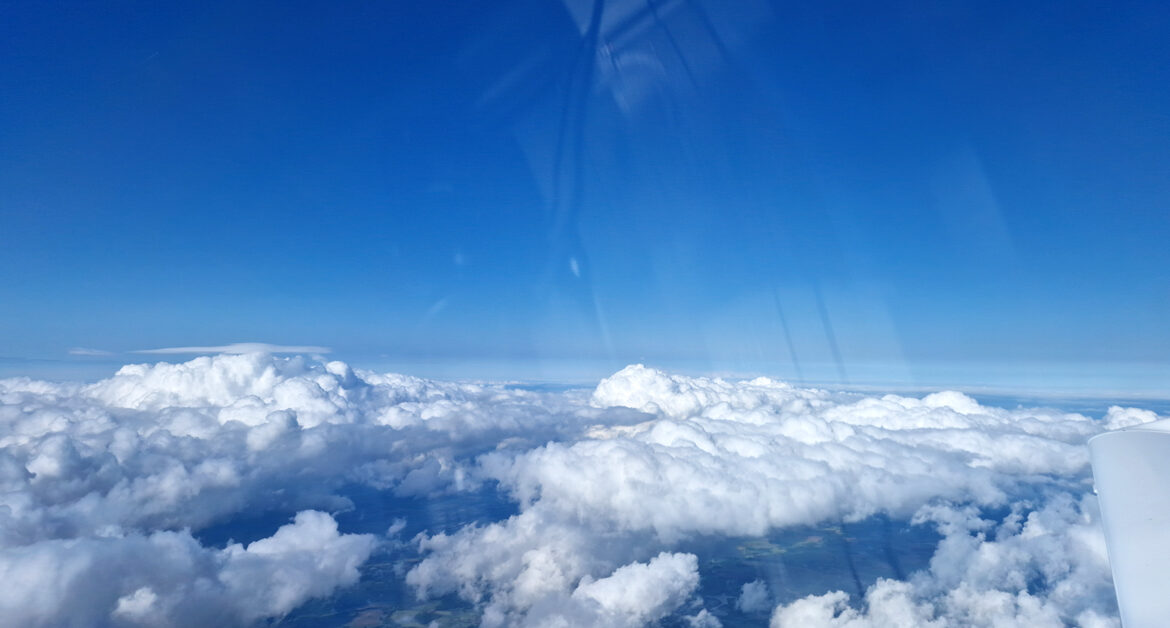 ---
We continued to track north before being able to turn towards Deauville, however, with a cell appearing below the murk and high-altitude clouds we elected to route east of this before making a left turn to join our arrival route into the UK airspace.
It was during this phase of the flight we picked up some ice on the wings, mostly the right wing which was out of the sun. It was -5°C and only the left wing had visible moisture but didn't form ice. A very weird phenomenon that I thought was impossible, but it makes sense.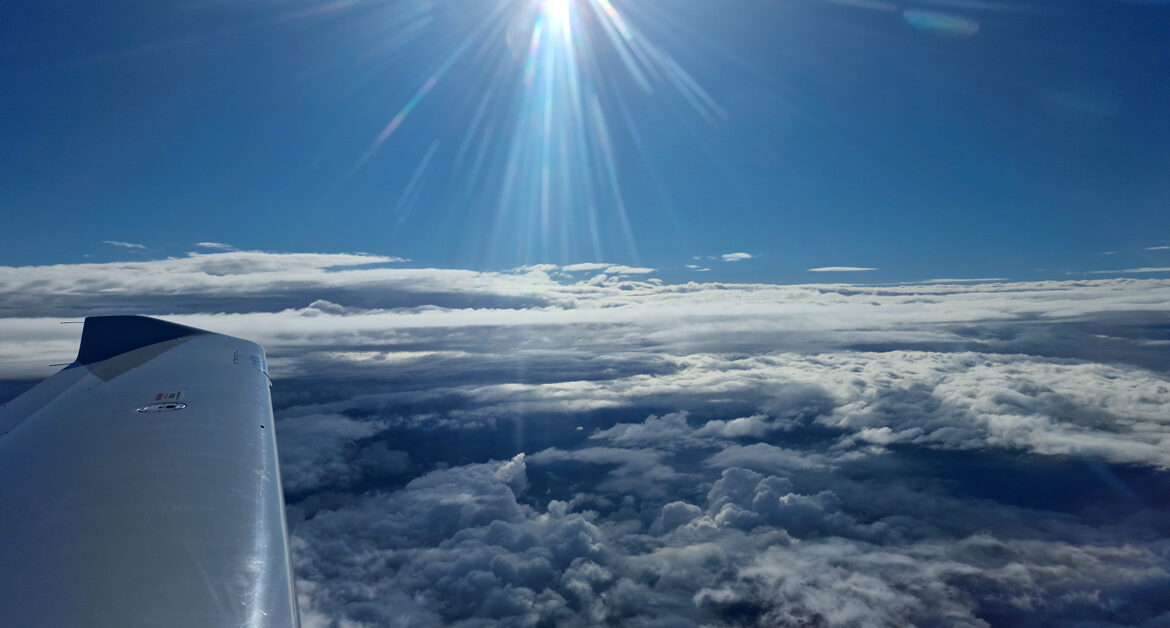 ---
After a short time with London ATC, we were transferred to another sector which was fairly busy. We were listening in and looking ahead to the weather. Nothing was appearing on the radar, but aircraft started avoiding and holding away from the usual spots inbound to London Airports.
The reality was, the PROB30 was slowly but surely becoming a reality. Between the two zones of fronts was a clear gap but unfortunately, this was a very small window, and sadly the delay we had experienced in departing Girona due to en-route slot meant that we would now be faced with a whole new challenge altogether.
We were instructed to turn right away from the Gatwick stack and routed towards Lydd VOR. It's then that we got a further descent and paralleled the inbounds to Gatwick. We were informed we were to plan 4000ft for the Detling area. It was extremely clear that this would not be possible due to the growing presence of weather that we could visually see, and airliners were avoiding it.
We flew over what was left of the remaining patch of good weather and made a 180 right turn and fairly rapid descent to get below the clouds. Whilst I was unsure of what cloud I was entering, I elected to avoid the tops at FL90 just in case they had low bases and were growing rapidly or had the ability to grow fairly quickly, ahead of the main band.
The Golze system still wasn't showing the latest radar update, so I continued my descent to 4000ft and self-handed myself to Thames Radar who had my details thanks to the very caring and efficient London controller who I felt bad or as his shift just got extremely busy and I was probably making a meal out of the situation.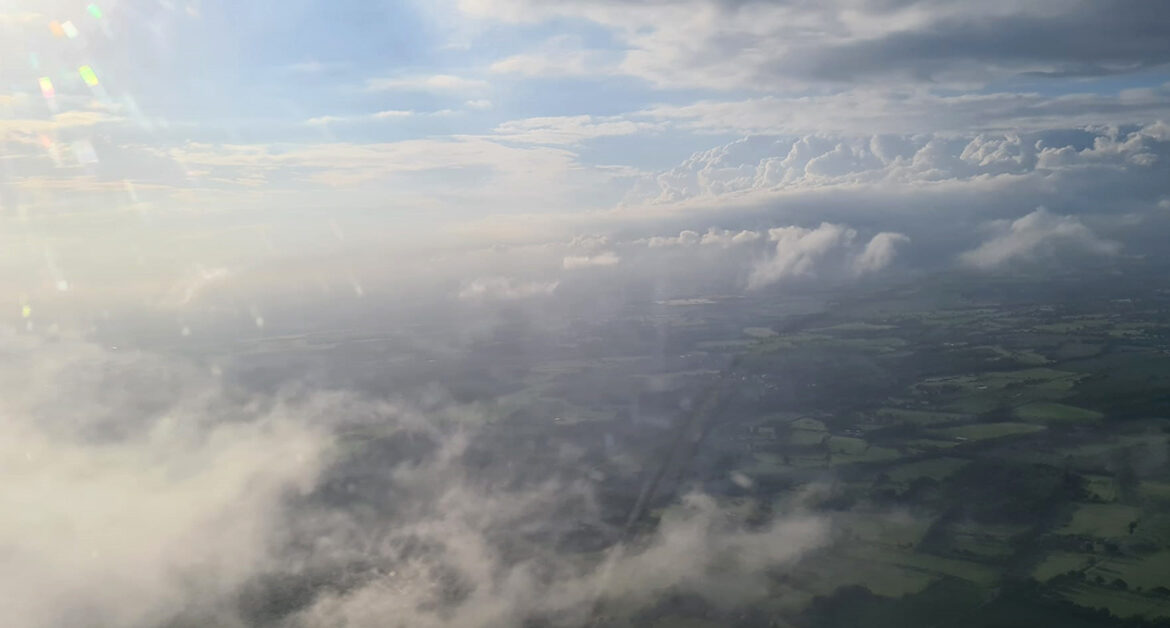 ---
I declined Thames's offer for the Detling area and routed safely ahead to the Southend Area. It was still daylight hours, but the weather meant it looked like the hours of darkness. We could see significant showers ahead of us and towards the south of London.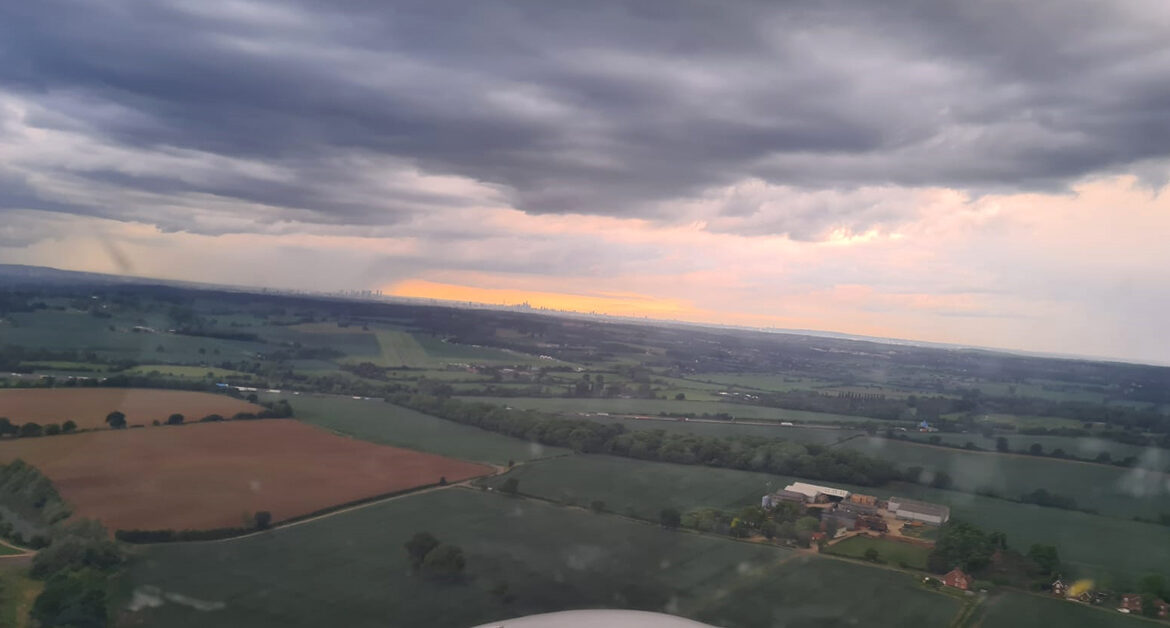 ---
As we vacated and parked the aircraft, all the cells that had passed over us had rapidly lowered bases and we heard the first thunder booms. I have to question my luck, but maybe it was just judgement.
Remaining to stay IFR would obviously have been extremely challenging, especially in such a busy airspace like the London TMA. But after 1200 miles of flying to Spain and back, it was an extremely nice feeling to be home.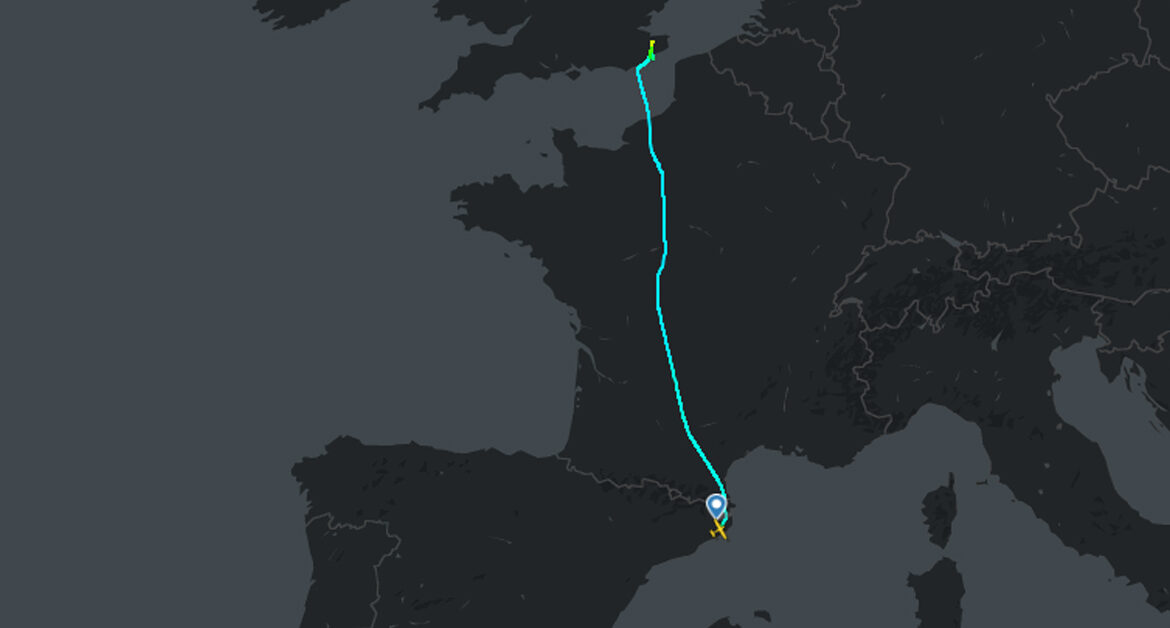 ---
Outcome & Costs –
This was an experience that would take some beating. Flying a light aircraft from the UK to the Costa Brava in challenging flying conditions and into the Pyrenees at night. It felt akin to being an airliner, with ATC slots, change of plans and a significant amount of thought and pre-planning.
This was a special trip and will go down as one of the best I've ever completed, with probably the longest flight time I'll ever fly in this aircraft. With the costs of such a trip and venture in the thousands, it's not cheap but at least I can say – I did it.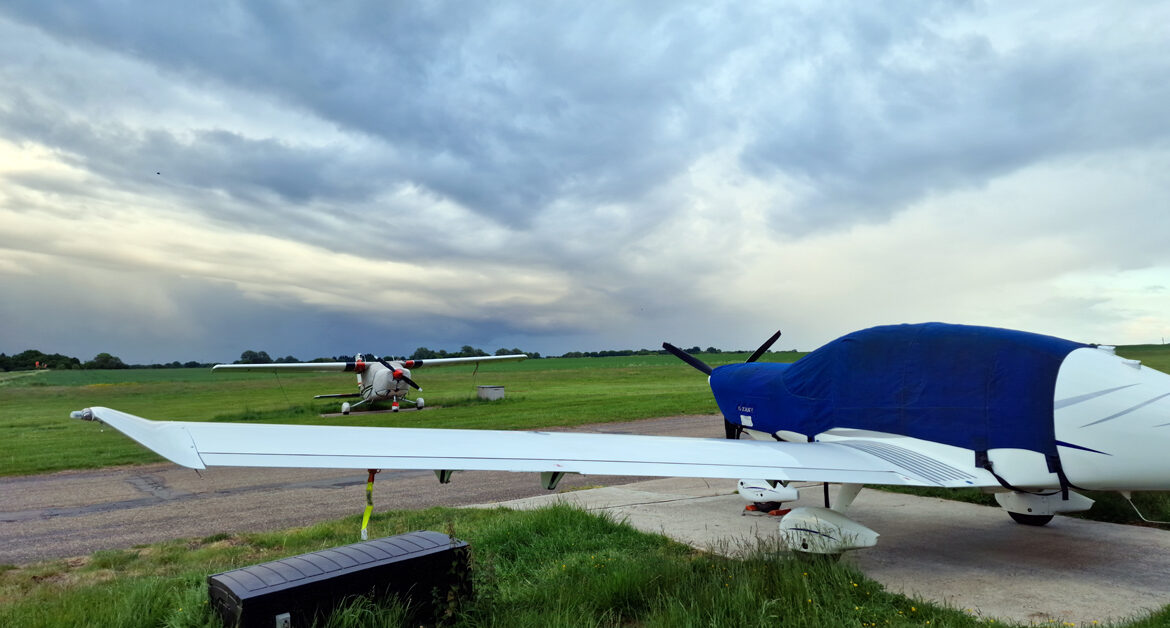 ---
These costs are pretty accurate as they involved looking at my bank statement and any invoices that I received.
Food & Drink Costs: £88.67 (Each)
Other Leisure Costs: £9.36 (Return Train Journey – Each)
Coach Cost in EU: £72.00
Hotel Costs: £419.37
---
Airport Costs:
Aena Airport Fees incl VAT – EUR44.30
Iberia Handling Fees incl VAT – EUR109.00
Lifejacket Hire: £20.00 (trip)
Aircraft Charges: £2,241.76 (@ £183 per hour (12 hours 15 minutes flown))
JetA1 Uplift: £297.12 (AirBP Card) for 126 litres of uplift
JetA1: (Wet Rate drawback) Credited £139.62(-) (GZANY) (126 litres at EGSG rate)
---
Total Costs (Non-Aviation): £589.40
Total Costs (Aviation): £2553.85
Total Costs (All): £3143.25
---
Version 1.0 – Last Updated 30/10/2022
Aircraft –
The aircraft is a DA40 TDI, which uses a Thielert "Centurion" 135 hp (101 kW) diesel engine and burns diesel or jet fuel. It has a constant-speed propeller and FADEC (single lever) engine control. G-ZANY is based at Stapleford Aerodrome, Essex, UK and was delivered as new in 2003.
Read more about the aircraft on the dedicated page

Supporting the YouTube Channel –
Support the YouTube Channel –
Welcome to The FLYING VLOG…
I am a current PPL(A), SEP (LAND), IR(A) SE/SP PBN, IR(R) & Night holder. Flying the world, exploring its hidden treasures. Taking pictures and vlogging the journey; I hope I can provide you with an oversight of my progression as I develop my skillset and airmanship in exclusive videos on my YouTube channel.
Now flying IFR in the Airways of Europe & beyond. Bringing you an exclusive niche to YouTube, flying in the same skies with commercial airliners.