Introduction –
For many years I've wanted to join Erlangen Bergweich, which is one of the oldest festivals in Germany. Like Oktoberfest with better weather. With the previous two years cancelled due to the Coronavirus Pandemic, it was time to organise the planning of this trip. Many months were spent waiting on the local authorities and the Bavarian Government to allow the event to take place.
Despite a relatively high number of visitors, it is not commonly known by tourists, or people living outside Bavaria. This was a much-needed trip and would be flown entirely IFR, but we had a last-minute addition to ensure this trip was memorable.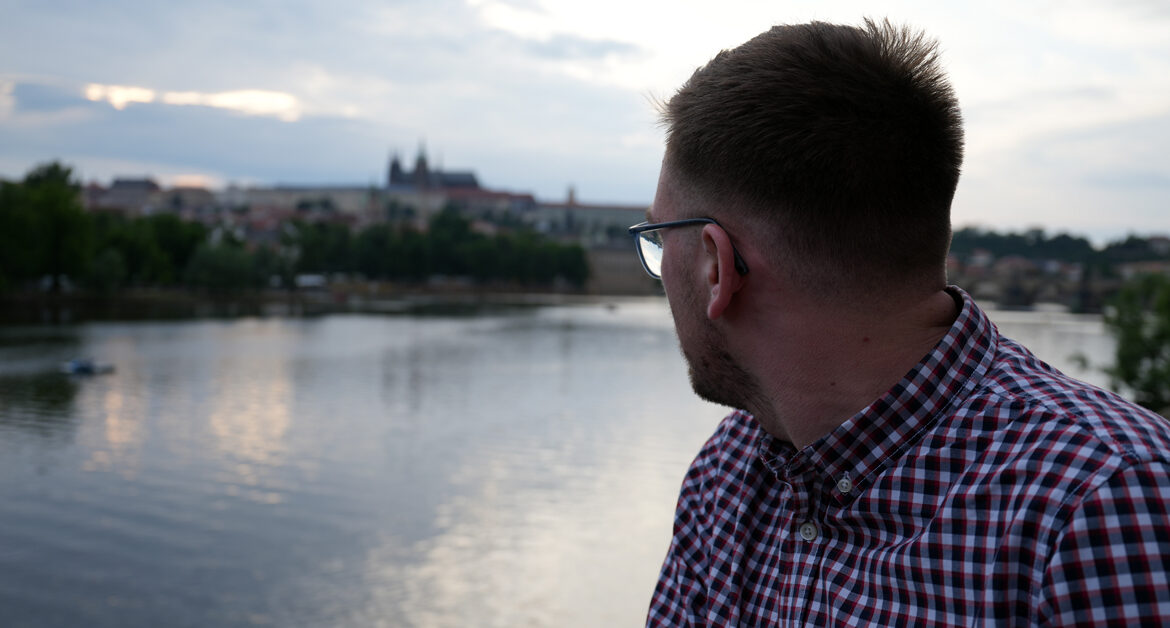 ---
Original Plan –
The original plan was to fly to Nuremberg (EDDN), it is Germany's 10th busiest airport and is only a short journey by taxi or train to Erlangen. But my passenger who was also an experienced IR pilot, suggested we fly additionally to Prague before visiting Erlangen for the weekend.
Stefan originally intended to fly his own aircraft but due to a SOLI change of his registration, that was taking longer than anticipated, so he elected to right-hand seat with me to Prague and then onto Erlangen.
The long-outbound flight to Prague would take place on a Thursday Morning and we would fly to Germany Saturday till Monday before making the journey back to the UK via Baden-Baden (For lunch).
We would stay in both Prague city centre and Erlangen for the weekend to ensure we could make the most of our stay. Stefan looked after the accommodation.
Airport Choices –
Prague
Once we were settled on destinations, the trip would then look at airports and what the options were. There are a few airports or aerodromes around Prague. The nearby Letňany Airport is mainly used for private aviation and aeroclub aviation. Another airport in the proximity is Aero Vodochody aircraft factory to the north, used for testing purposes, as well as for aeroclub aviation. There are a few aeroclubs around Prague, such as the Točná airfield.
Because of the length of the flight and for ease of use, I elected to choose the main airport of Prague, Václav Havel Airport Prague. Transport to Prague is frequent but we also had the option of a taxi into the central area where we would be staying. Once it was decided my intended destination was LKPR for the initial flight on our Euro Tour, we looked at the AIP and found that Prague has a few Handling agents and, in the end, we choose Czech Airlines Handlings, which was the cheapest.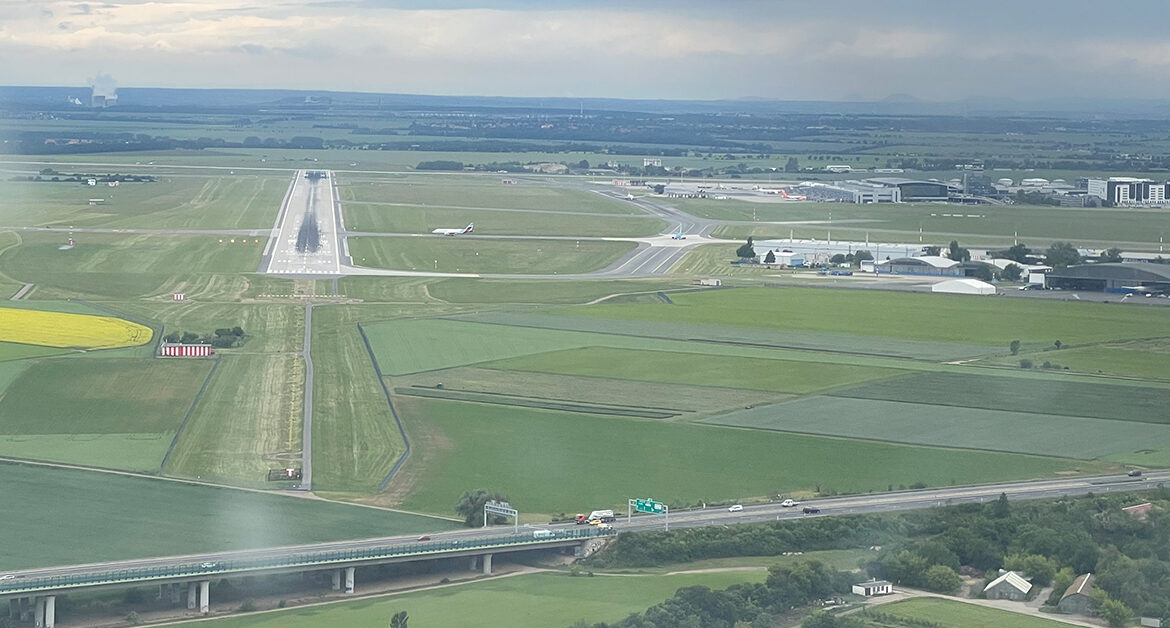 ---
Germany
Once we were in Schengen, everything became a little bit simpler for planning, but I was keen on visiting the bigger and more convenient IFR airports. I have a preference for flying IFR now because in reality, it's far less taxing and simpler than VFR in airspaces you've never had to learn before. I believe that if you are confident in what you are doing, despite more risks, IFR is a far-safer mode of travelling in a light aircraft.
We would need to arrive in Erlangen by air from Prague. There are two reasonable options suggested to me. The first being IFR – Nuremberg Airport, the second-busiest airport in Bavaria after Munich Airport and the 10th busiest in Germany or the alternative; was Herzogenaurach Airport which was VFR. Unlike Prague, EDDN did not require handling, as on-site is a GAT which picks you up and processes any fees for you.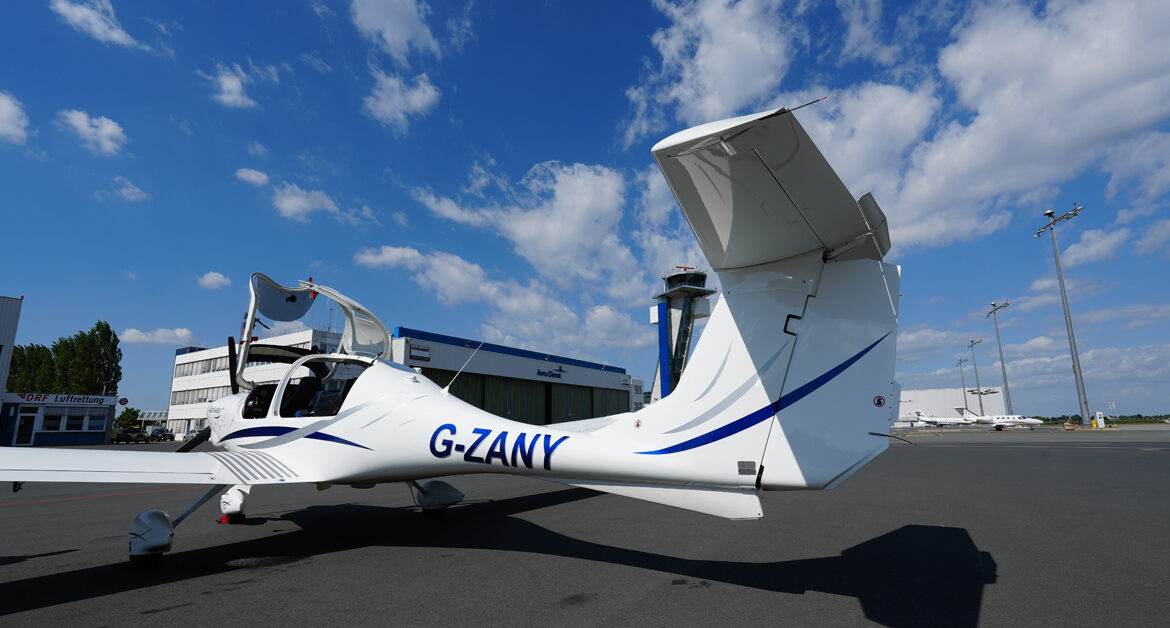 ---
We would eventually use Herzogenaurach as our main alternate rather than Munich (EDDM) if the weather became touch and go, more on that later.
I decided that for the return we would split the journey with a flight to Karlsruhe/Baden-Baden Airport for some lunch and then onwards to the UK, as with the predominant westerlies experienced so far this Summer and what was progged, the fight back would be slightly longer.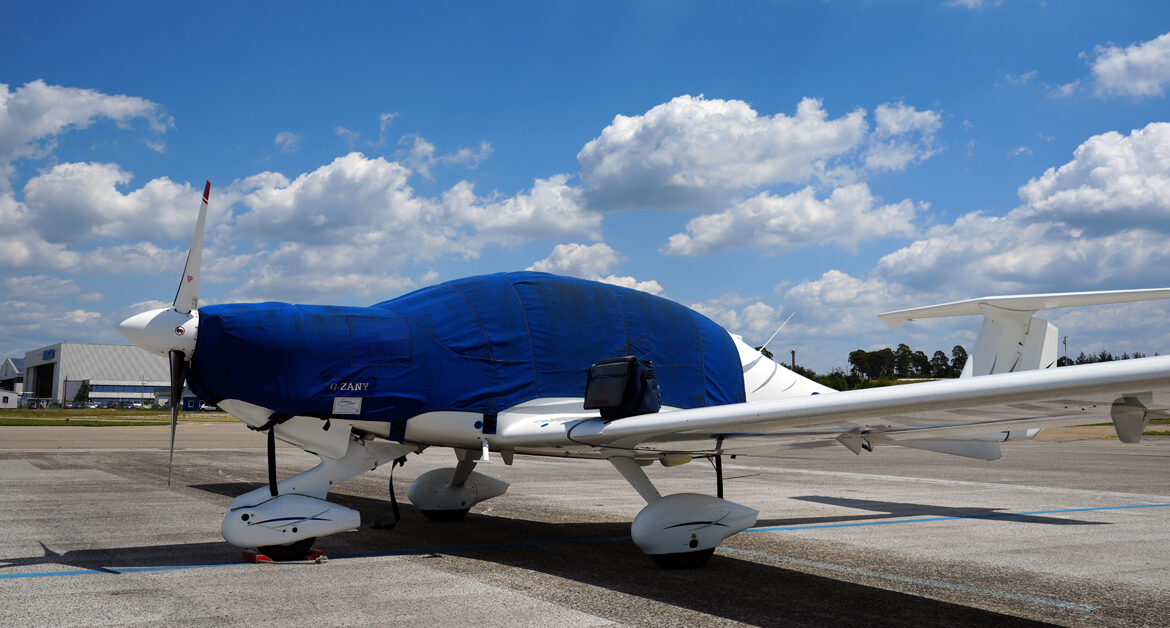 ---
Airport Quotations –
Prague
We emailed various agents, and I went for the cheapest option (Although they say buy cheap, buy twice) which was Czech Airlines Handling, a.s. They quoted us the following.
Handling basic – 88 EUR
Services incl:
-pax/crew trsp fr/to aircraft on the apron
-luggage transportation to/fr terminal
-ac conning/chocking
-wx+notam info
-slot coordination
-ATC monitoring
Airport Fees:
Landing fee – 54 EUR
Parking fee – 1,5 EU/1hrs (Price depends on parking position)
DEP PAX – 28 EUR (per 1 PAX)
Airport Slot – 3 EUR
All prices included 21% VAT for private flights. A noise certificate is required. The initial slot we booked was for 1800UTC on the 9th, with a departure on the 11th at 1300UTC. We changed this the day before arrival due to the weather on the 9th to 1145UTC – but the Saturday would remain the same.
Nuremberg & Baden-Baden
There were no quotations for EDDN or EDSB, but the fees aren't as expensive as Prague.
Accommodation –
As I was the pilot in command for this trip and would make all the flight decisions, Stefan elected to manage the hotels and where we would be staying, whilst this was a mutual discussion, he would ultimately take responsibility for this trip.
Stay in Prague
In Prague, we would stay at the Chevron Design Hotel. The Chevron hotel is situated on the border of the historical centre of Prague, 10 minutes walk from the Charles bridge. The building was fully reconstructed in 2019 and now provides 43 air-conditioned rooms. All rooms are equipped with modern furniture, plush bathrooms, wifi and air-conditioning. The hotel is rated 8.7 on Booking.com
The booked cost of our stay was £240.96 for two rooms + City Tax on arrival.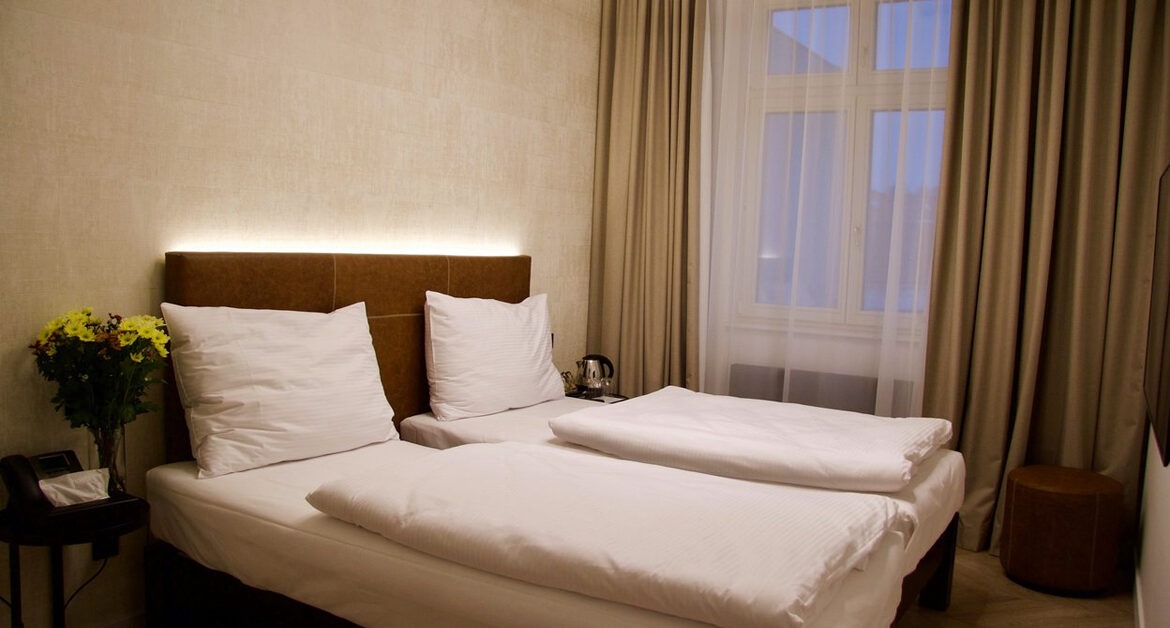 ---
Stay in Erlangen
Staying in Erlangen during a festival was challenging, and as expected some of the costs were extortionate. We would stay at the zeitwohnhaus SUITE-HOTEL. This design hotel in the centre of Erlangen offers free high-speed WiFi, a lounge and various breakfast buffets. The Schlossgarten park and the University Clinic are a 5-minute walk away. The hotel is rated 8.7 on Booking.com
The booked cost of our stay was £278.37 for two rooms.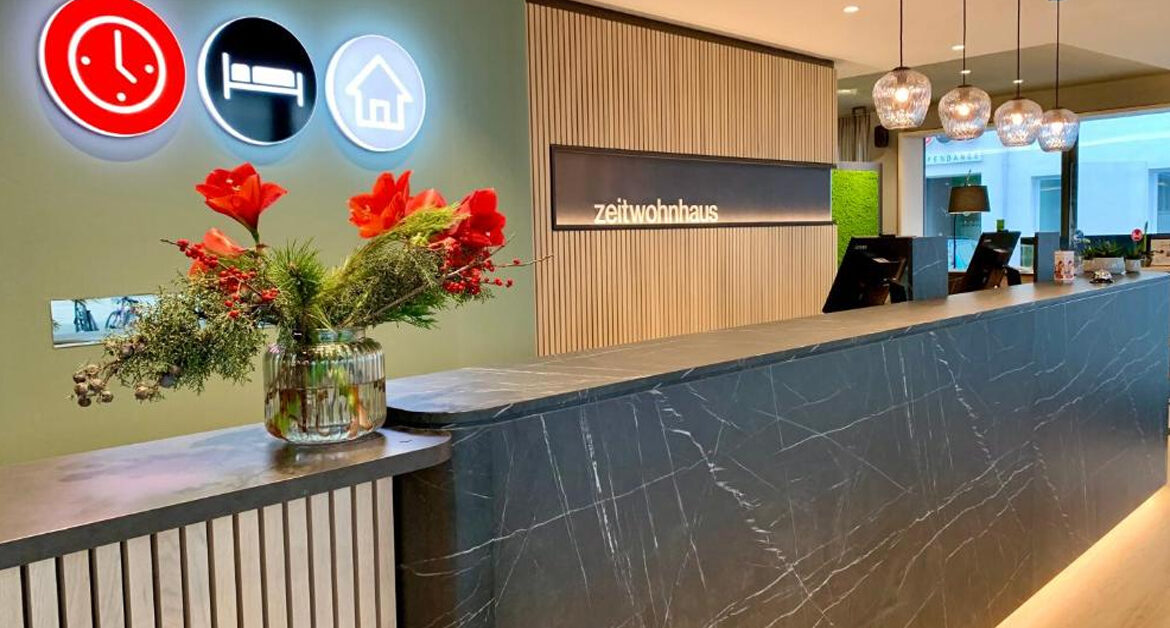 ---
First Flight –
After a very early start, we arrived at the airfield – ate our breakfast and had to wait till after 08:30 for the refuellers. It was our plan to fill the aircraft with as much fuel as possible for the flight to Prague, with the en route weather not forecast to be too concerning. Later in the day, the weather was going to be horrendous and the preferred time to arrive would be after lunch in Prague for some mid-afternoon beers.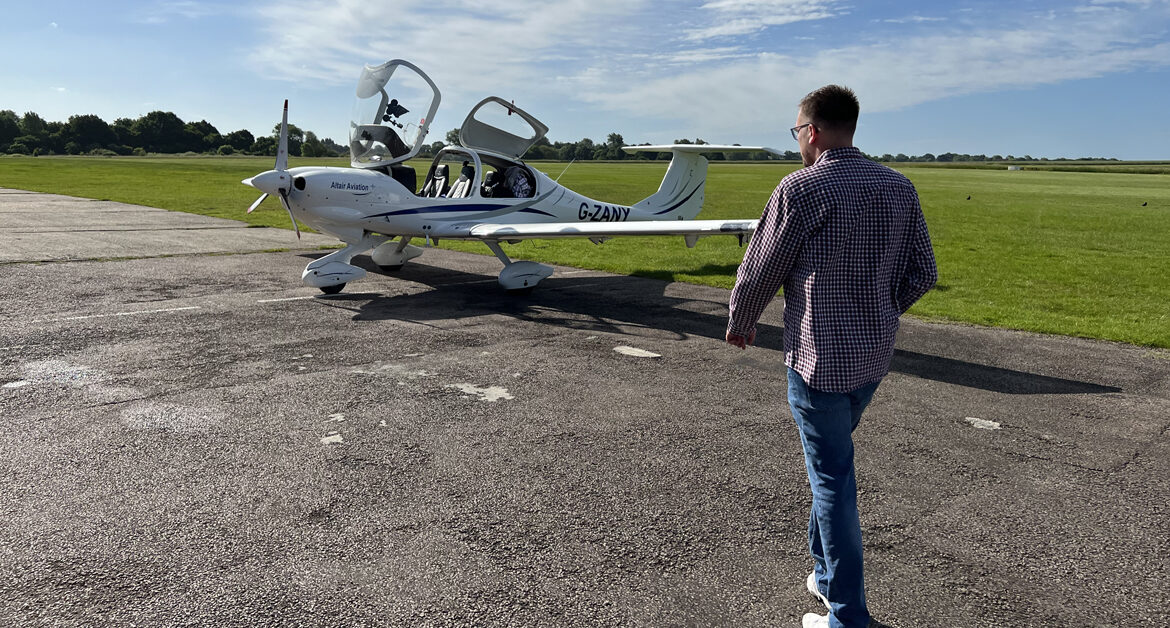 ---
We were intending to have an off block of 0745z but didn't get airborne till after 0800z.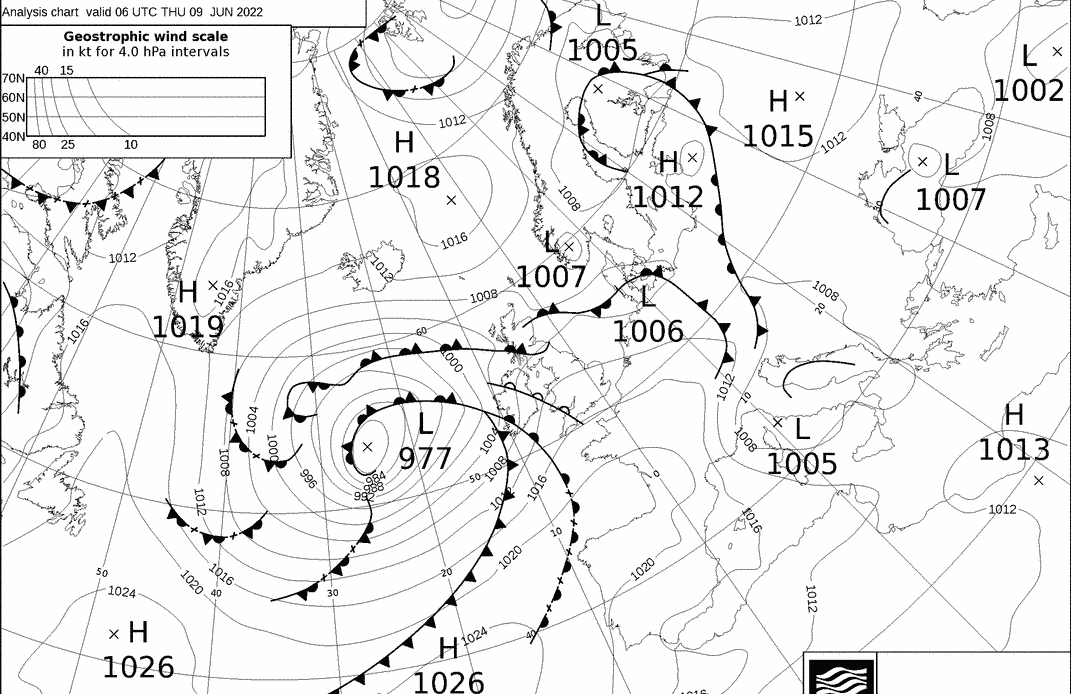 ---
With a relatively short taxi out to Runway 21L at Stapleford, we were quickly hurtling down the runway just shy of maximum take-off weight. A few small left turns and we were on track towards DET (DETLING VOR) and climbing up to 2200ft.
We contacted Thames Radar who eventually climbed us up in steps and gave us vectors towards the DET area, where we were handed off to London Control who climbed us up even further. This is normal for the routing out of the UK and into mainland Europe. With a relative tailwind in the climb, we had a quicker groundspeed than I've usually had in the climb which mean we didn't reach the cruise till out over the English Channel.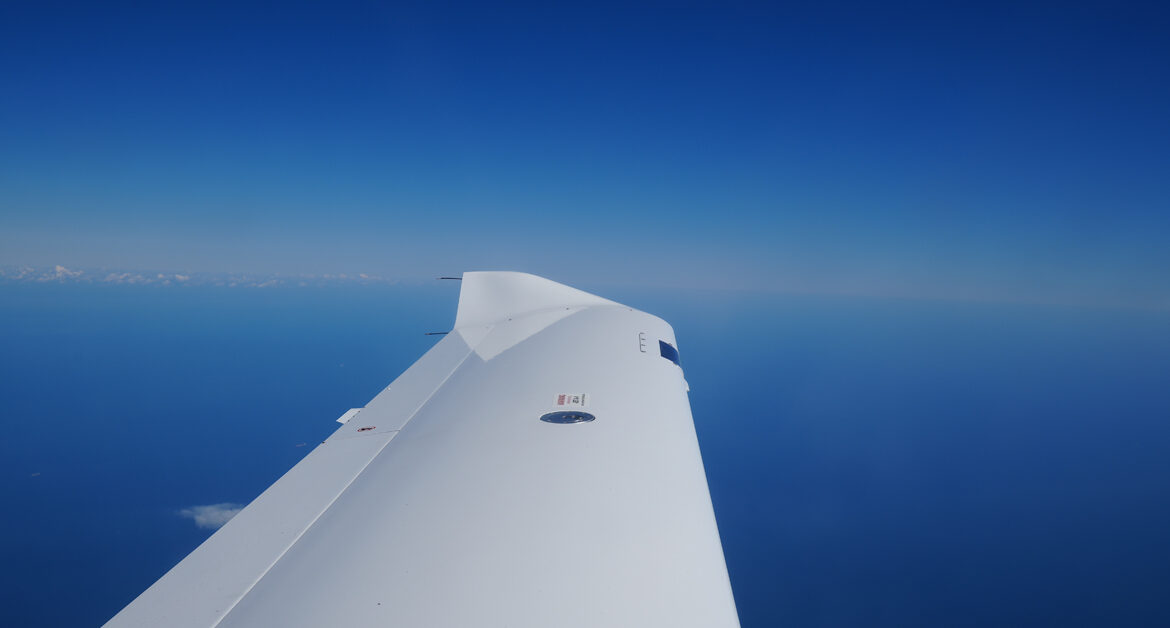 ---
This was the first time I had flown to 15,000ft in G-ZANY, just shy of its approved ceiling altitude. Above FL130 the aircraft slightly struggled but eventually, we reached cruise altitude and with the air being thinner quickly achieved the desired TAS.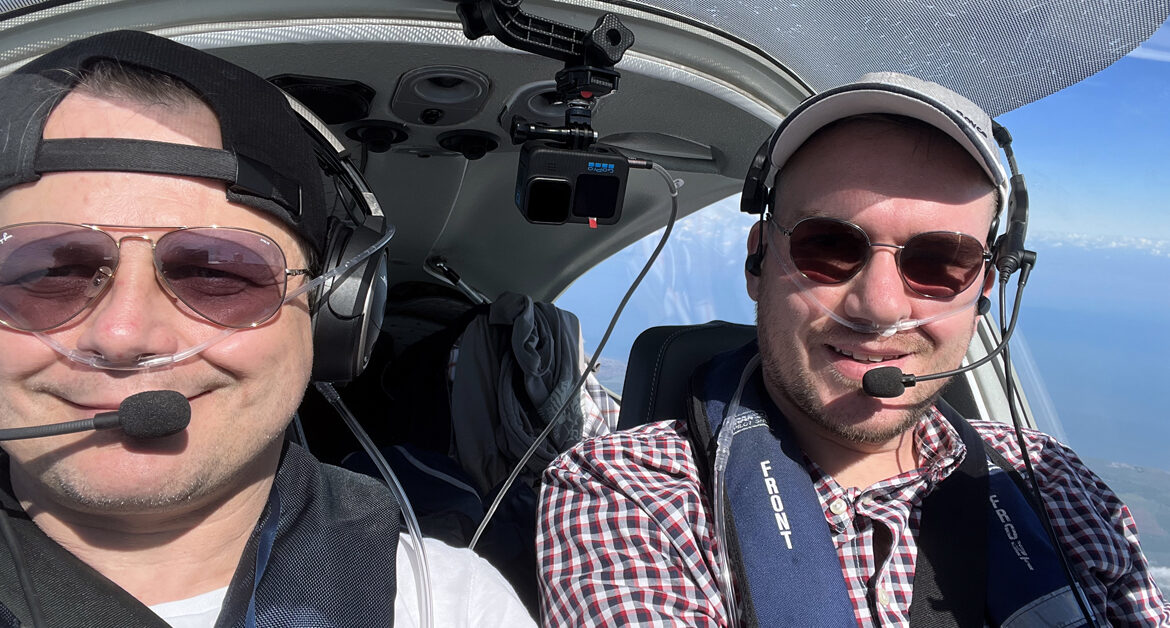 ---
We could see in the distance the weather was already starting to bubble up ahead of the main weather systems, we were given a few route directs and quickly handed over to Brussels Control before having to make some slight deviations due to the weather.
Like my flight to Spain, I once again had to make lots of deviations and these cells were towering over us in places or bubbling up below us but being at FL150 made this a fair bit simpler and with minimal effects of turbulence.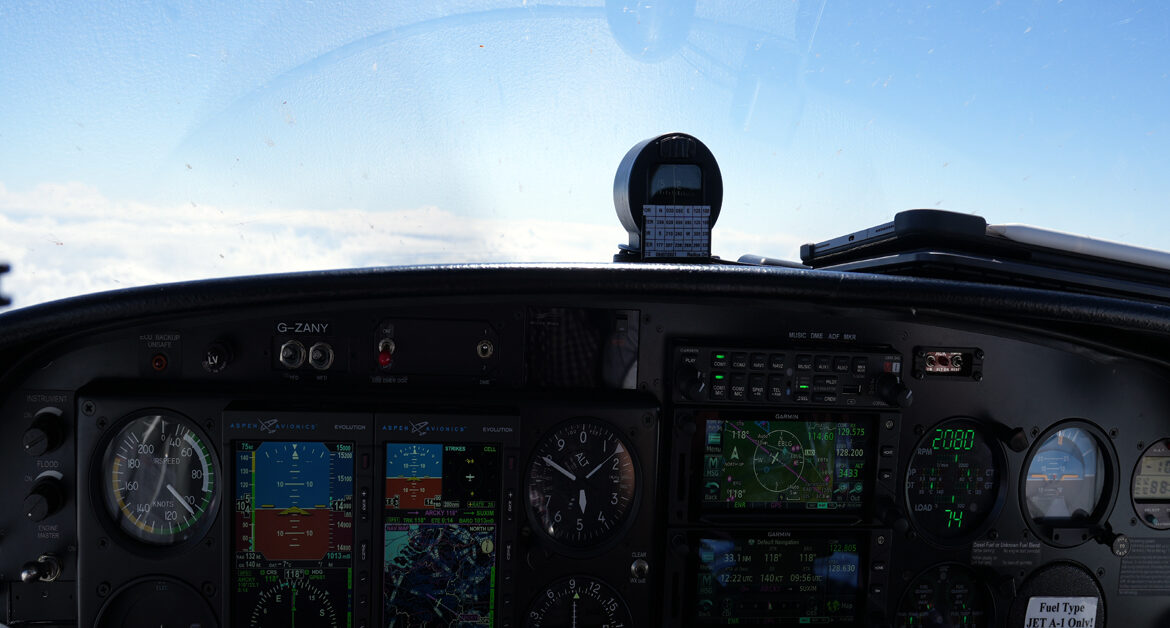 ---
Whilst I made deviations, ATC quickly gave routings that were in the general direction of avoiding the weather and after 30 minutes we were already in German airspace having flown across the Brussels FIR, but as we did so, our groundspeed reduced as we flew into high pressure away from the low. I continued to receive updates on the weather situation and could see some cells growing in the Frankfurt area which we conveniently avoided as we flew due north of Frankfurt Main.
It seemed patchy but a few Isolated Thunderstorms which went well above our level needed to be avoided, again very minimal chop nearby the cells and these did not cause us any issues, despite getting up close and personal.
Frankfurt is roughly the halfway point on this venture, a flight that would have taken just over an hour by commercial airliner. As we pushed on, we elected to discuss the front appearing on the weather radar on the border. Stefan discussed this was likely caused by the mountains on the border, and the front vertical extent would be unknown.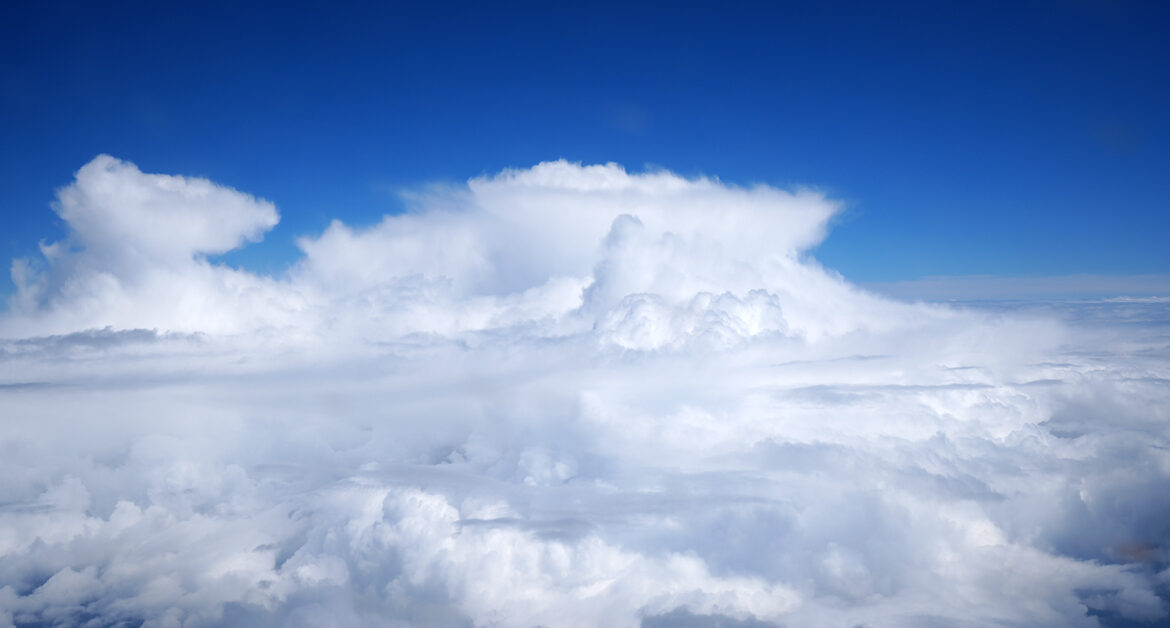 ---
As we approached there was some high-altitude cloud, so we elected to descend from FL150 to FL130 as the ground speed was not any better at this altitude and we could conserve some oxygen for the trip back which may be plagued by convective activity.
This lower altitude meant we had to continue to navigate around some build-ups, but these were a weaker affair compared to the experience of the cells in the first half of our sector. We pressed towards the Czech border and entered thin IMC where ice risk was probably minimal but cold enough.
We made a descent to warmer air but as we transited the front, the temperature continued to drop further. It was a little lumpy, but nothing the autopilot could handle, and I began to settle down as we would likely be in this for at least the next 45 minutes.
We had to request a descent as the ice started to build up. I placed the landing light on and couldn't see this as the ice had built up on the leading edge thus blocking the new LED from shining through, whilst worrying my veteran co-pilot, with many hundreds of hours of IFR experience was not worried but said I should request a descent.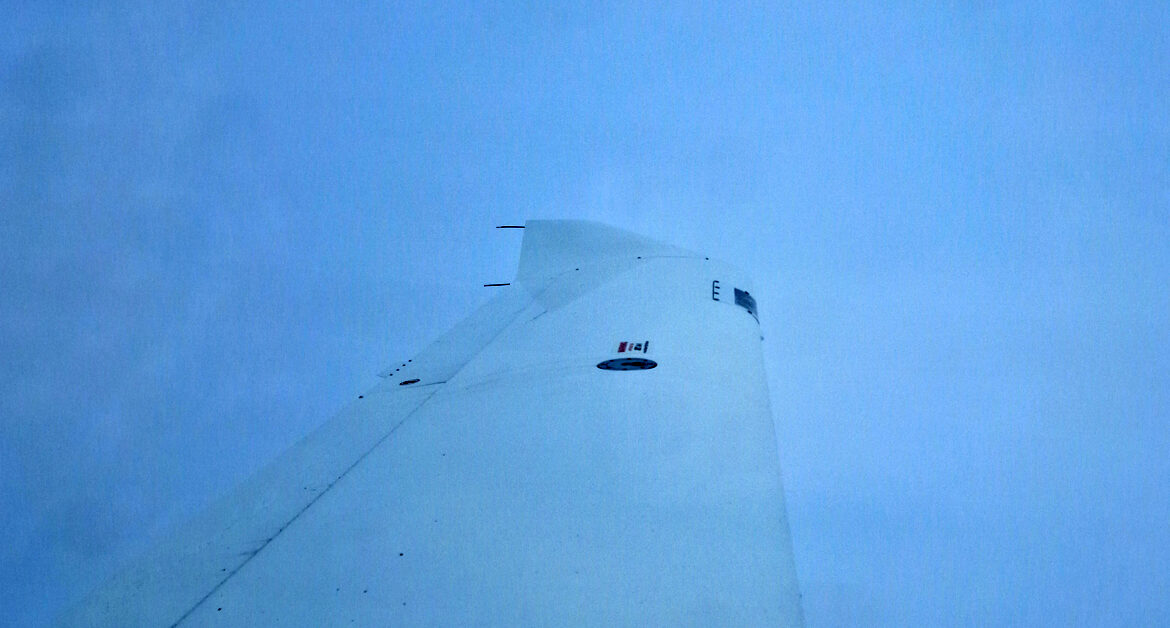 ---
This really was like flying into a wall, a wall of unknowns with a reliance on autopilot and monitoring the flight instruments as we settled our progress towards Prague in frontal IMC. It was nerve-wracking but at the same time, we were probably in good hands.
ATC seemed to be cautious about us turning towards Prague as we navigated some cells previously, but it seemed the TCU we were flying in and out of would only give us light to moderate chop, but the autopilot again acted flawlessly. I did keep my hand on the controls during the worst of the turbulence in case it gave up.
I realised at this point that I hadn't conducted a thorough approach brief, and probably should have gone through this during the flight and then recapped closer to the time. At the time of writing, I have massively improved on this aspect of my flying, brief, brief and brief so that it's detailed but highlights the more important aspects. I did look at this on further flights on the trip, but not at the level that is and should be required.
We started to make a gradual descent into Prague. Initially, we thought we would be making a right base, landing runway 30, but we realised very quickly that we were being flown left base and on querying with the controller we had to increase our rate of descent to meet the altitude level to establish using a continuous descent approach (CDA)
---
We were told to keep the speed up, and so we did – reducing from 130 knots indicated to 90 knots at 4NM away from the approach. Whilst I was busy flying the Aircraft, Stefan was enjoying the view of the famous Charles Bridge just outside the right-hand side of the aircraft. Quite a feat that we had flown here.
I had also stupidly forgotten to set the MINMA correctly, or accidentally set it as the TDZ altitude rather than the DH.
Sadly, with the wrong conditions, I didn't slow down enough to land and flared well past the usual TDZ, right in front of an airliner as I floated down with a slight bit of wind shear to make it far worse. A harder than anticipated touchdown but a vacate via the sharp right onto Papa and a short taxi to our stand on Q5, a fairly short taxi from the runway.
Prague is the biggest airport I've flown into, but it wasn't as complex as feared, with all traffic using Runway 12/30 as Runway 06/24 was closed as per the NOTAM.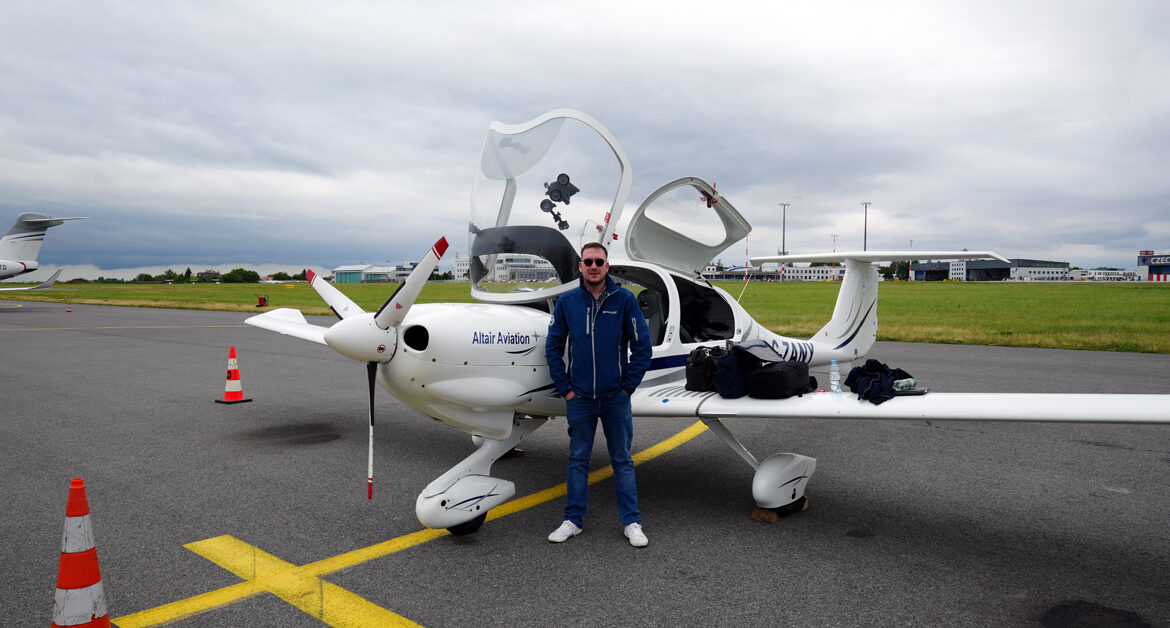 ---
We were met by our handling agent, who hastily rushed us towards the terminal due to incoming VIP traffic that would be closing the terminal off. This wasn't a problem, but I forgot to ensure the PITOT and STALL covers were on, which may be problematic.
The lesson curve for this flight was probably huge, it improved my confidence and thus ensured every future flight I did was even safer as I started to strongly implement SOPs and work towards them being a strong point of my flying.
ATC Flight plan and route flown –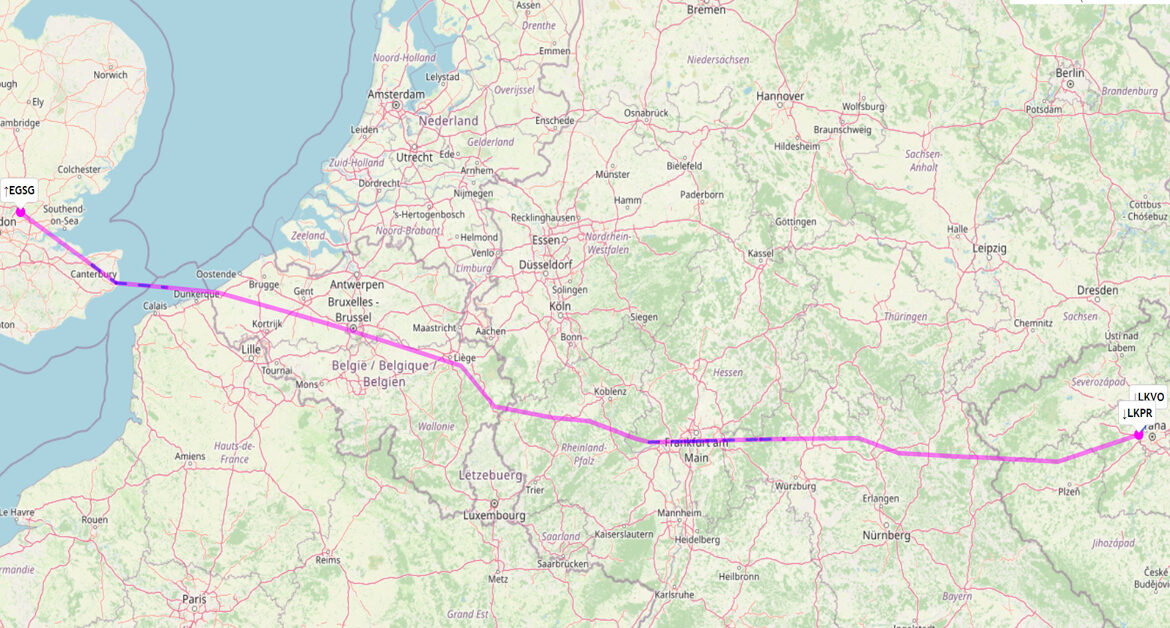 ---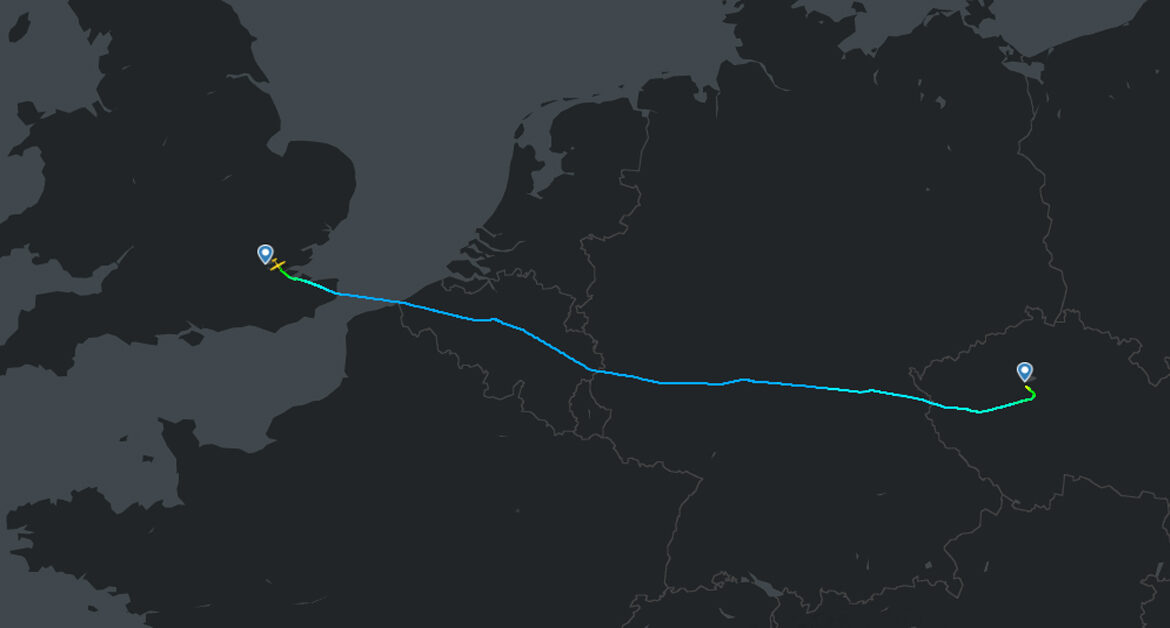 ---
Two nights in Prague –
As we were quickly ushered through the terminal, a taxi was booked for us and added to the bill. The cost of this taxi was 800 CZK (£28.33). Not bad, but not as cheap as public transport as we later found out for the return journey.
We arrived at our hotel after approximately 30 minutes. We checked in and headed to our rooms, the rooms were perfect for the short stay we would have here. I set up all my stuff for the next few days, after having a quick shower to freshen up. I was getting hungry at this point, as no in-flight snacks could support a sausage egg sandwich for this length of time.
We took a short walk to the river, where we took a few pictures of the Charles Bridge from a decent angle, we got various pictures and then decided that it was time for some beer and well-deserved food. Having flown all this way, we went to visit Lokal U Bile Kuzelky.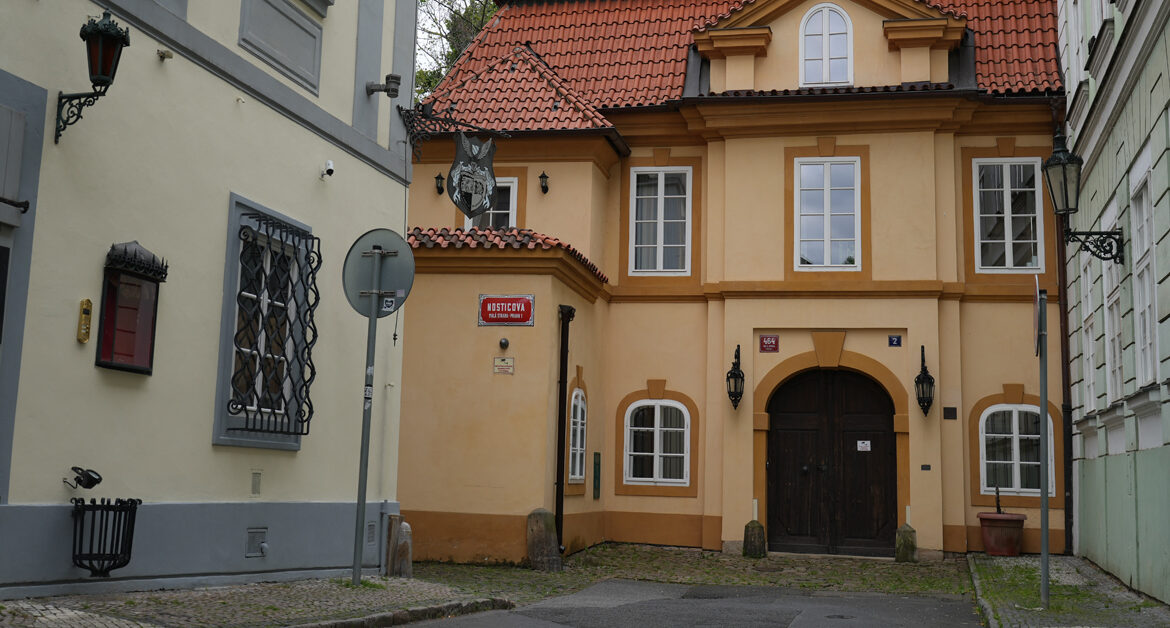 ---
Beers were on the table and lots of food was ordered. The food we ordered, and I would highly recommend trying was Vyprazany Syr – which is a Czech and Slovak cheese-based dish. I had this with potatoes.
I additionally had a Potatoe salad (Bramborový salát) which complemented my Czech schnitzel (Český řízek). This was chicken meat. Stefan had Vepřo knedlo zelo which is Czech roast pork, dumplings, and sauerkraut.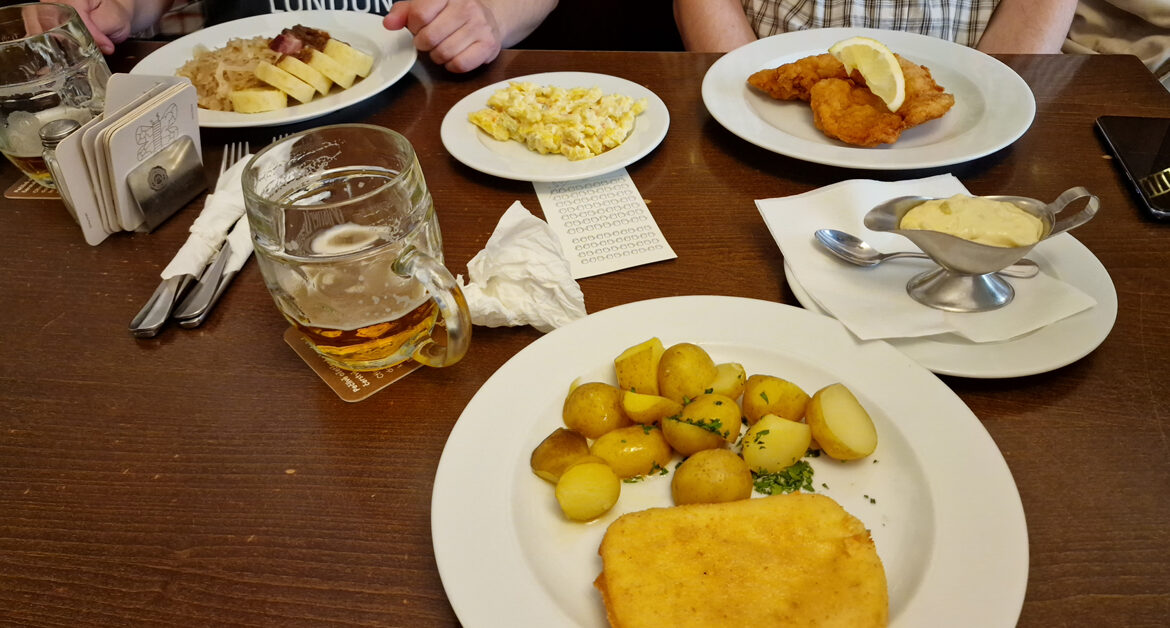 ---
This would soften the blow of the next few hours of drinking good quality beer. What amazed me is you had a tick box of how many beers you had. This was pretty cool.
We met up with a good friend of Stefan's, Marian. Marian would show us around Prague, where I could take many photos with my newly purchased Sony A7 and Lense.
We went for a further walk around the city. We visited the Franz Kafka head outside the Quadrio building courtyard in Prague, created by a local artist David Cerny. each of the separate rows rotates independently of each other to make the face move.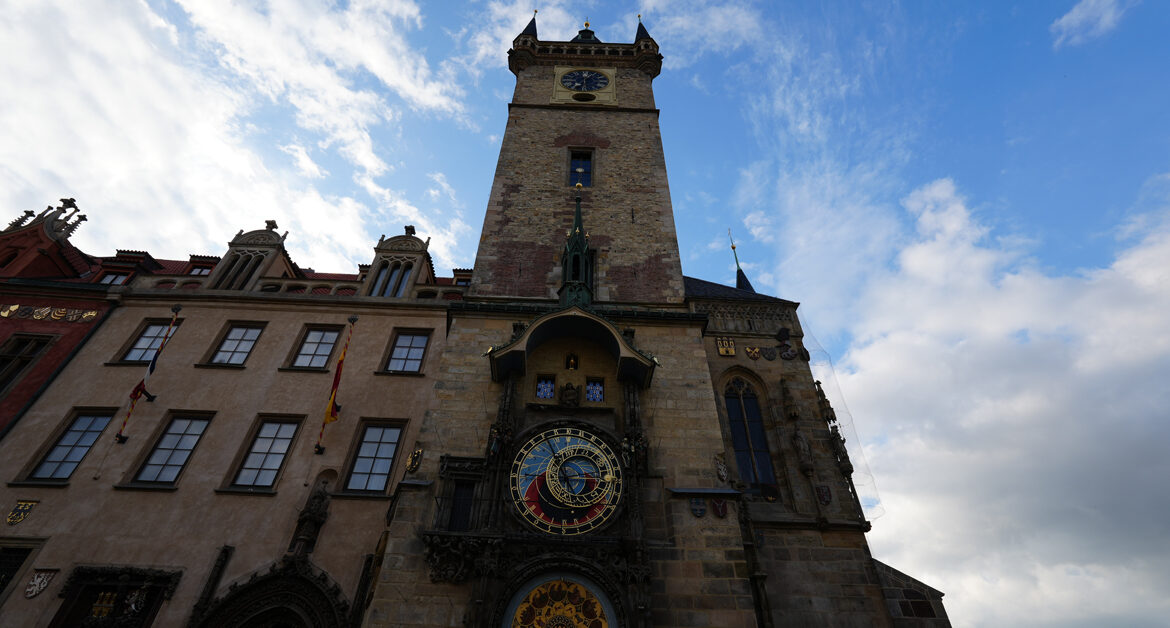 ---
Additionally, we timed it just right to see the Prague astronomical clock, which is a medieval astronomical clock attached to the Old Town Hall in Prague. The clock was first installed in 1410, making it the third-oldest astronomical clock in the world and the oldest clock still in operation.
We ventured to a Caffe nearby that had a rooftop terrace, Kavárna Adria where we had some additional beers. It was then we would proceed to the river for more beers and make tracks back to our hotel. We found a place overlooking the Charles Bridge at sunset so I could take some snaps. Sadly, I can't seem to find the location on google maps of where we sat by the river on some benches. We found a corner shop that sold bottles of water and proceeded back towards the hotel.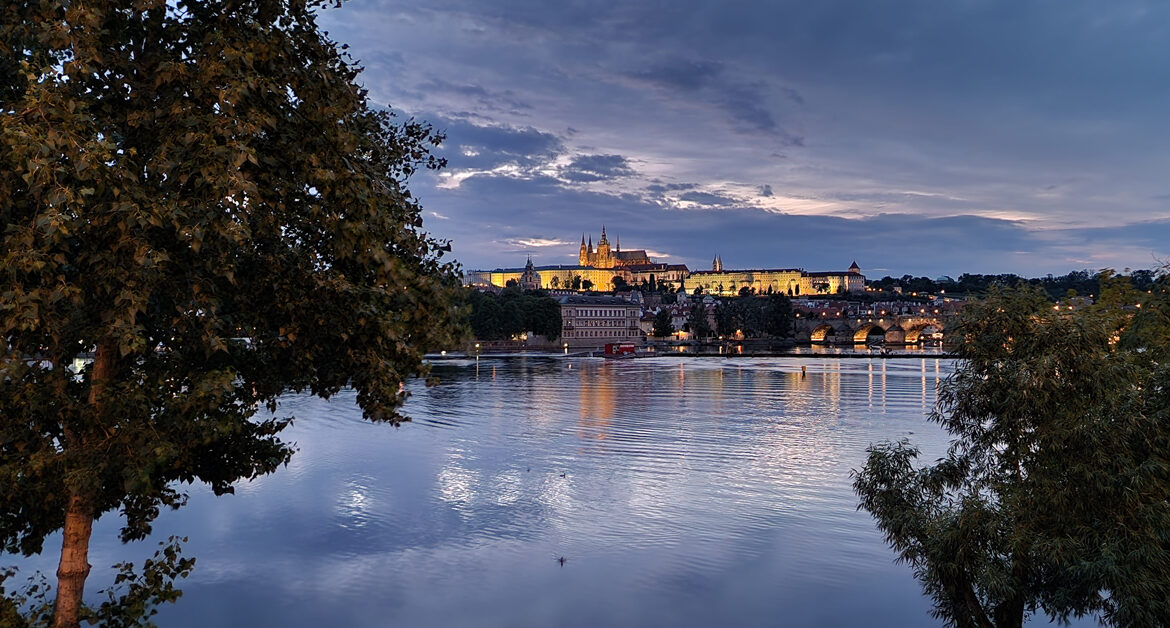 ---
So far, what a trip and an amazing experience so far. We went to find some additional beers and had a little crawl ending up at the Irish Times bar. This was on the way back to the hotel, excuses, excuses. But unfortunately, I left my bottles of water behind and don't remember where.
It was then to our annoyance that we tried to find another shop that was open and luckily came across one on the walk back to our hotel. This shop also had additional snacks that we purchased and took back to the hotel. It had been a long day, but it was finally time for bed and a lie-in.
We would meet Marian for lunch and more exploring. On our route walking, we came across a tribute to the two men who travelled around the world in a Skoda.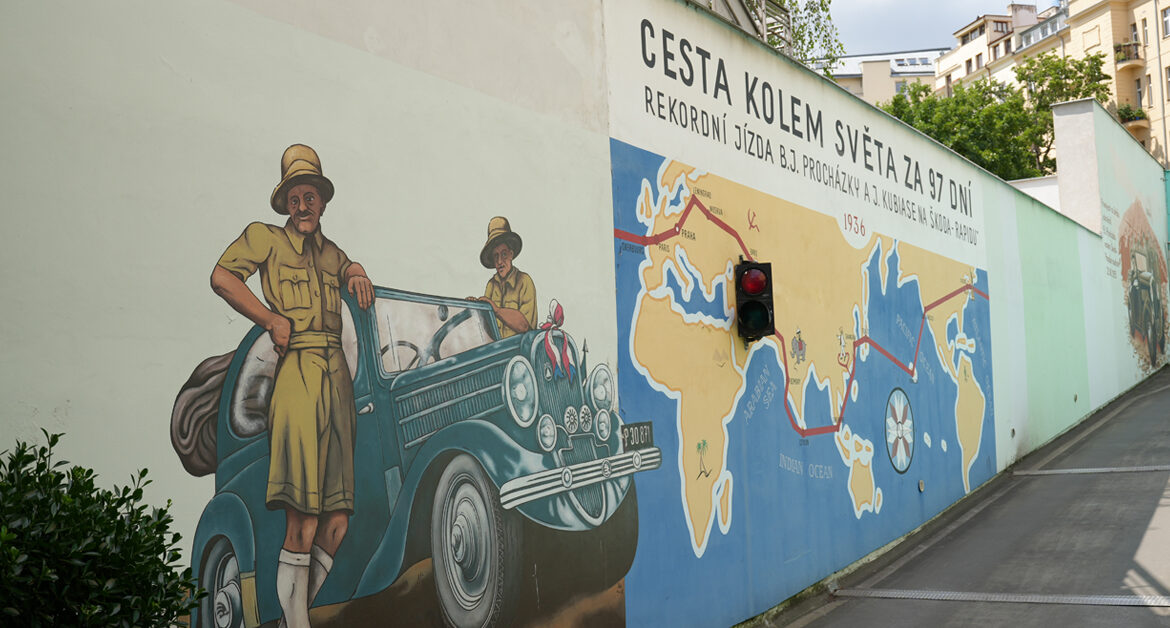 ---
On 1 August 1936 at 11.55 Břetislav Jan Procházka and Jindřich Kubias returned in their ŠKODA RAPID from a trip around the world to Prague. The ŠKODA RAPID drove 27,700km across 15 countries and three continents in 44 days. You can read more on this tribute at the Skoda Website of the ŠKODA RAPID's Trip Round the Globe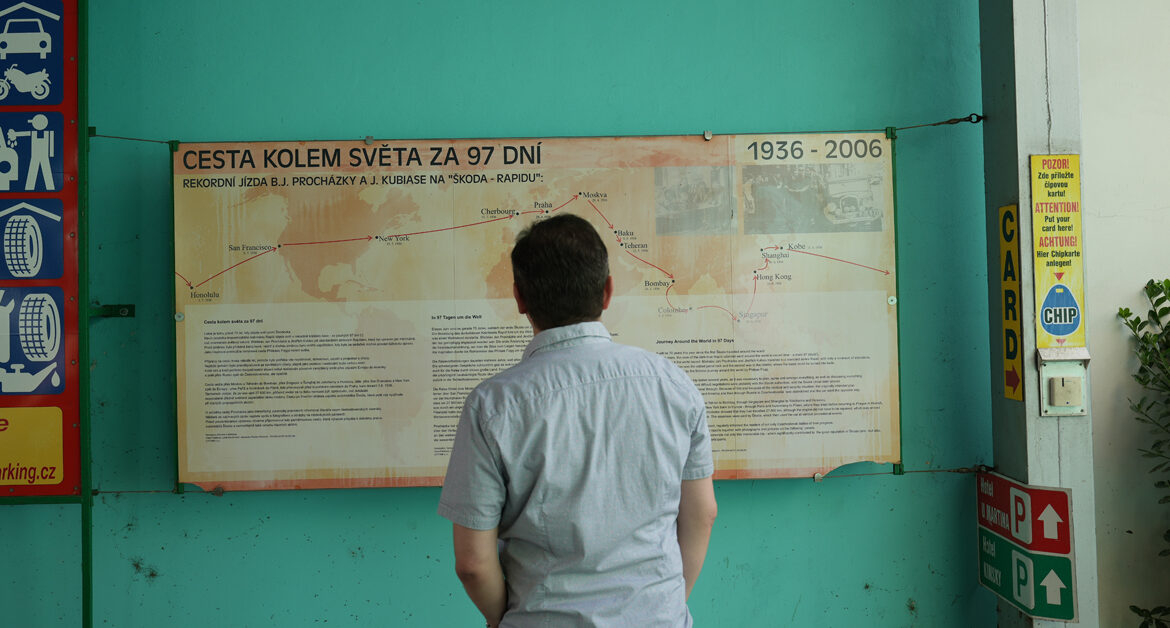 ---
We decided to take a walk to the location where there were plenty of places to eat. We eventually decided on something healthy yet filling. Paprika is a compact counter-serve bistro offering homestyle Israeli fare such as falafel, hummus & shawarma.
This is what we ordered – including some much-needed hydration: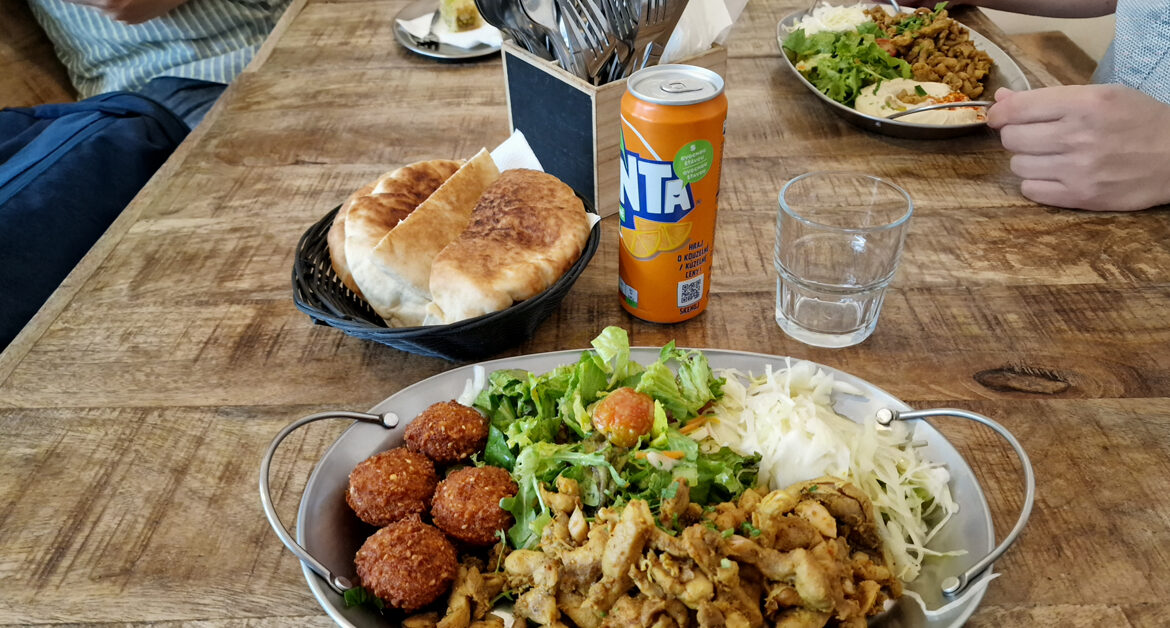 ---
We then decided to travel to Prague Castle. The easiest way to travel to this location was on the metro and then walking. We travelled to a place called Hradčanská and then a short walk through the ground towards the castle. The grounds were called Královská zahrada (Royal Garden of Prague Castle)
To Stefan's annoyance, there was a beer festival happening, but there was no way of gaining access to this festival full of kegs below us and overlooking the castle.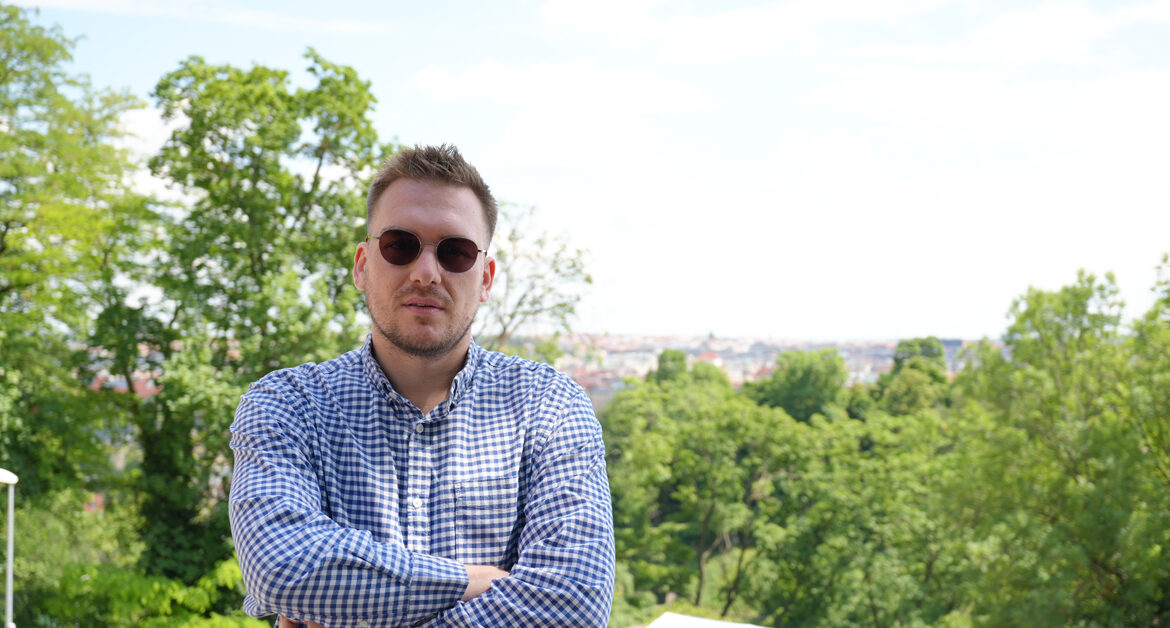 ---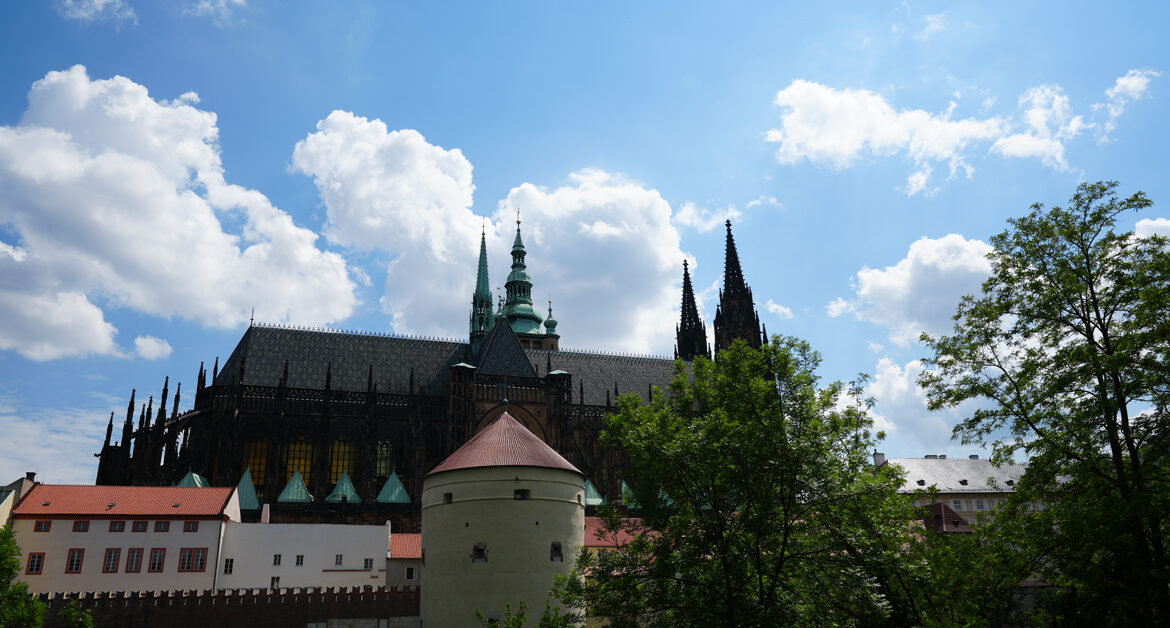 ---
Situated in the middle of the grounds is the Saint Vitus Cathedral where we paid a visit. We then continued our walk to the far exterior of the castle grounds where there was an amazing view overlooking the whole of Prague. It's here you can get great shots of the famous views of the famous city of 500 spires and its red rooftops.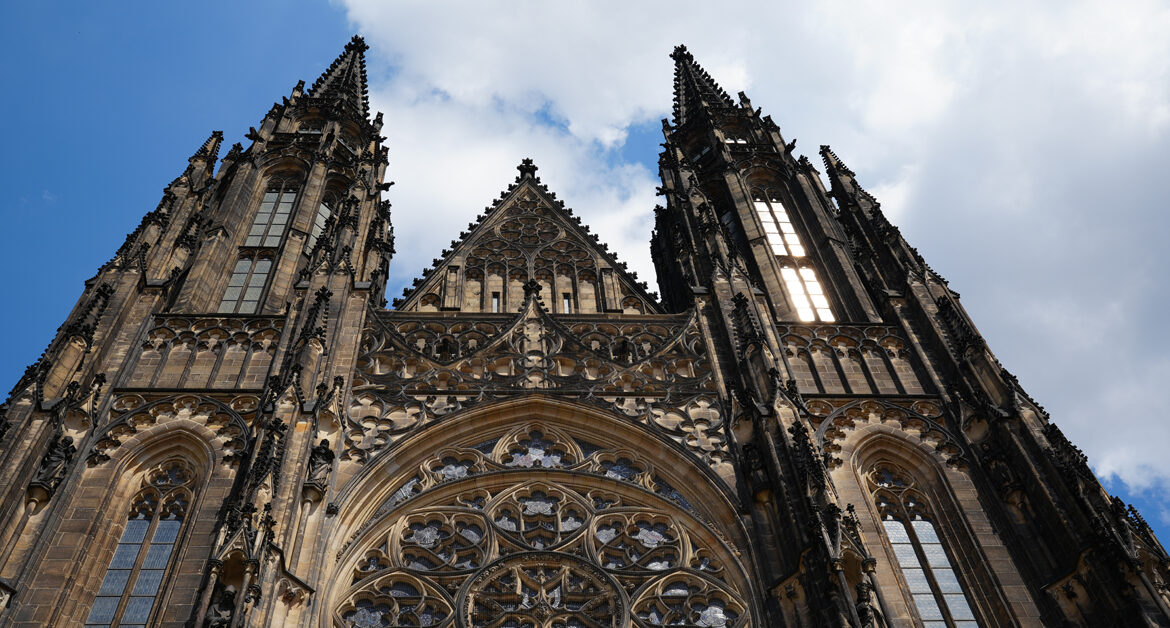 ---
This cathedral is a prominent example of Gothic architecture and is the largest and most important church in the country. Located within Prague Castle and containing the tombs of many Bohemian kings and Holy Roman Emperors, the cathedral is under the ownership of the Czech government as part of the Prague Castle complex.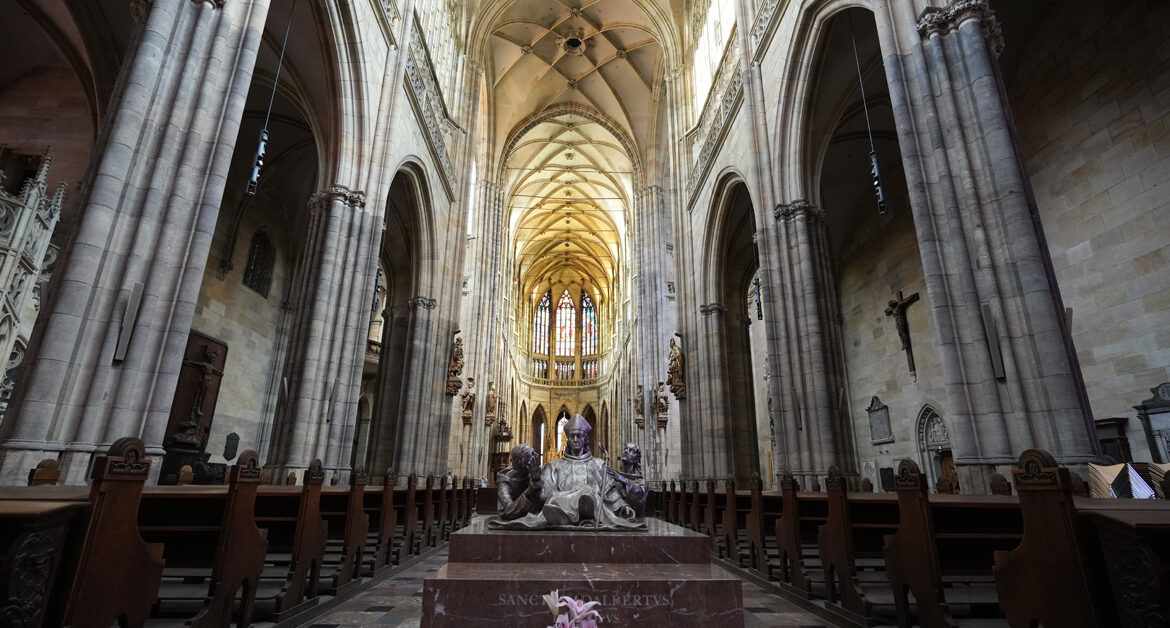 ---
Not far from the grounds of the castle we made a pit stop at the Prague Chocolate Bistro on our slow walk down the streets back to the city. Located in Lesser Town, quality coffee and delicious homemade desserts. Light meals made from fresh ingredients. This is probably known for selling one of the most amazing cheesecakes in the city, and tasty it was. We ordered an Iced coffee to cool us down before we would have further beers…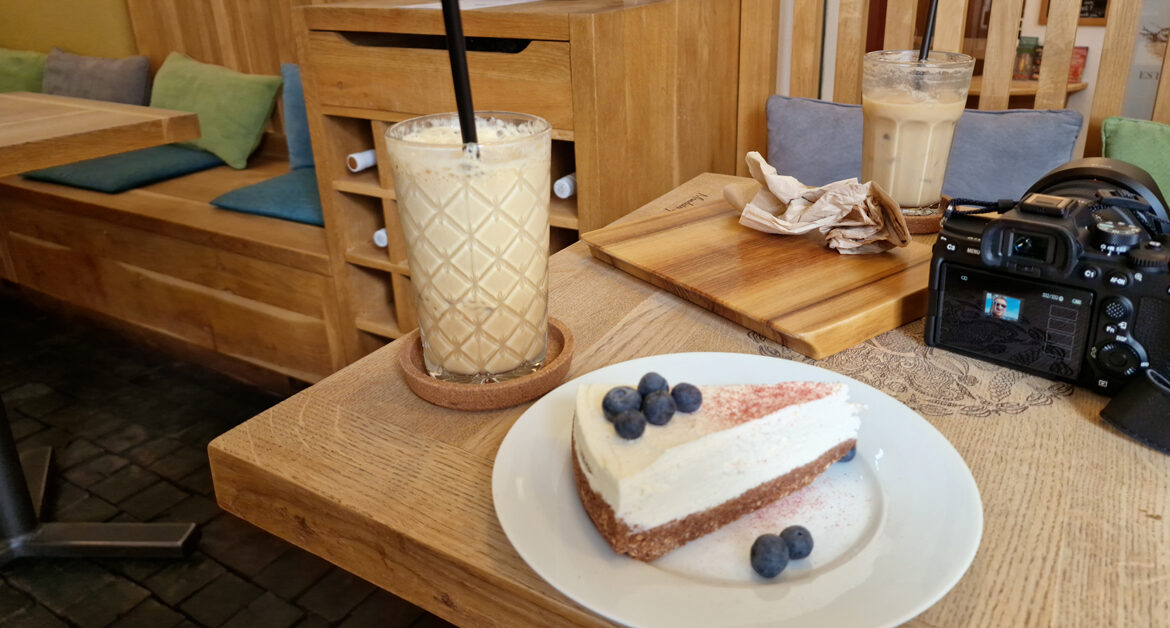 ---
We met Adam, Adam was the brother of a former work colleague and friend of Stefan. It's here where we got very spontaneous. We found a restaurant called U Glaubiců that sold plenty of beers, and it's this point that Adam was invited to Erlangen. How spontaneous.
The U Glaubiců Restaurant is located in a historical house of the same name close to St Nicholas Church on Malostranské náměstí ('Lesser Town Square), and its beer tradition goes back a long way. On the premises, you will find the restaurant itself, a street café, a lounge and, most importantly a beer cellar over 700 years old. Pilsner Urquell and Velkopopovický Kozel beers are on tap, and they serve traditional Czech cuisine, made with quality ingredients. Despite its location in a busy part of the Lesser Quarter, it offers a pleasant setting for both tourists and locals.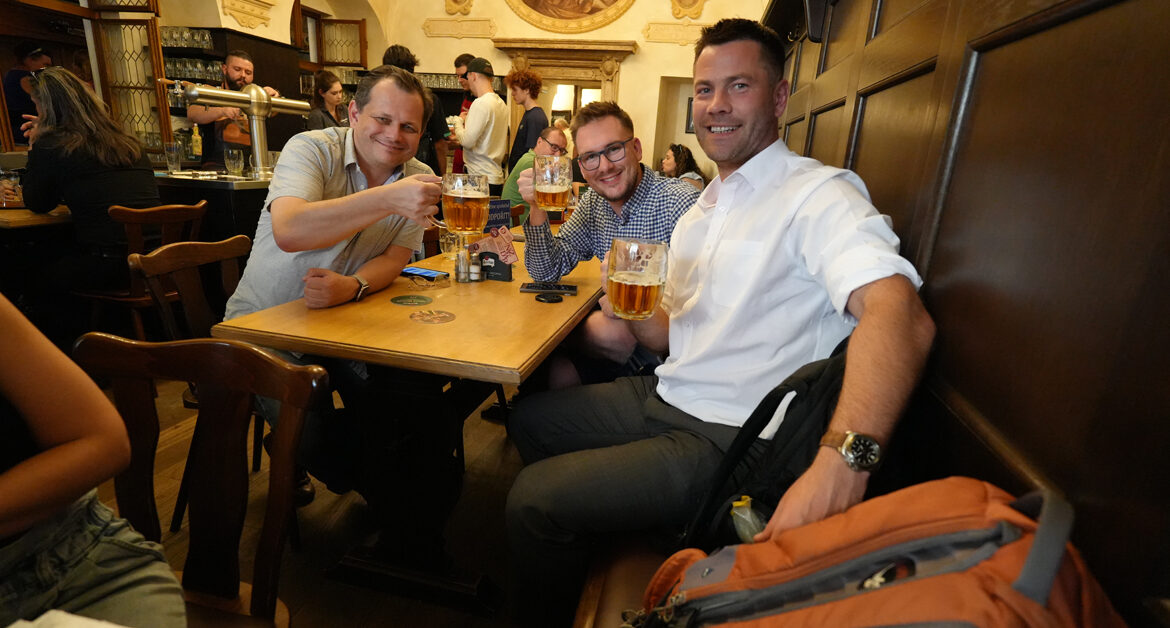 ---
I did the maths and worked out how much fuel we had burned, I calculated our weight, and it was plausible with good weather that Adam could hitchhike in the back and join us for the trip. It was just a question of how he would get back to Prague after. Flix bus…
We went back to our respective accommodations and freshened up before meeting for dinner. We would eat at the Staropamen brewery and have fresh beers brewed nearby. The Brewery is in the Smíchov district of Prague and is the second largest brewery in the Czech Republic the Potrefená Husa na Verandách Restaurant sits on the end of the Brewery. It's been here since 1872, although it's had a refresh in recent years. We ordered mountains of food in this restaurant and didn't stop ordering.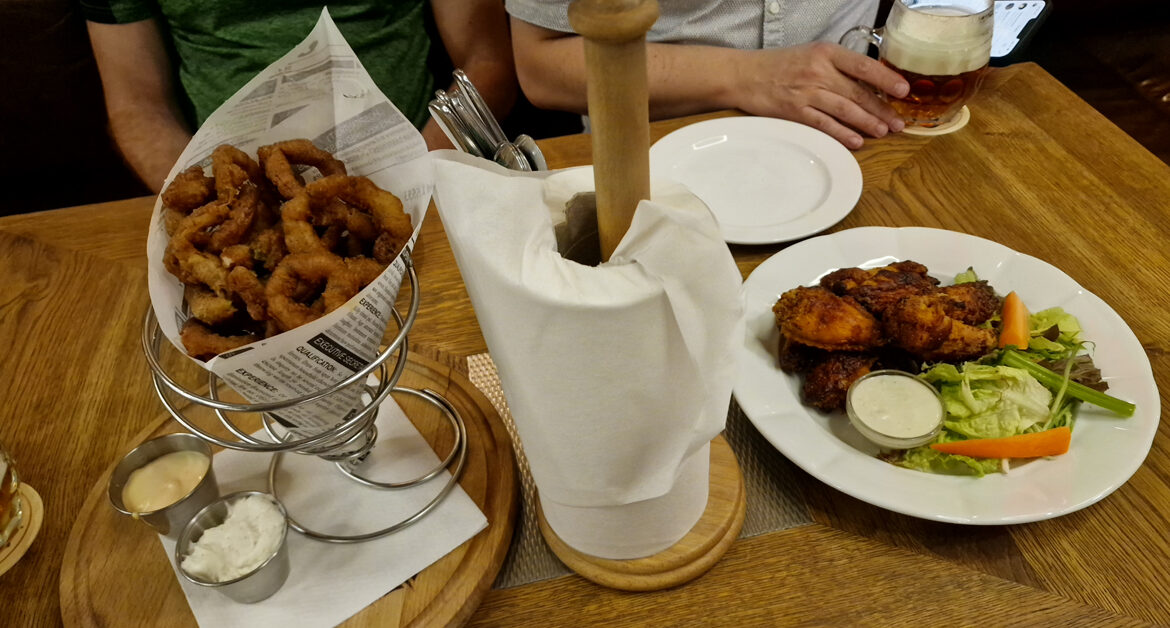 ---
The Brewery's history begins in 1869 when shares for a "Joint Stock Brewery in Smíchov" were offered for sale. The brewery building was completed and beer was first brewed in 1871. The Ostravar Brewery opened in 1898 followed a year later by the Braník brewery; these two breweries would later merge with Staropramen.
The beer has been perfectly balanced for over 150 years and is a traditional Czech Pilsner which is brewed with passion using the finest ingredients including premium Czech hops.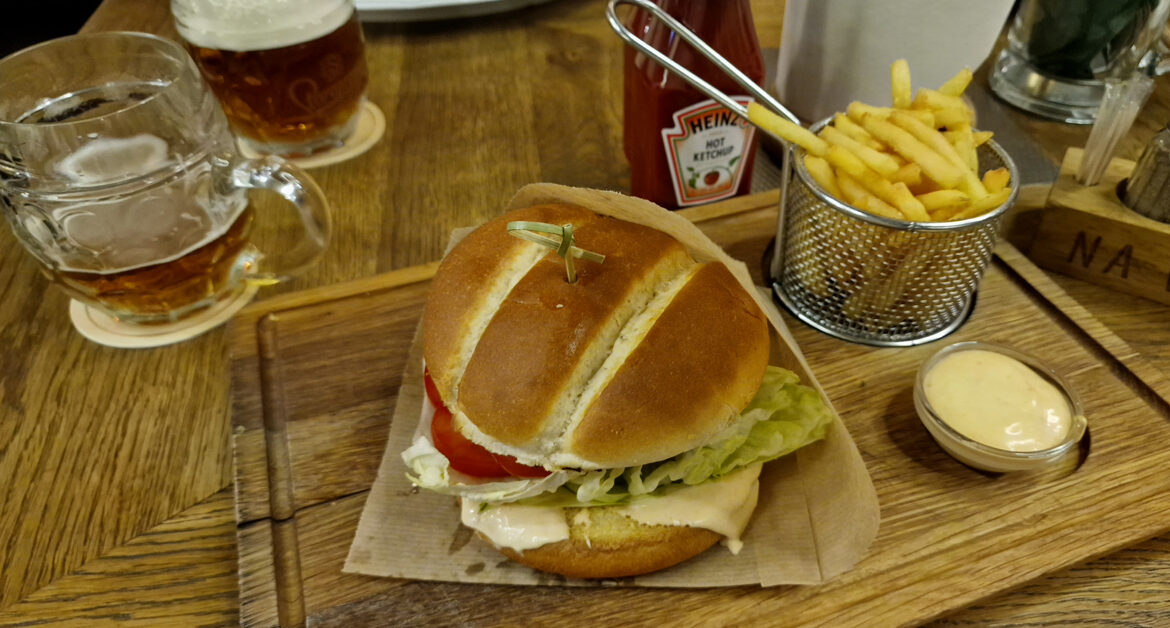 ---
Unfortunately, at this point, I would have to stop drinking, as I would be flying the aircraft tomorrow and had to be fit to fly. With the flight not for another 14 hours, we still decided to go to a place called Cross Club (This was Adam's Spontaneous suggestion) but it looked like the whole of that area of Prague had come down with COVID. We TOFTT (Took one for the team), so I wouldn't recommend ending up here.
It was time for bed, and hopefully, Adam would turn up in the morning and not be too hungover for the flight to Nuremberg. Plenty of sleep was needed after this action-packed day in Prague.
We woke up just before our checkout (11 AM), and because I had done all the planning and the filling of the flight plans the night before, we quickly showered and checked out from our hotel room and headed to the airport with our bags.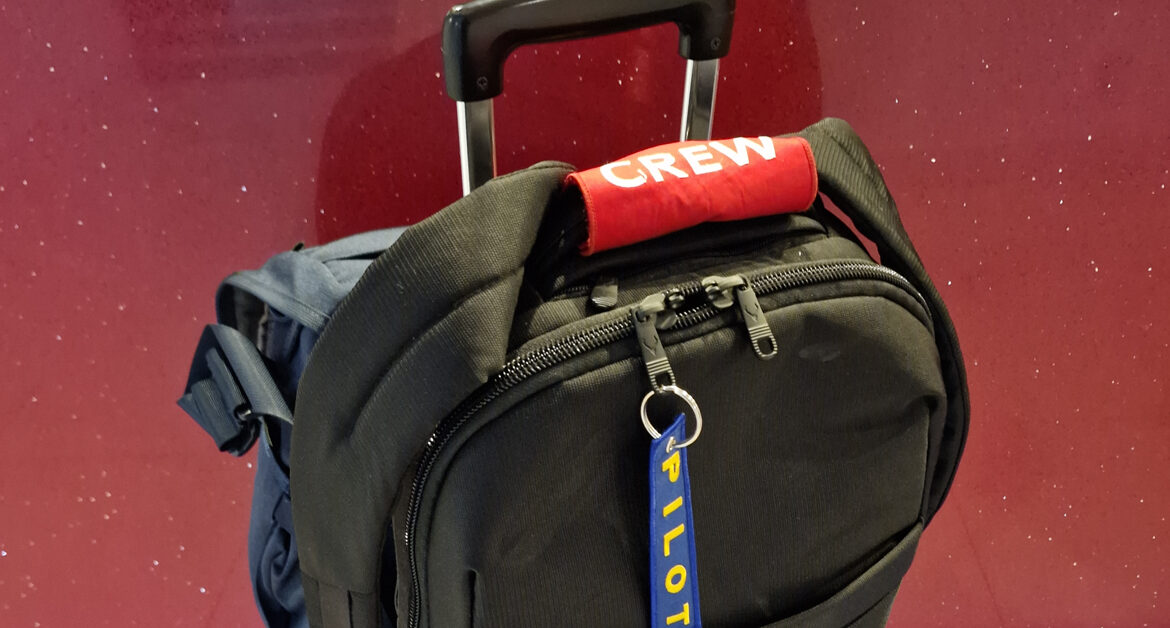 ---
After checking out of our room, we took a short walk and headed to Cafe Savoy in Vítězná, located in the Mala Strana (Little Quarter). Unfortunately, the wait for food was too long, but just behind us was Kampa Cafe.
The Kampa Cafe was founded by two guys with a love for breakfast and good food. Here we had a really filling breakfast, with great pastries, cakes and coffee available. This would importantly wake us up but keep us going till at least the afternoon, It has good reviews and I'd highly recommend it.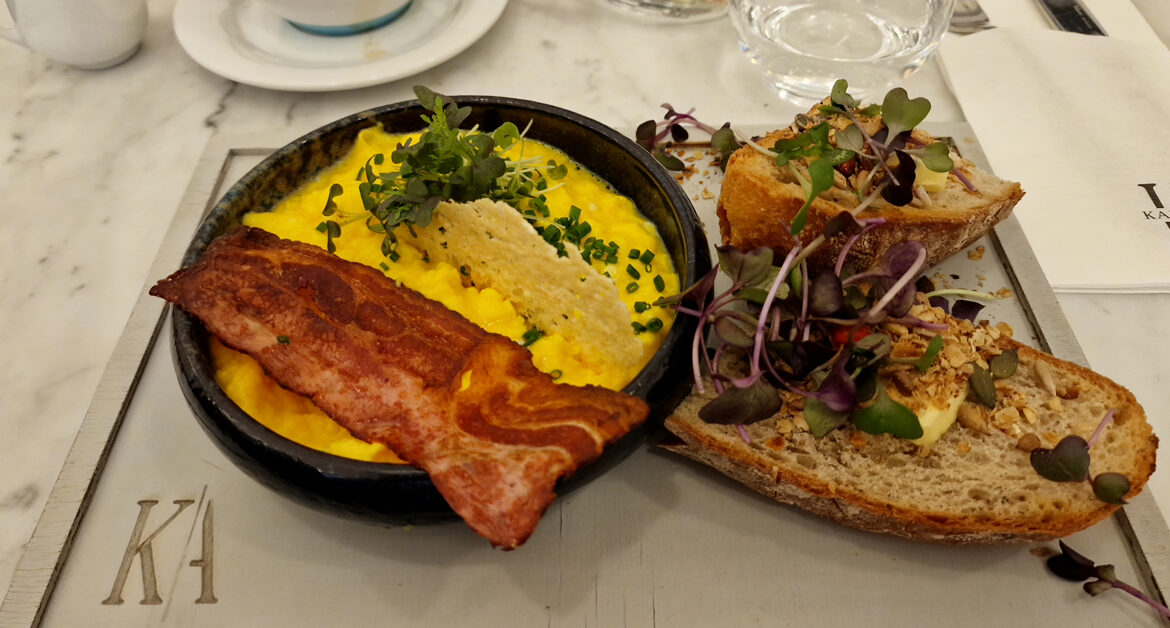 ---
The ticket we purchased yesterday gave us just over 24 hours of coverage, so we could just about use it to the airport. We took the tram from the nearby stop Újezd. This would take us to a location where the tram would stop before it turns back to the city centre. The bus would take us a short distance to the terminal. This was a much more cost-effective journey, and it wasn't too bad.
Prague Visiting Guide –
Here is a Prague Visitors guide that has been written by our friend and guide and I've kindly offered to host it here for him for all those who wish to read and then visit the capital and largest city in the Czech Republic.
---
Final Fees for Prague Airport –
Arrived from UK – London – Stapleford (EGSG) – Departed to Germany, Nuremberg (EDDN)
BASIC – 1,800 CZK
Landing Charges – 1,343.10 CZK
Parking Charges – 1,062,00 CZK
Depart. Pax Charge – 785.29 CZK
PRM Charge – 12,10 CZK
Slot Coord Fee – 72,60 CZK
Total 5.453.09 CZK (£189.51)
JetA1 – 1,211.99 CZK for 23 Litres – £42.12
Flight to Germany –
We arrived at the airfield without Adam who would arrive a short time after having woken up later than we had. We quickly were processed by Security and then picked up by the handling agent, who took me to the aircraft so I could prepare the aircraft for the short flight to Germany. I only needed a small uplift of fuel and to be as accurate as possible, I measured how much fuel we had in each tank and carefully calculated the uplift.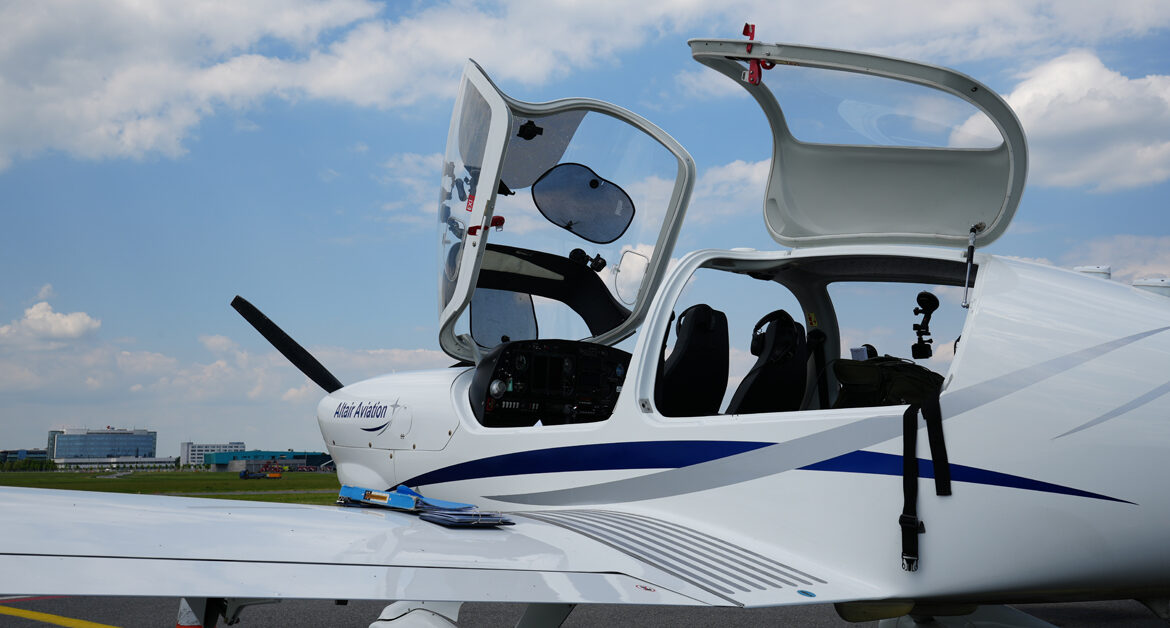 ---
Our IFR alternate would be EDDM (Munich) – with Herzogenaurach our VFR alternate if we have issues with the aircraft and or its convective in the Munich area. We touched on this in the brief and Stefan would handle the radio, as he had experience with VFR'ing into Germany.
An occluded front stretched to our north before our flight and that gave way to a 30% chance of isolated Thunderstorms. With that in the forecast, we planned to land the aircraft at a VFR airfield if this gave us an issue rather than be vectored in the weather.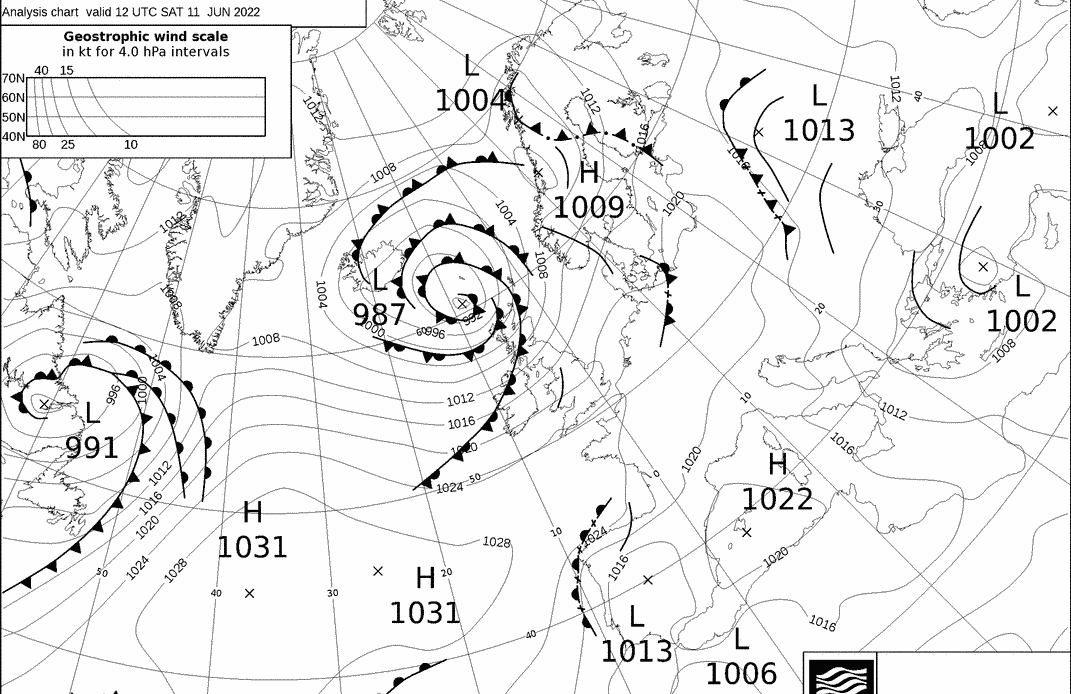 ---
I wasn't sure of the taxi out time here so took an extra litre or two for that, so wouldn't be concerned if our start-up and taxi time was 20-30 minutes.
After completing all formalities, a small refuel and paying the dues we headed back to the aircraft. Adam seemed a bit nervous at this point, but I quickly got him in the aircraft and briefed him on the evacuation and operation of the doors.
---
We started up just a few minutes before OFF BLOCK TIME and requested a taxi, which would be fairly short. We did our power checks at the hold and called ATC that we were fully ready for departure. We rolled down the runway and got airborne relatively quickly and despite the high temperatures, the aircraft climbed very well.
We got to an altitude where ATC can take you off the SID and were cleared direct to the Czech/German border. We had a guess at the base of the clouds, but the more we continued our climb did we realise we were both wrong. The bases were at least 8500-9000ft with tops in the 9000-10000ft range.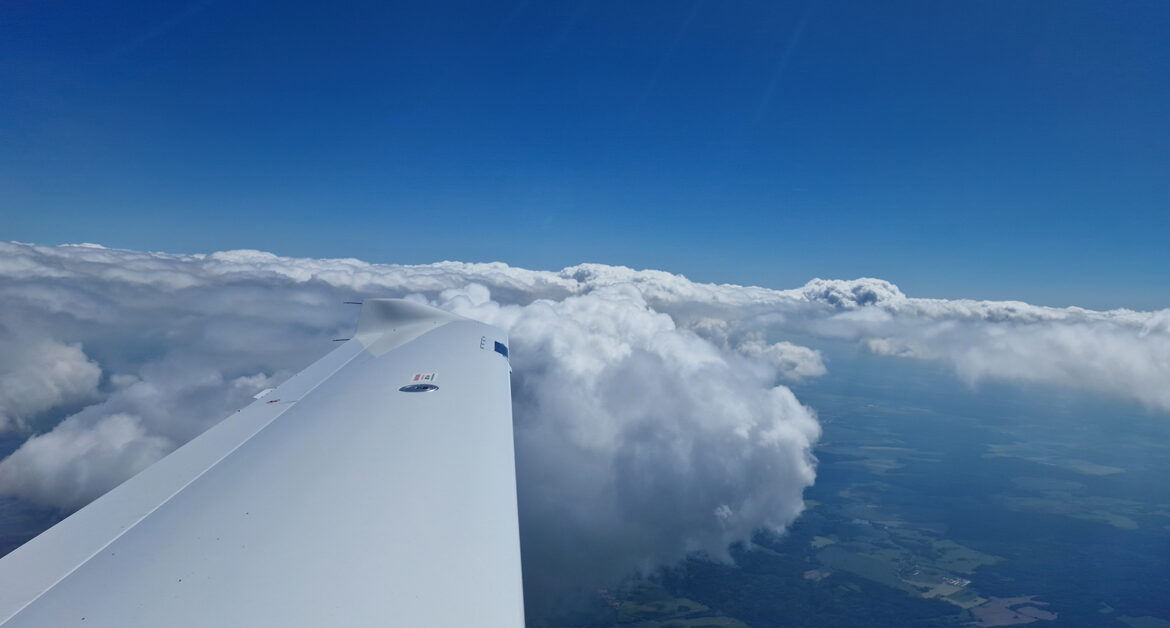 ---
Stefan commented on how beautiful it was today to fly and that the cloud structures provided a fairly nice view. The weather forecast later that day for Prague was Thunderstorms, and the Golze was showing some GREENs on the weather radar. Although we couldn't see any build-ups', and although it was summer, the weather was unremarkable.
After a smooth flight towards Germany, we started to look at the STAR, followed by the ILS plate in far more detail than the initial flight we had to Prague. We referenced what we had filed and the anticipated runway in use.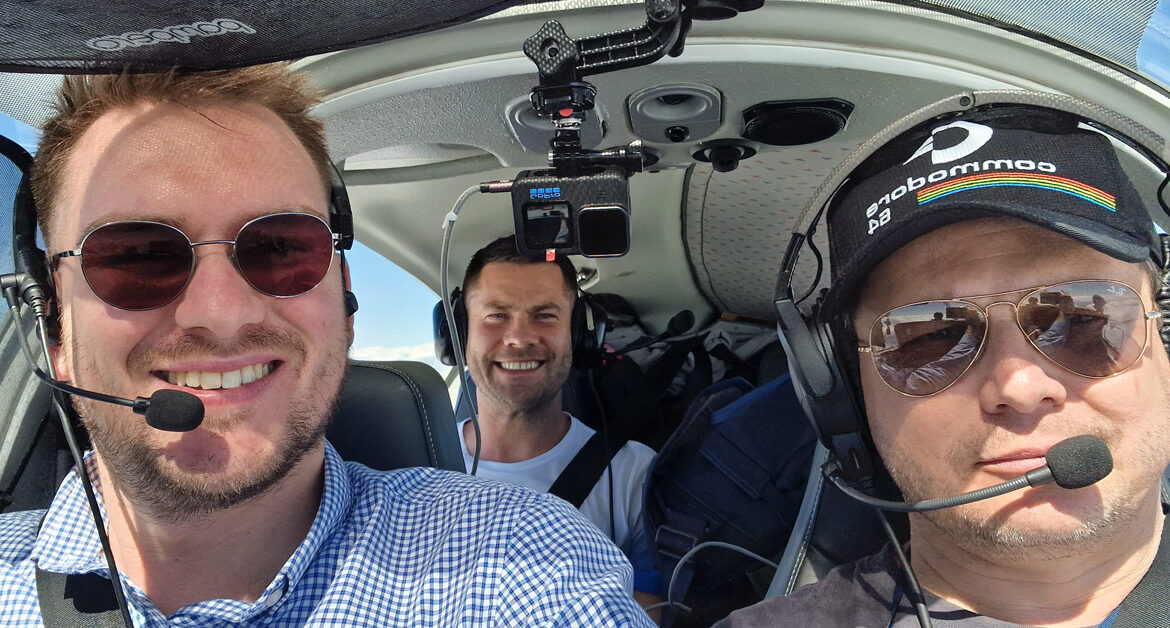 ---
We were quickly transferred to Munchen Radar who would provide our descent and Instrument Approach to Nuremberg Airport. After a short whilst they offered us the visual approach, but we declined this as I would prefer the IAP currency (Due to a forthcoming IR revalidation) – and wanted to take in as much practice as possible.
A Ryanair did call up for the reciprocal Runway which had an RNP (I was hoping to complete one of these before my IR revalidation). But I quickly declined this request, but Ryanair was granted. However, as we got closer to the airport and our direct to the ERL (ERLANGEN VOR) we were given vectors towards a short final for the ILS. I misjudged the descent profile, but we still managed to fight the lumps and bumps into Nuremberg.
We established and flew the approach at a slower speed than we did a few days, to ensure we were stable by 1000ft. We progressed towards minima and a perfect landing took place onto Runway 28, despite the fairly turbulent conditions that we experienced.
We rolled out and vacated at Charlie and were given taxi instructions at a very complex taxiway setup towards the GAT. Initially, we struggled to hear the ground controller but worked it out eventually. In fact, this spot we navigated through, and I got confused by is circled on the German AIP as a HOT SPOT for it is a very complex part of the taxiway system. Just my luck.
It's probably without saying, that at this point in the approach brief it's best to include (especially when flying into unfamiliar airports) the taxiway layout, the expected vacate points and where you are likely to taxi too. In Germany, it's easy as you'll almost always head to the GAT.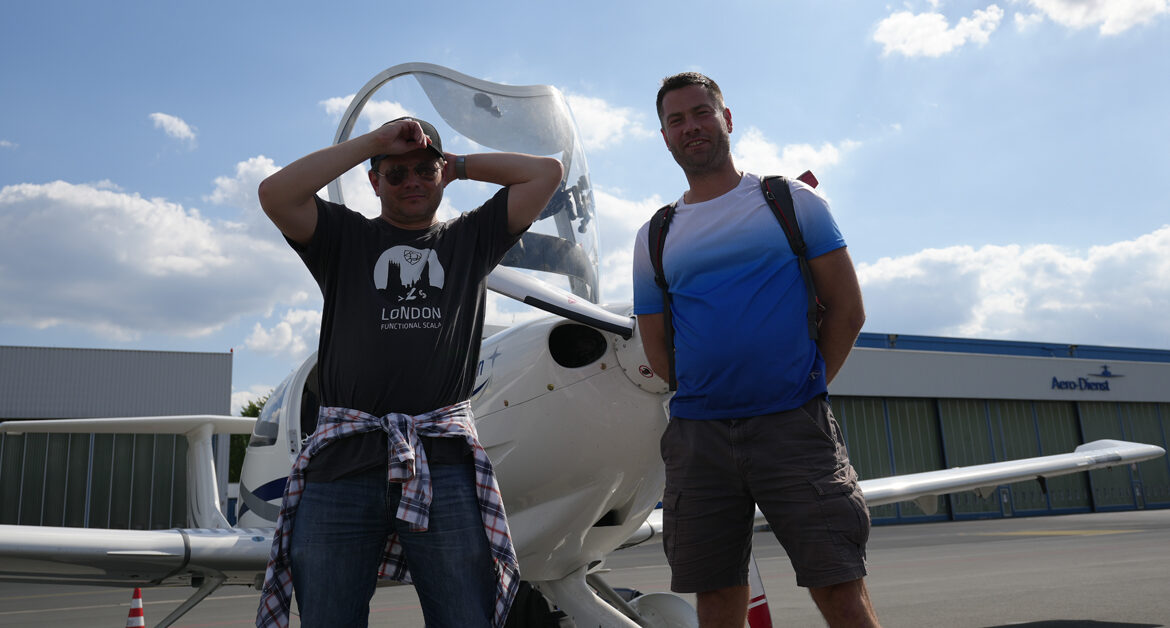 ---
We pulled onto the stand very slowly despite the frustrations of the marshaller who would also take us the 350 meters across the taxiway to the main building. Pointless but hilarious at the same time as it would mean I'd have to pay some dosh for a walkable distance.
From where the aircraft is parked to where the control tower is located is the distance you have to walk to the GAT, but because this is a live taxiway, the airport authorities don't allow it.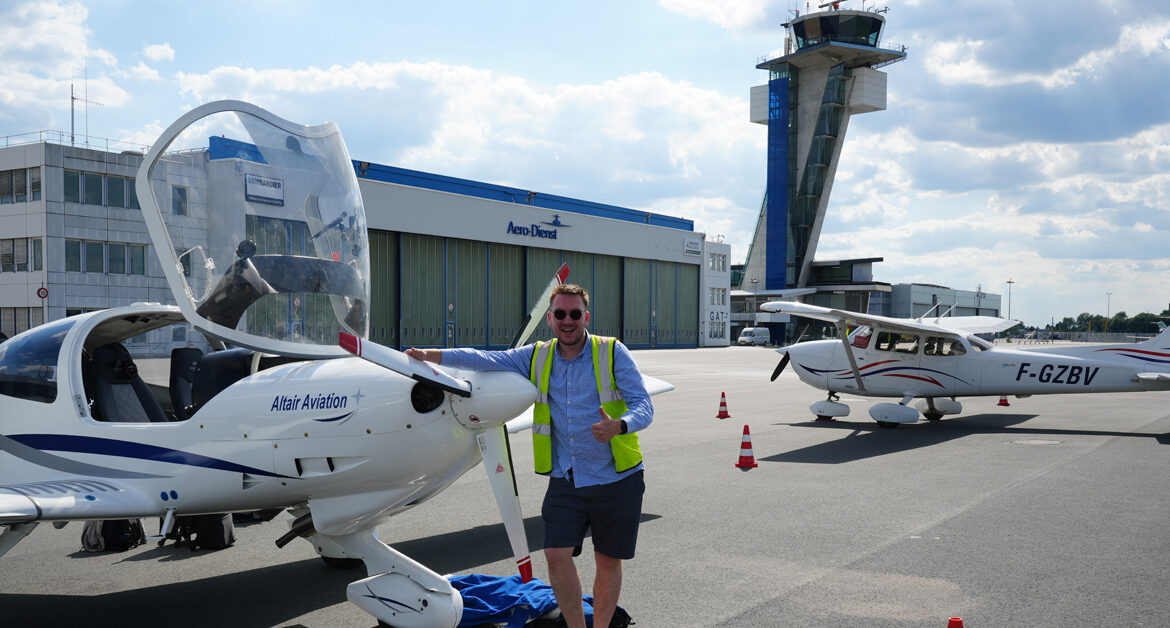 ---
We were quickly on our way and processed by the GAT, ready for the bill collection on Monday. Taxi booked and we were on our way to Erlangen for myself and Adams's first time ever, for veteran Stefan this was another visit for his Erlangen logbook.
ATC Flight Plan & Route Flown –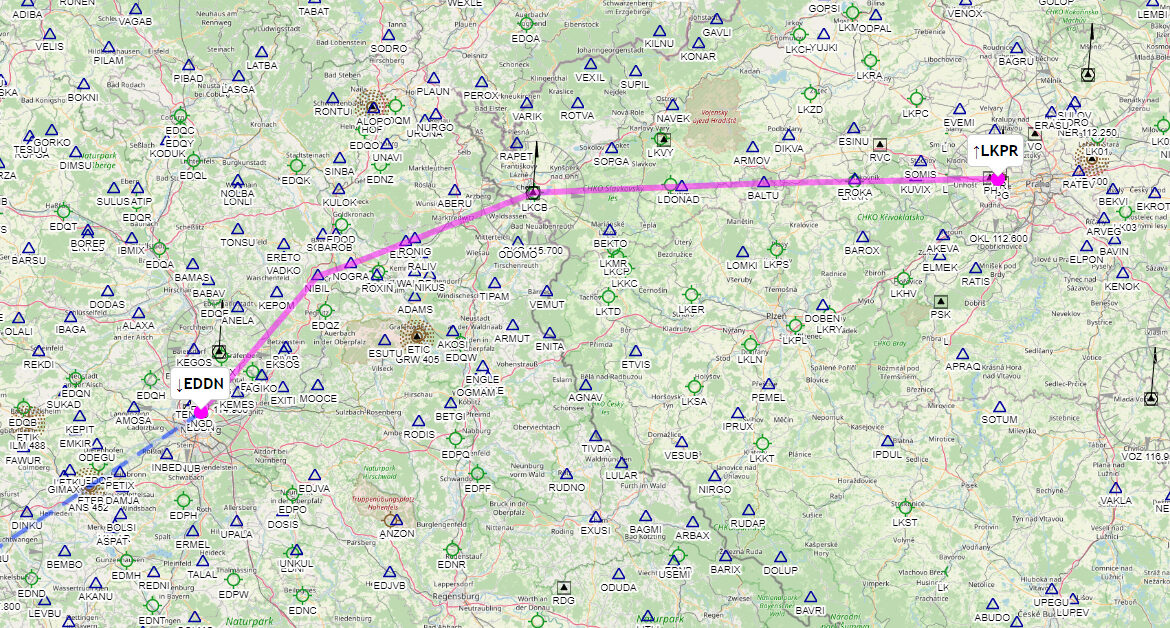 ---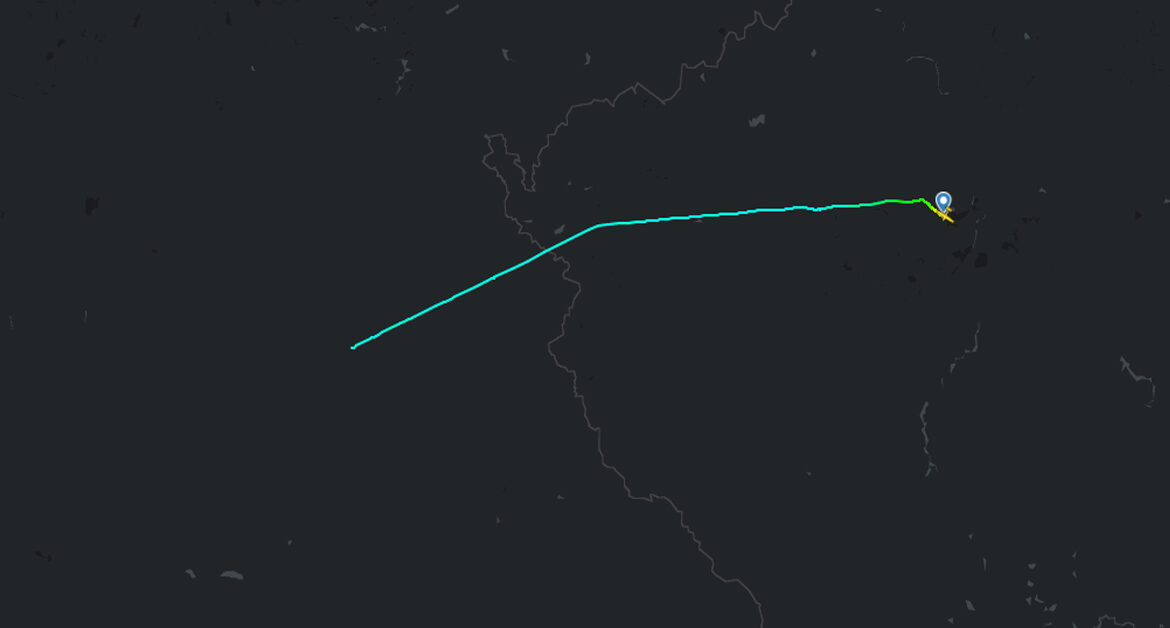 ---
Fees for Nuremberg –
Arrived from the Czech Republic, Prague (LKPR) – Departing to Germany, Baden Baden (EDSB)
Ordering a taxi – 6,05 EUR
Take-Off Charge – 8.81 EUR
Parking Charge – 17.44 (8.72 a day) EUR
GAT Basic Fee – 18,10
Emission Charge – 1,00 EUR
GAT Pax Crew Transport – 57.50 EUR
Total – 129.59 EUR (£111.38)
JetA1 – £2.76 a litre incl fees and VAT/DUTY = £303.76 for 111 litres
Visiting Erlangen –
The taxi came fairly quickly. The GAT took payment for this and added to the bill, which was a total of 50.00 EUR (£43.12) – for a 20-minute ride this was pretty expensive. The journey is pretty much motorway till you reach Erlangen.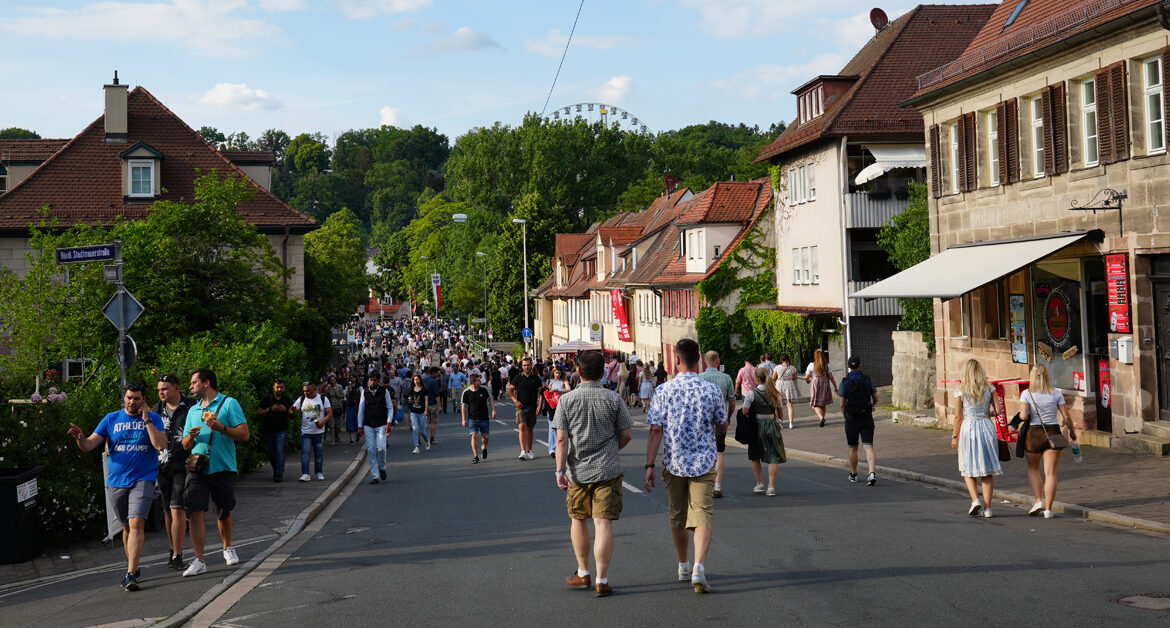 ---
The location was great, it was a short walk to the berg and although on this part of the trip I had more stuff with me than I had in Prague (I had to download the footage from the initial flight and the one we had just completed) – download the data and clear the memory cards ready for the big trip back to the UK. I quickly showered, set up my computer and started downloading footage.
I had purchased this very cheap (but silly) fancy dress to wear, and I can't even call it anything, it was disgraceful especially when the people that were at this event (explained to me later) paying £1000s for what they were wearing. This was £20 from Amazon, and it was going to be sent back.
The Erlangen Bergkirchweih attracts around one million visitors every year and transforms the area around the castle hill into a cheerful get-together with music, beer, dance, fun and games. With its charm and atmosphere, it enchants young and old, from near and far. Sadly, the last two years had been cancelled, but this year it went ahead and on this final weekend, it was busy.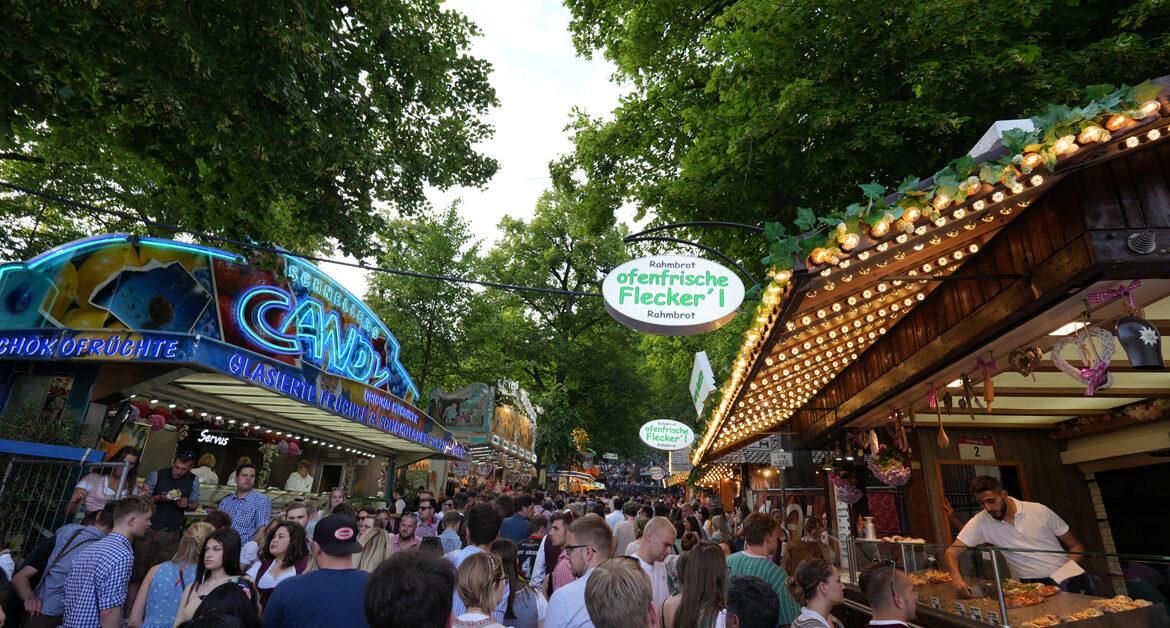 ---
Erlangen dates all the way back to 1002, but this festival actually commemorates the birthday of the market square. It is one of the oldest festivals in Germany.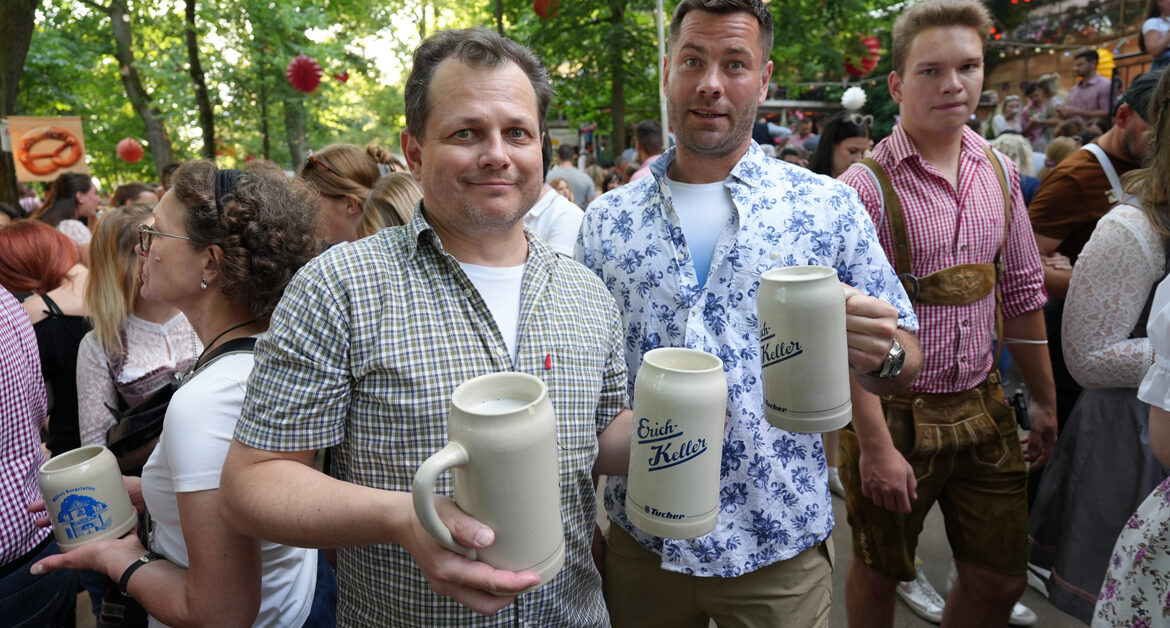 ---
Stefan was very happy to be back, I was happy after multiple years of talking about it and planning to come had finally arrived and well Adam was happy, he made the spontaneous decision to fly the 200 miles to Nuremberg with is and trust me after only a few hours of meeting me.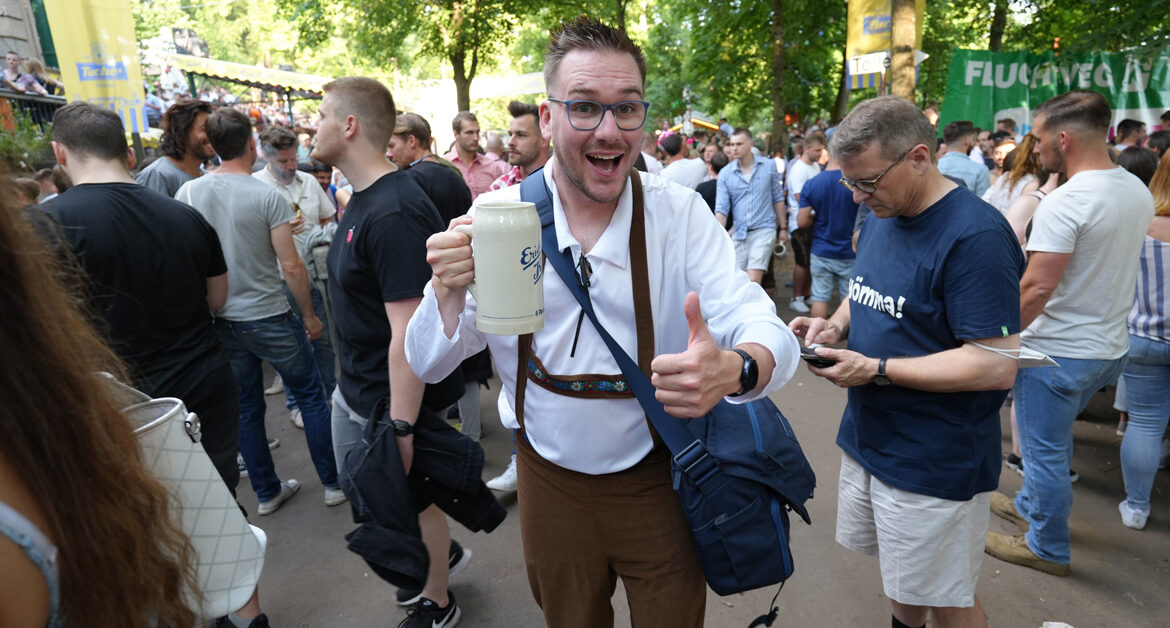 ---
Each year is a different design for the litre beer mugs. You pay a 5 EURO deposit and you either give the mug back for the deposit or take it home, as it makes a great souvenir. We ordered some Pretzels and continued drinking till the late hours. It's unfortunately after this I don't really remember much.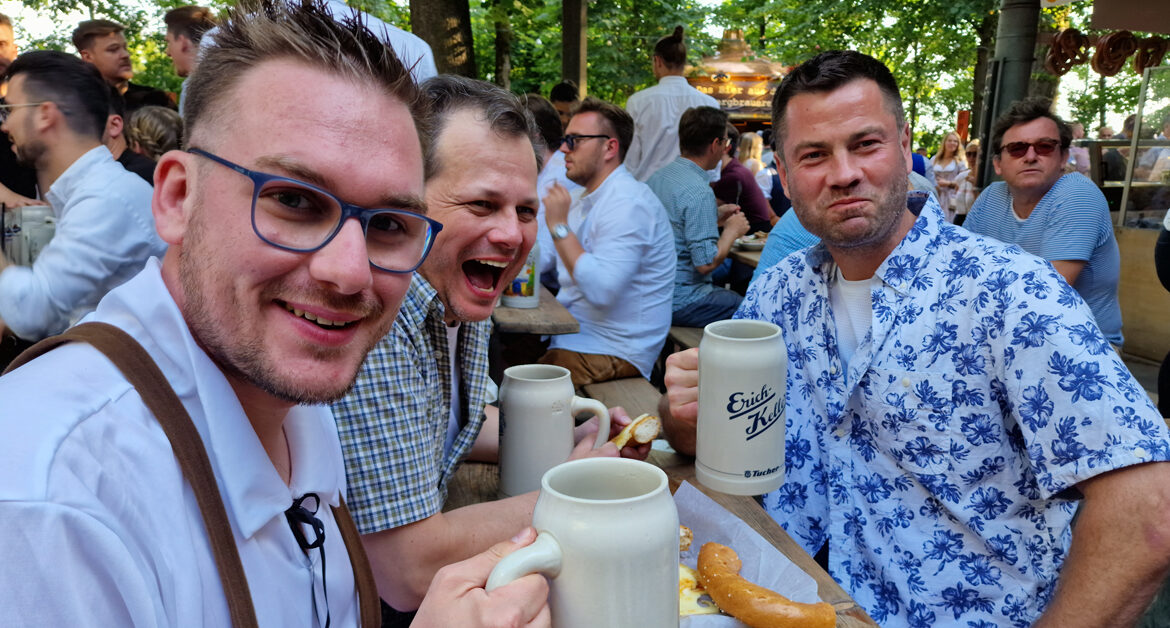 ---
The next morning, I woke up with a terrible hangover. It took me at least an hour to get out of bed, and a further hour to leave the hotel to meet Stefan at Café Mengin for lunch. It took me a few moments to order, but I eventually ordered plenty of cordial with soda, this stuff was amazing. It was very refreshing.
I went for some Thai food and that would keep me going till later. We spent a couple of hours here freshening up with plenty of fluids. We then walked around the Botanischer Garten, the 19th-century university botanical garden then walked towards the Berg. We had a further soft drink before driving on the dodgems and then finding a Keller to sit and drink at. I was very tired from the day before, but we still managed to have some beers on the final weekend day before the closure.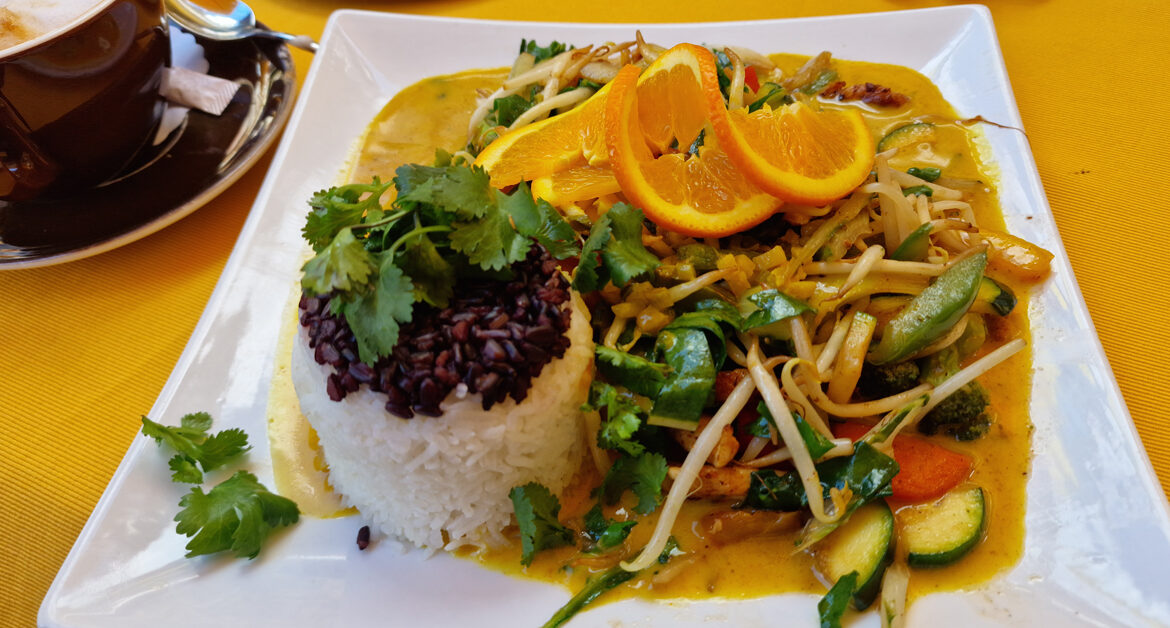 ---
It was a firm day, but we were slowly heading towards the final hours and would head back to rest before eating some dinner and having an early night. I would file the flight plans and paperwork for the flight back to the UK via Baden-Baden and then would head out to find food.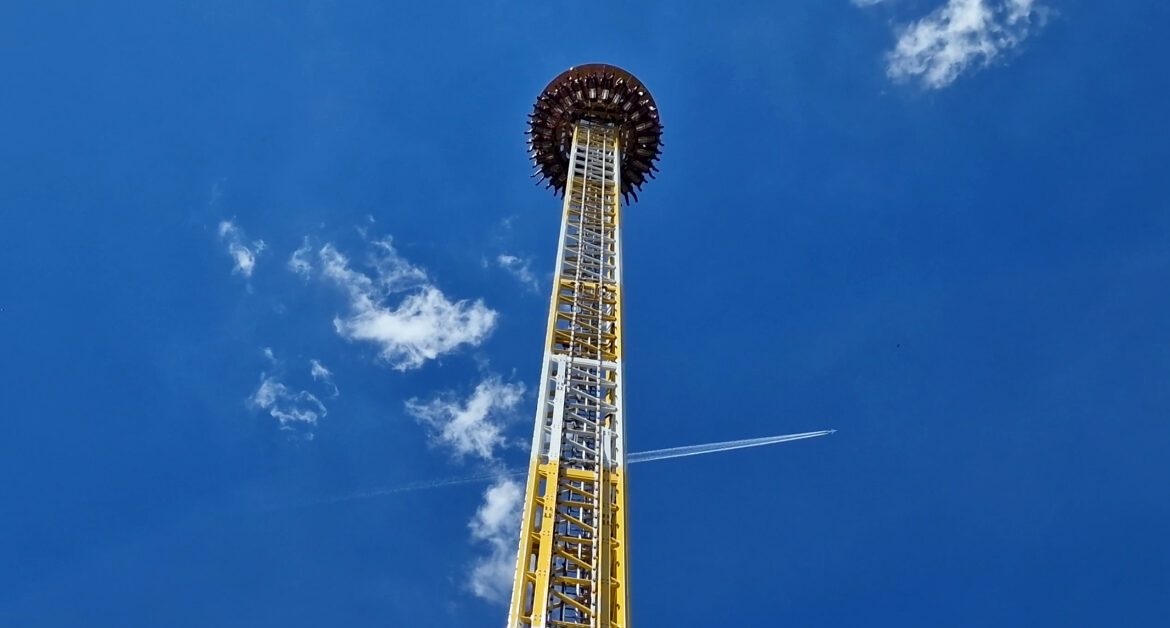 ---
Sadly, all places had closed for the evening, but we did come across Restaurant Palmyra, an authentic Arabian, Middle eastern bar. I ordered plenty of food to give me an ounce of energy to go back to the hotel and get everything ready for the flight tomorrow.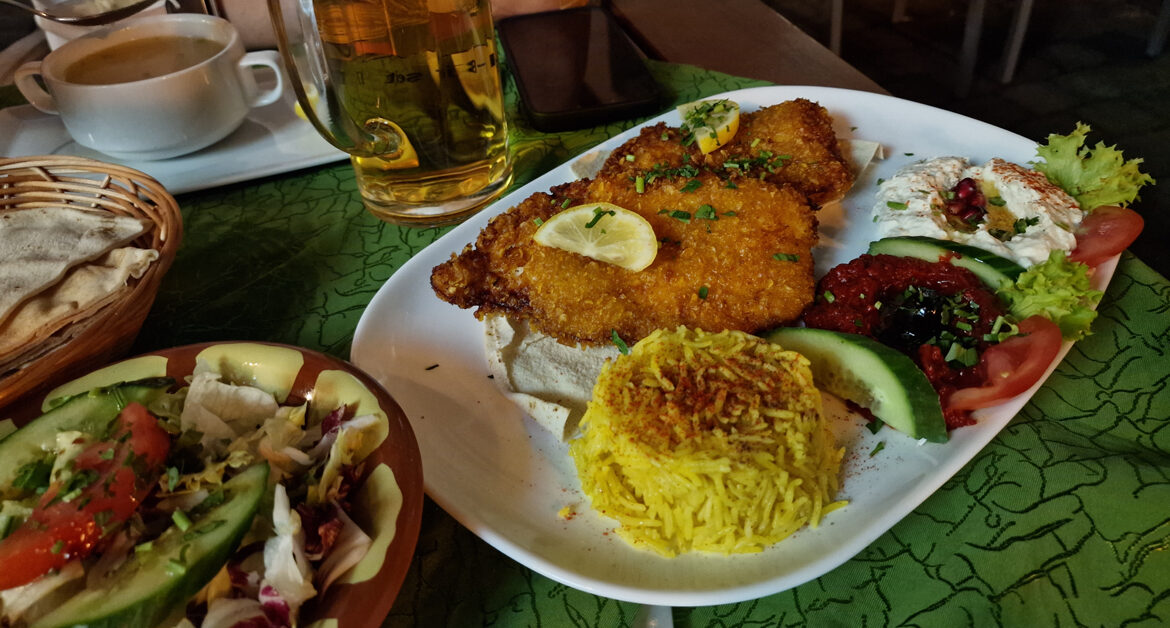 ---
I went back to the hotel but struggled to find a location that sold drinks. There was literally nothing open at this hour, sadly. I had some snacks for the morning, but nothing that would power me through fluids-wise. It would be a relatively early start, without breakfast (Although we had some snacks and sweets).
We met at 9 am and travelled to the airport which took 30 minutes. We would not need to depart for at least an hour, but I wanted to ensure we had sufficient fuel for the return journey and that the aircraft was all in order.
Flight to Baden-Baden –
The flight back to the UK would be split in two ways. I was keen to fly to another location and split the long journey home which would be plagued by the usually westerly headwinds. We would initially fly to Karlsruhe Baden-Baden, which is made famous by Matt Guthmiller and JP/Louis flying into at night in icing conditions. Google gave some suitable dining facilities, but I didn't really plan this.
The plan was to fly to Karlsruhe/Baden-Baden Airpark for food (According to Google, plenty of Burger joints) and open at lunch, yeah right… This was in a general WSW direction from Nuremberg passing Stuttgart (Which would be our alternate), before the rest of the journey being in an NNW direction towards Belgium and up to the UK. This would hopefully be a shorter overall day than doing the flight direct in strongish headwinds.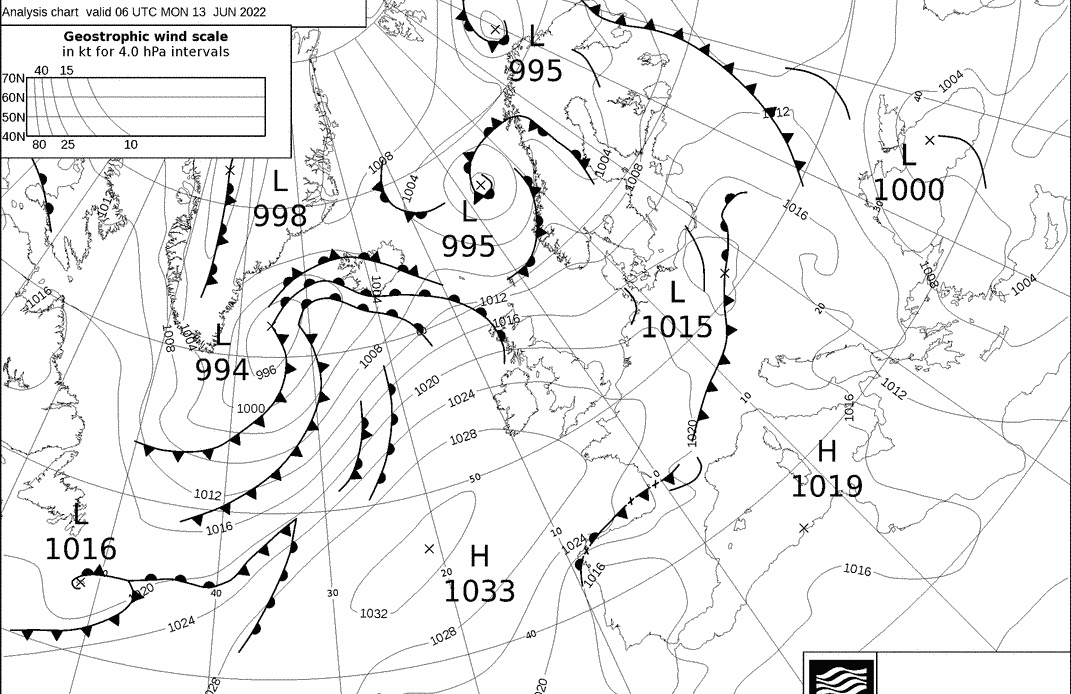 ---
Having been marshalled onto the stand of what we thought was the correct way, the operations person wanted us to spin the aircraft a complete 180 to face the other way as we couldn't be pushed back. Obviously.
We turned the aircraft around, the refueller arrived on the stand and we filled the tanks to the tops and hoped it would be enough to get back to the UK. We press on. We managed to jump in the aircraft and depart on time for our first leg of the day. Sadly, this adventure was drawing to a close and the journey home was beginning.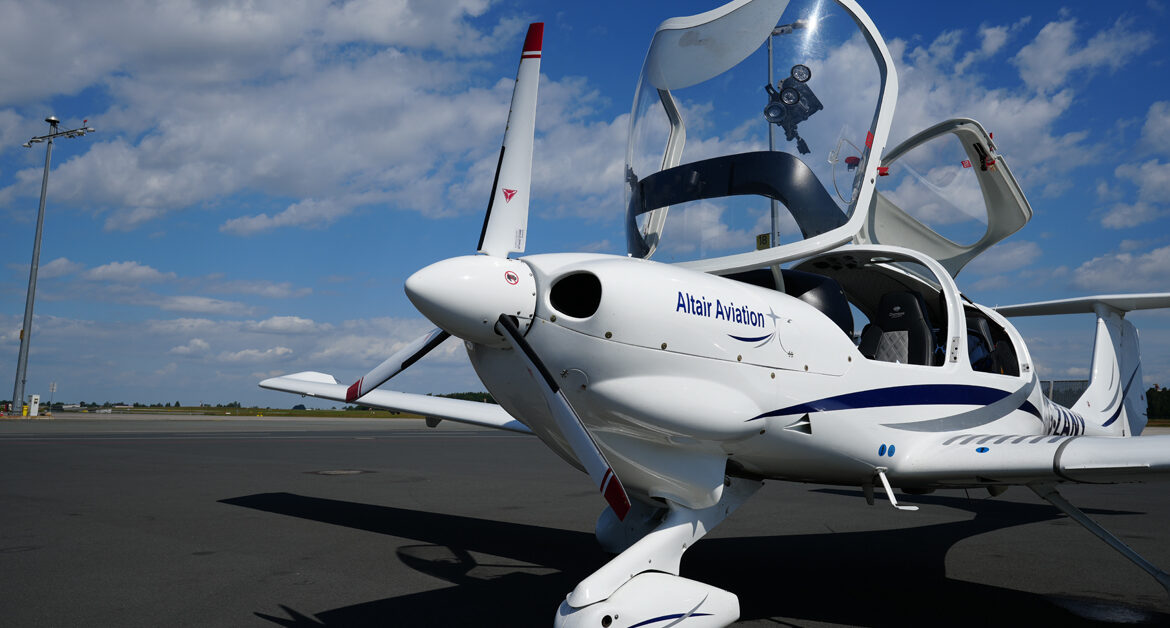 ---
We did the long-complicated taxi from the GAT to a holding point a couple of hundred meters from the start of the runway. The winds had picked up and there was a bit of convective cumulus around but nothing concerning.
After completing the power checks, we called ATC, and they cleared us for take-off. We rolled down the runway and the airspeed notably came alive very quickly. We rotated and the stall warner bleeped at me as we left Bavaria for the Baden-Württemberg region of Germany.
The conditions on departure were pretty lumpy, but it was to be expected for this time of the year with gusty conditions from the surface heat and cumulus. It was pretty rough inside the cells too, with airspeed all over the place and lots of turbulence that I thought to control. The aircraft struggled to climb at points due to the conditions and the fact we were almost at MTOW.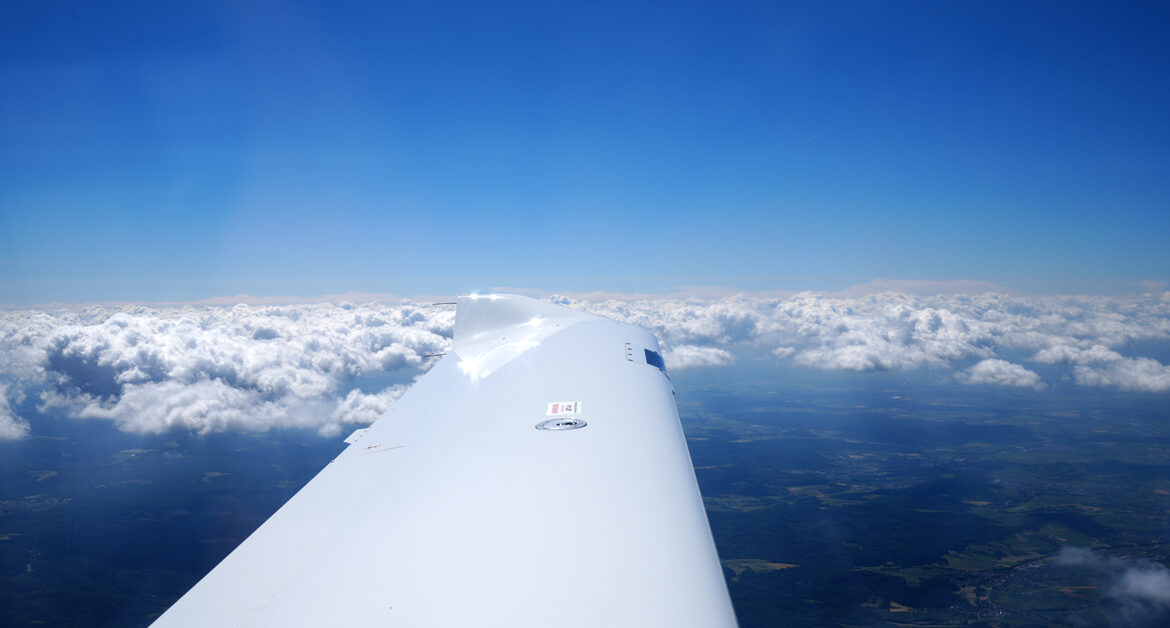 ---
We quickly got above the clouds where it began to smooth out. We noted on the weather radar there were some cells to our north and some weather in Switzerland. We quickly got a route direct to KRH VOR (Karlsruhe). We originally briefed for Runway 03, but the wind changed direction as I briefed and so did the likely runway in use. It was a surprise but these things can happen, as the area has many microclimates due to the differences in the landscapes, in the subtropical Upper Rhine Valley – this can cause the wind to change direction at short notice.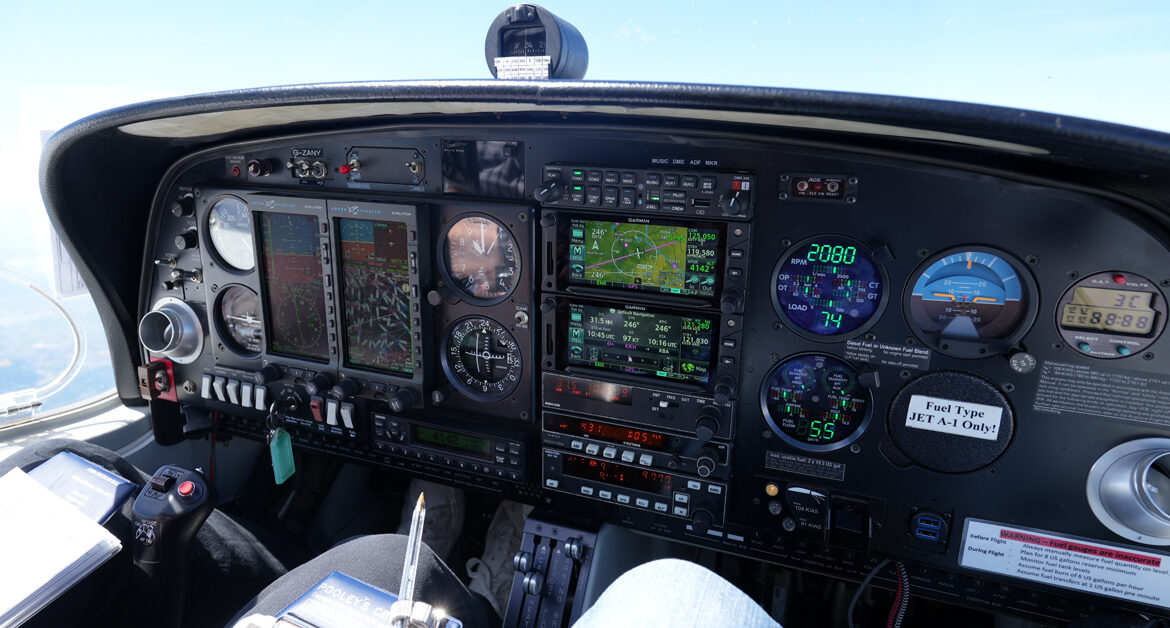 ---
As we approached the airport, I negotiated a shortcut that would save 20 minutes flying the whole procedure with a shortcut to a fix on the RNP approach, and despite there being some traffic ahead which meant we were given vectors anyway, this reduce the flight time a fair amount. That said if you don't ask you don't get.
The descent and approach were fairly bumpy, with a huge amount of turbulence between 4500ft and 3000ft where there was an inversion of the temperature, a lot of shearing and changing of wind direction in the Summer heat.
Once we were established and handed off to the tower, we initially were to expect what would appear to be a late landing clearance for a departing Whizzair. As we got closer, ATC elected to make us number 1 and we landed in front of the jet, and it was an awful landing to what I'd hoped.
A short taxi to the GAT which I have to say is a very weird setup. You park on a stand that is massive, and there are only 4 of them. So not sure what would happen if they are all full, but a SEP and even a jet would probably fit in the gap, these stands are massive for GA. 50 meters or so behind your parking is the Private Aviation Center GAT. There was literally nobody there and is all self-service with someone on the other end of a bell/speaker system navigating you in and out.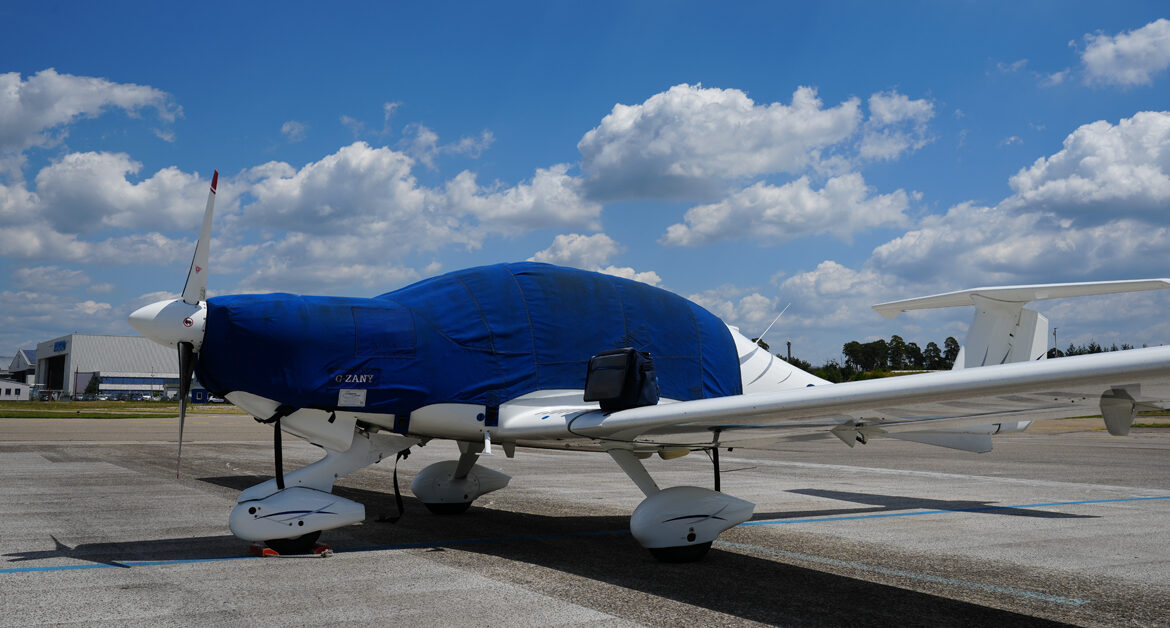 ---
I'd highly recommend you take your license and passport as these are checked by a camera on the way back. But a fairly friendly system and a perfect place for everyone to sit and wait whilst you check the aircraft over.
We asked the gentleman on the phone if we could eat nearby, and he said. Impossible, nothing is open – and we didn't believe him. This was Germany, on a Monday, in the peak summer season. Surely not? So we left the centre and started walking through pieces of old history as this looked like it was a former military base, and a quick google shows it was.
ATC Flight Plan & Route Flown –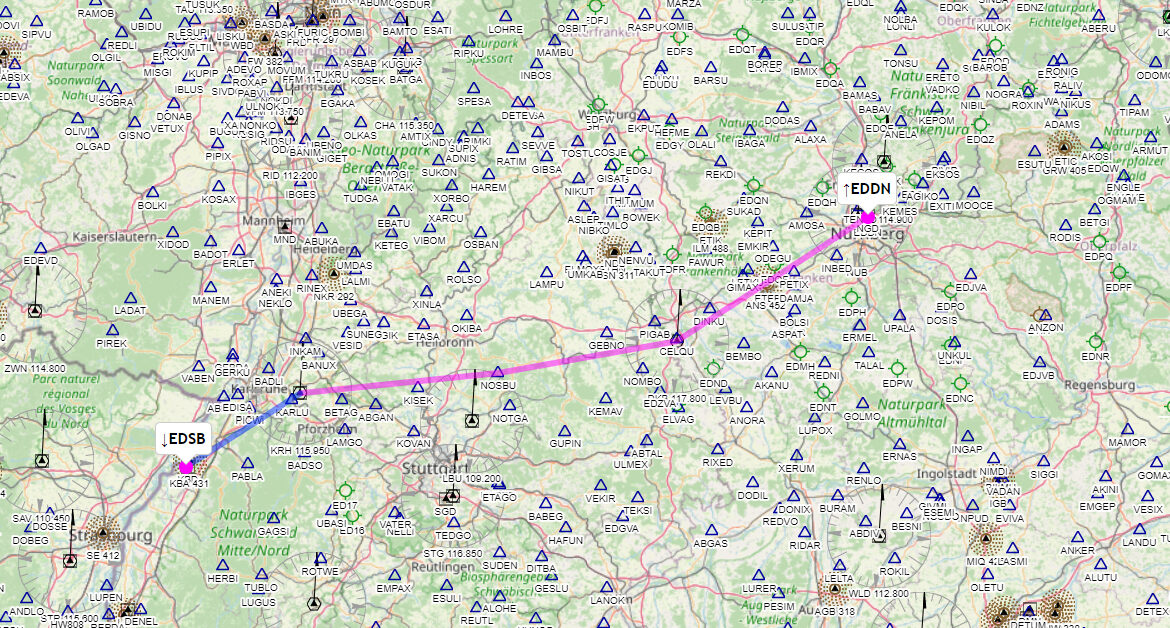 ---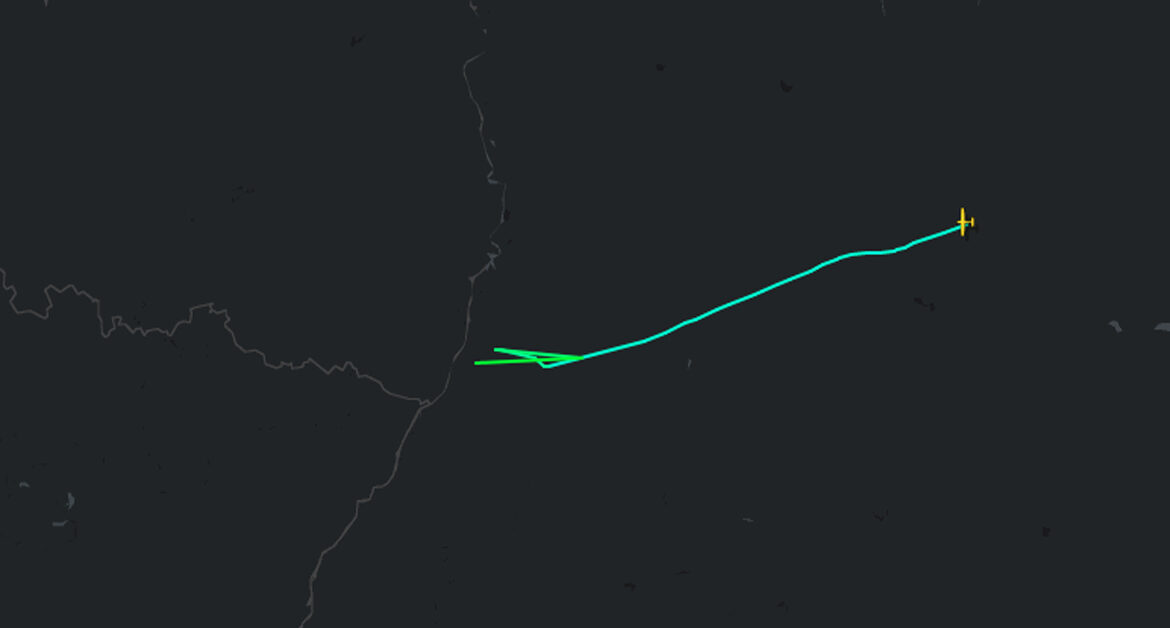 ---
Lunch in Germany became Lunch in France –
Sadly, this was slowly becoming extremely bad planning of a location to eat. Who would have thought it would be a problem on a Monday? When we had left the GAT, we started walking around the permitter fence and bumped into a lady (We were hangry) and just wanted grub to settle us for the rest of the day.
She also informed us that today it would be impossible to find food nearby. So we kept walking and made a split decision in the June heat to hail a taxi. How lucky was it, that one was coming? We found a spot called Roppenheim – The Style Outlets which was in France. This would be 30 minutes each way and a grand total of 50 EUR each way in a taxi. One expensive lunch.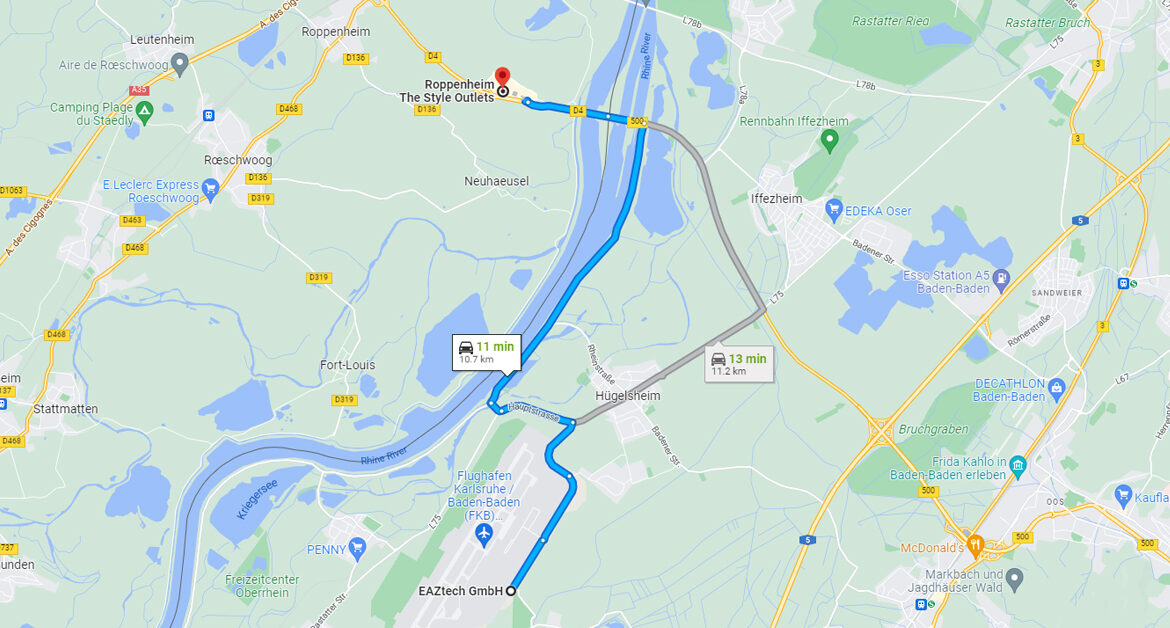 ---
We needed Nutrition and needed it fast, so there was no messing about. We told the taxi driver we needed a taxi back to the airport by this time, and so he sorted us out to meet us to take us back later that afternoon.
We rang Kaimug Thai Street Kitchen to book a table, although when we arrived it seemed not the sort of place you would need to wait around, Stefan wasn't taking any chances. We needed food and food fast. We ordered a fair amount but not stomach overloading. Some chicken satay, mini spring rolls and a really healthy, but nutritious stir fry whereas Stefan had a Thai green curry, which looked (and tasted great).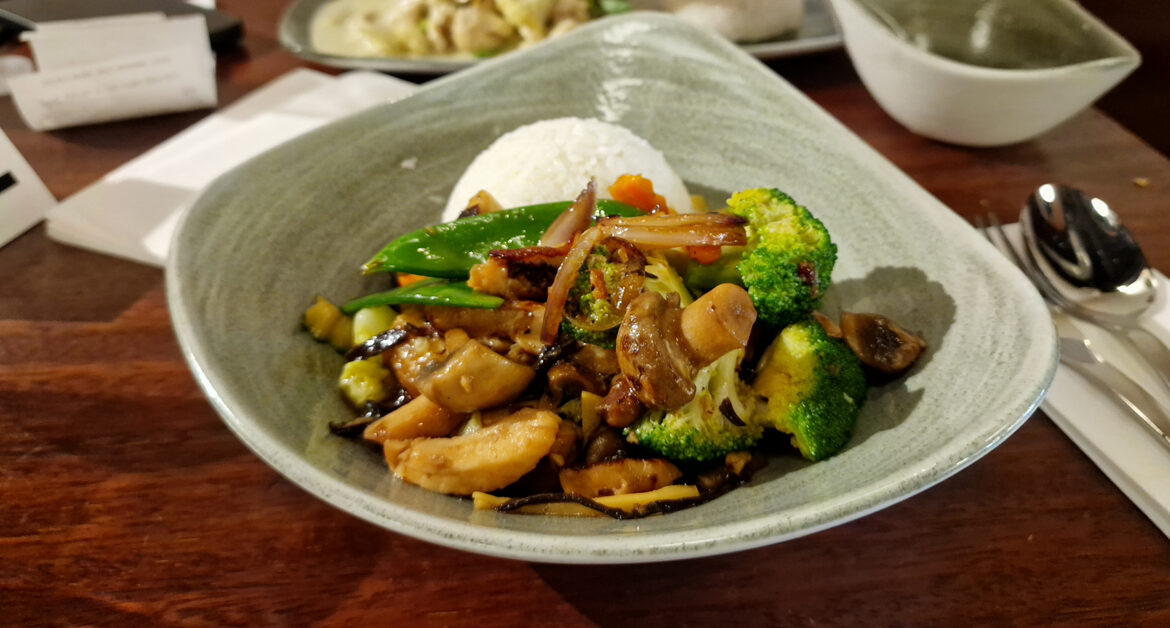 ---
This was actually a great stop, except for the cost of a taxi to/from. I highly recommend if you wanted to split your Euro tour up and stop here for shopping in the outlets and get a bargain (I didn't look at the shops) or some lunch then it isn't a bad idea. Alternatively, research some of the restaurants nearby, see if they are open, book them and enjoy lunch in the local area. It just splits up the long-direct flights back to the UK and provides a great place about 2.5-3 hours from the UK.
This was the best part of a 75 EUR lunch each (Due to the taxi) but tasty.
When we returned back to the GAT, the automated process of re-entering and speaking to a person was down the phone. We could either leave bank details on a slip of paper or download the Aerops app and pay the fees, which I did. I had some time to plan the flight back and then go check the aircraft had sufficient fuel for the return and was safe for the flight back to the UK. It would be a relatively long one towards the end of the day, so needed to make sure everything was good.
The Aerops app is fairly easy once installed and you've signed up –
"Pay and invoice landing fees, airport charges and fuel bills ­­– easily, securely and conveniently via aerops!"
Fees for Baden-Baden –
Arrived from Germany, Nuremberg (EDDN) – Departing to UK, London, Stapleford (EGSG)
Landing Fee: EUR19.25
Parking Fee: EUR13.04
UK Total: £27.73
Taxi to/from France: £86.26 (Return – oops)
Jet A1 Uplift: £117.96 (32 litres) @3.68EUR ltr (£3.68ltr)
Final flight home –
After refuelling, we phoned the local police and they informed us they would not attend. Rather annoyingly they did and this delayed us slightly, but the lady quickly checked over our passports and then left. Moments later another two officers turned up and checked us again, thus delaying us by 15 minutes. This couldn't be helped but we eventually started up and got our ATC clearance within the time.
We taxied out to the hold and took the intersection departure as a Ryanair passed behind us for the full length. Power checks completed we called ATC and lined up and departed. It was less bumpy at this time but there were a few lumps as we climbed up. We were quickly given a right turn and a significant shortcut before being given a further right turn to the Grostenquin VOR.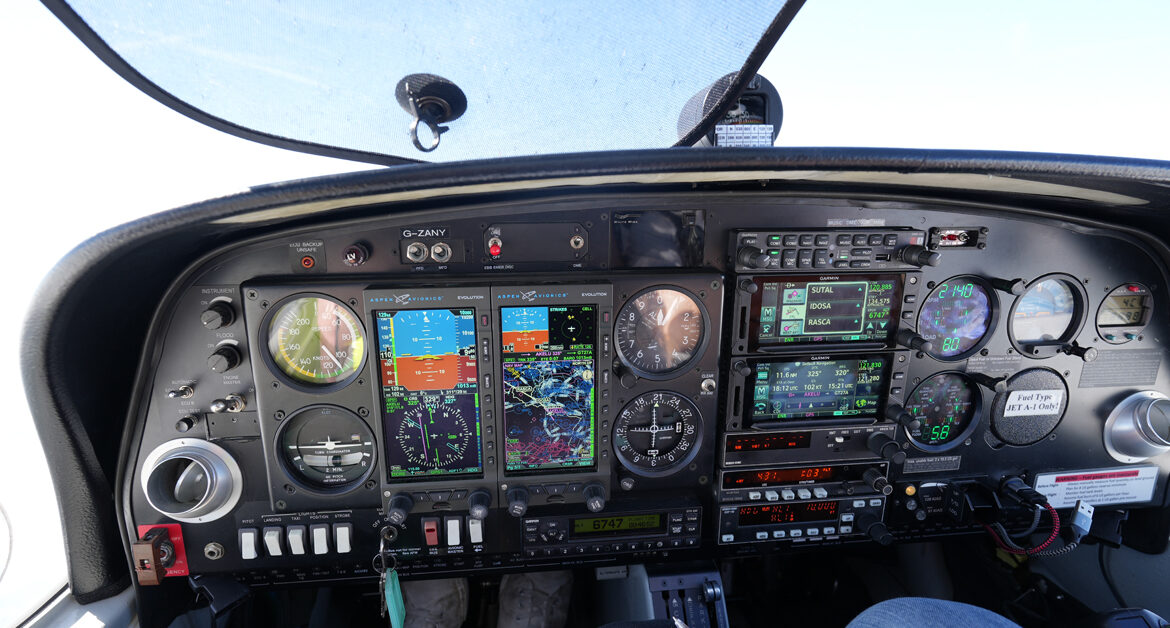 ---
We were then placed on vectors, a commonplace when low-level (FL100) in the airways system when flying near the routings of a major airport. We would fly to the east of Luxembourg Airport as its arrivals would be vectored around us and below us, whereas our planned route conflicted with its departures.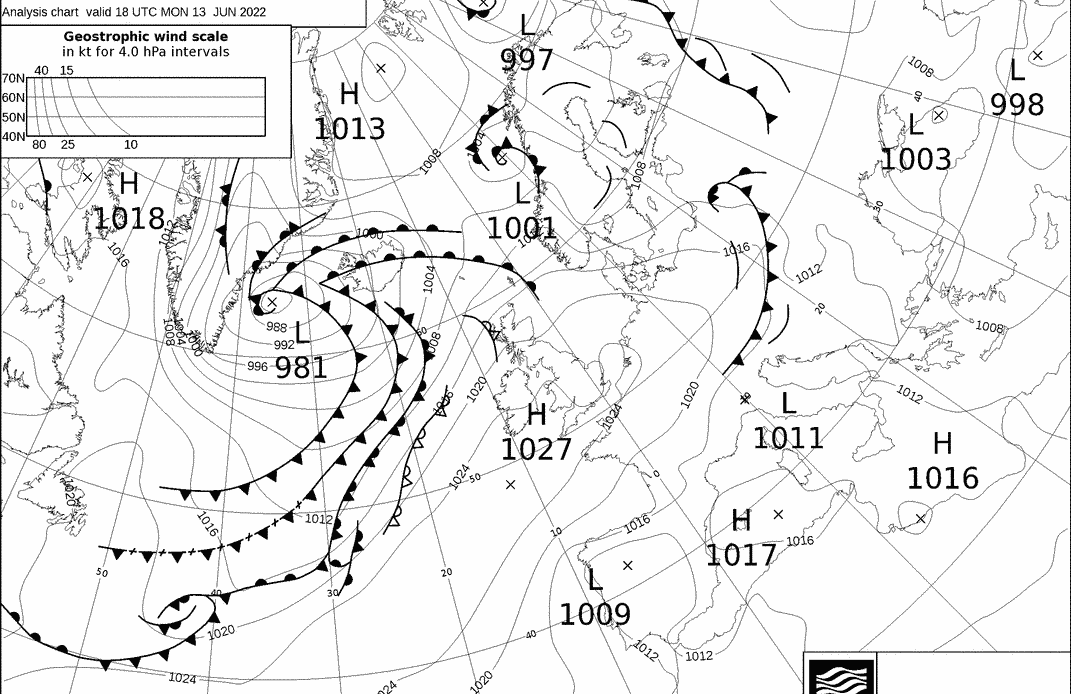 ---
We were then handed over to Brussels control who did the same with us, they took us south of Brussels Airport to ensure we didn't conflict with its terminal traffic. This seems to be commonplace for GA traffic at lower levels. It helps to place RMK/IFPS REROUTE ACCEPTED in ITEM 18 of the flight plan as it gives ATC greater flexibility to re-route you more efficiently, sometimes to give you more direct routings and sometimes (in this case) to favour air traffic control, although it was no skin off of our teeth as I am sure if we didn't accept a re-route we would have possibly got a far worse re-route to the south and well of the direction of the destination.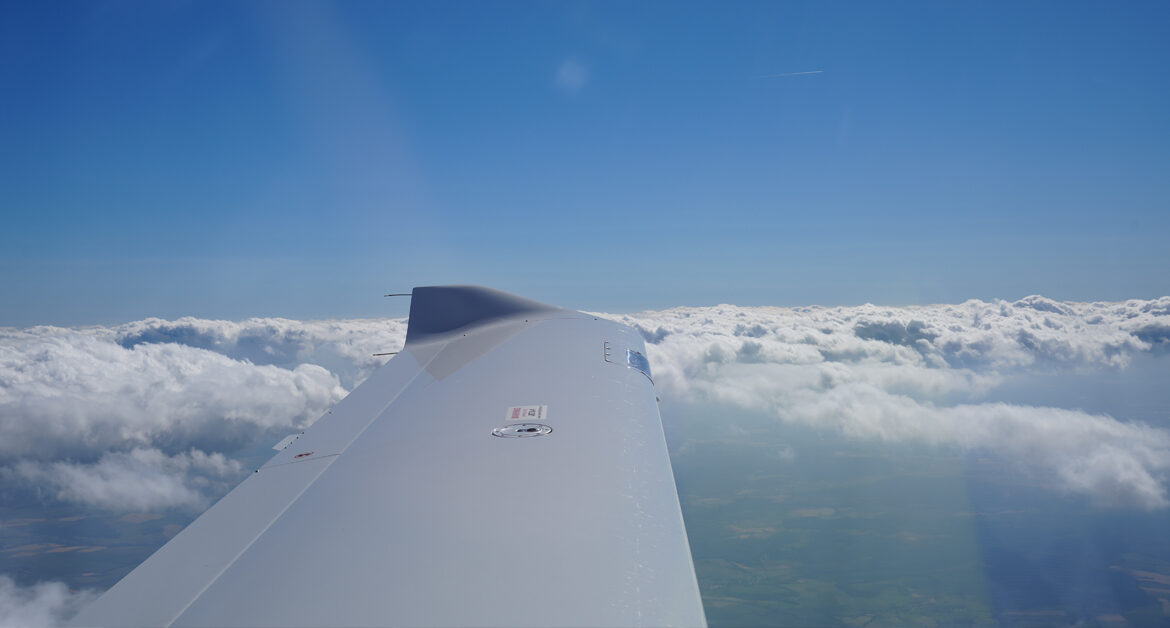 ---
This was a rather long flight, so I checked out the Bluetooth function on the Bose ProFlight 2 to enjoy some in-flight music and enjoy the views. A quick check of the playlist and off we go.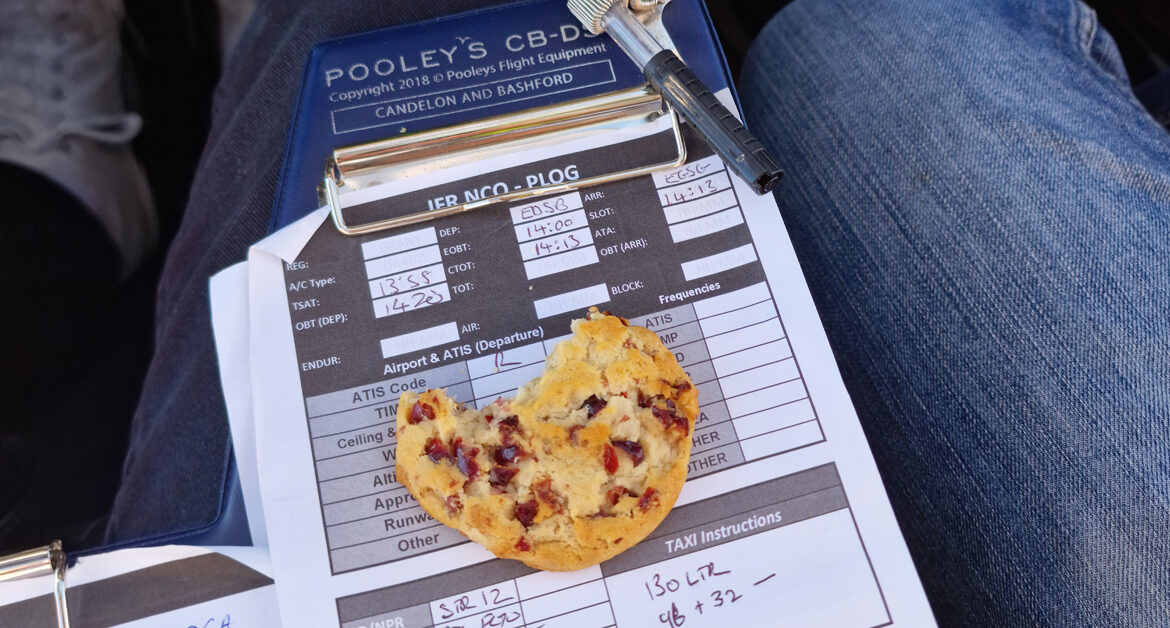 ---
A few handovers later we quickly found ourselves on the final part of our flight and the final part of this epic journey. As usual, we were handed over to London early and routed towards DET (Detling VOR) and were kept high for the crossing. Earlier than usual, we were handed over to Thames Radar who gave us a descent to leave controlled airspace.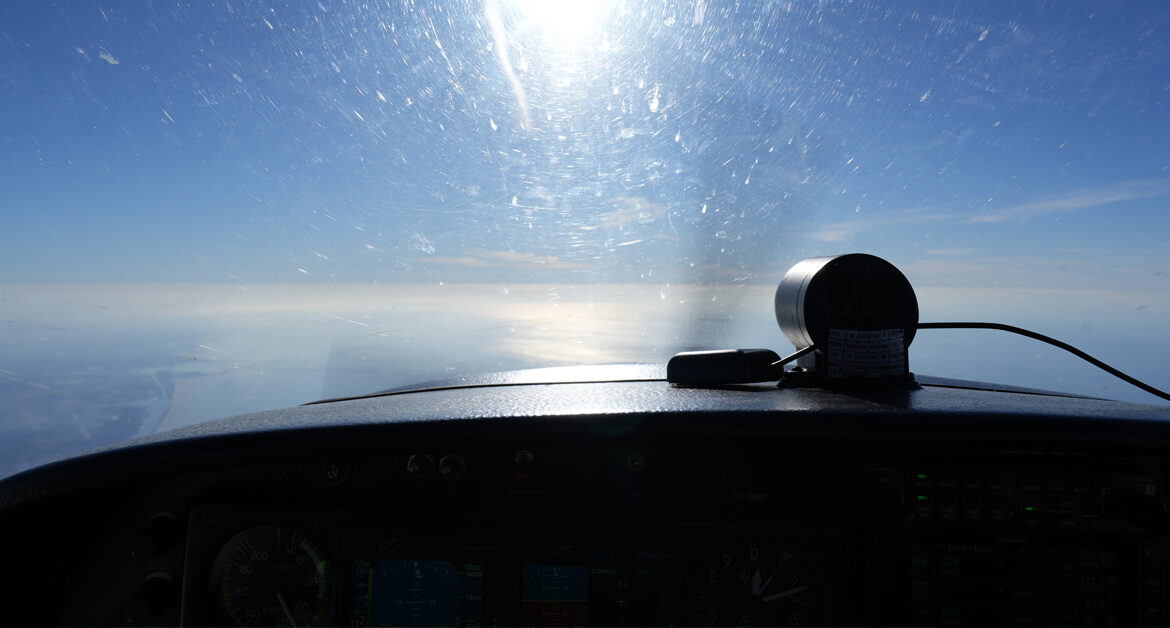 ---
As we began our descent and went through a layer of murky air, we informed ATC we would like to remain in controlled airspace for a short time longer as the visibility was poor into the sun. Whilst Thames Radar was busy, they did accommodate and handed us over to Southend Radar who took us up through their airspace and towards Stapleford.
A left base for runway 21L we made an impressive landing after 11hrs and 30 minutes of flying to Prague and back. A quick taxi past the clubhouse to check for the UK border force, and then back to our usual parking spot. What an epic trip.
ATC Flight Plan & Route Flown –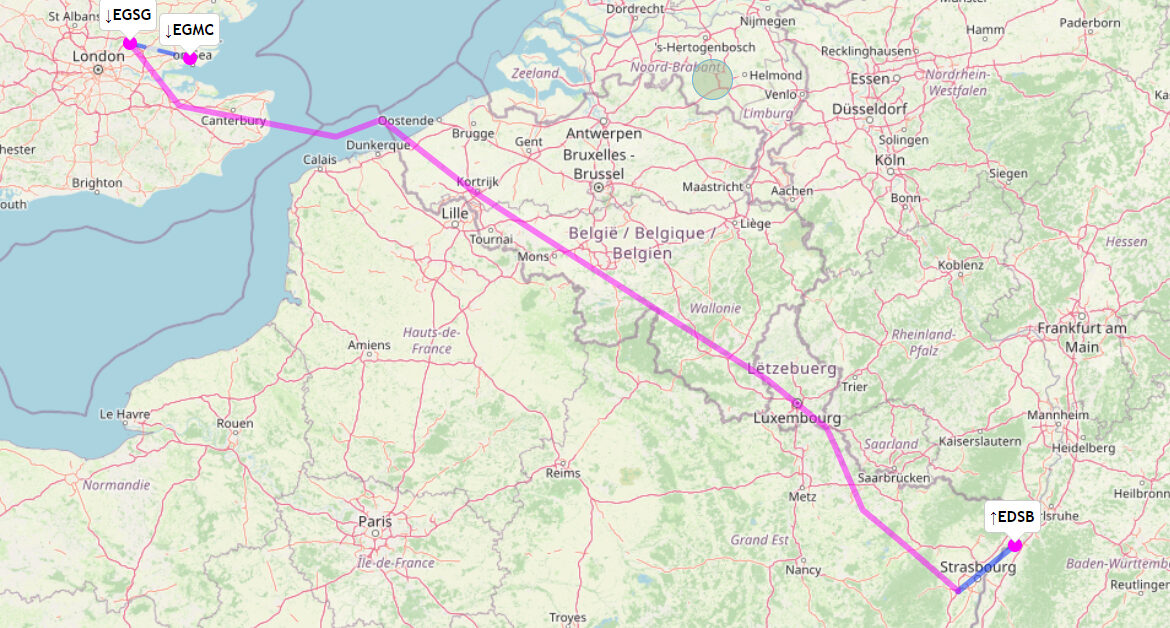 ---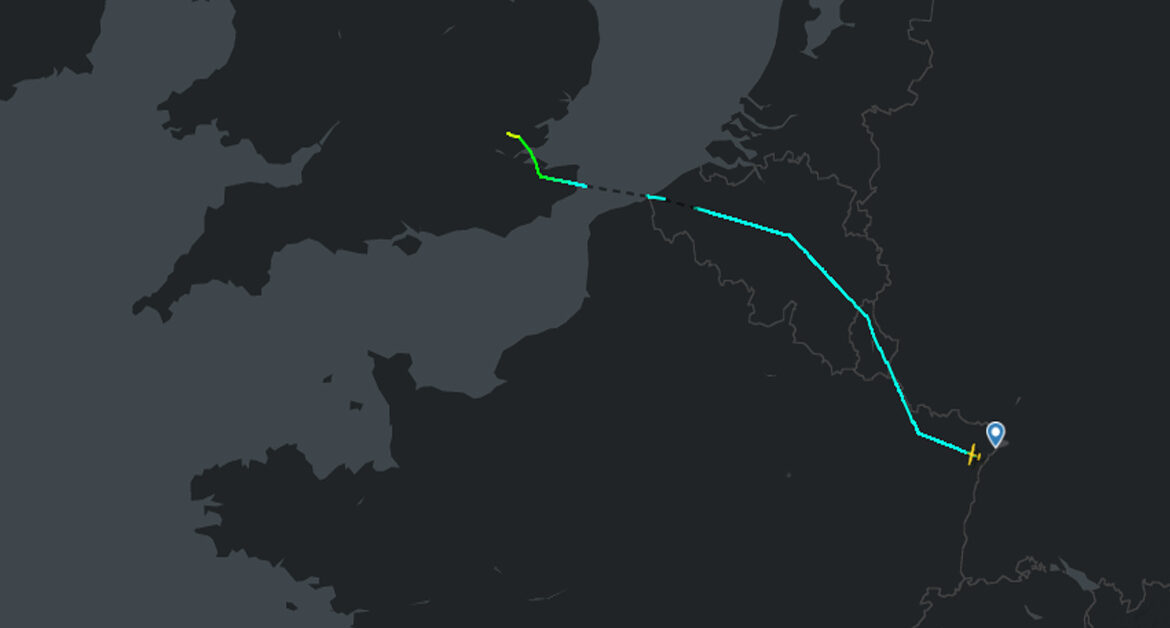 ---
Outcome & Costs –
Whilst initially the trip was planned to route to Nuremberg and back, we made the trip a bit more special with a flight to Prague and to route back via Baden-Baden/Karlsruhe for lunch. The intended reason for this stop was to have lunch and to have sufficient approach experience in readiness for my first Instrument Rating revalidation. This would be the last time I flew before that flight.
Despite the challenges of the first flight, with en route weather, the rest of the trip was uneventful and all flights took place as planned with no real weather issues. Despite some convection forecasts, none of this impacted us majorly. It was great to see that we finally reached the Berg, after many years wishing to visit and the emotions of completing such a big trip on the back of the trip to Spain.
Much experience was developed on this trip and would be the catalyst for developing my Standard Operating Procedures (SOPs) and eventually a re-write of the Normal checklist and to enhance my flying skills.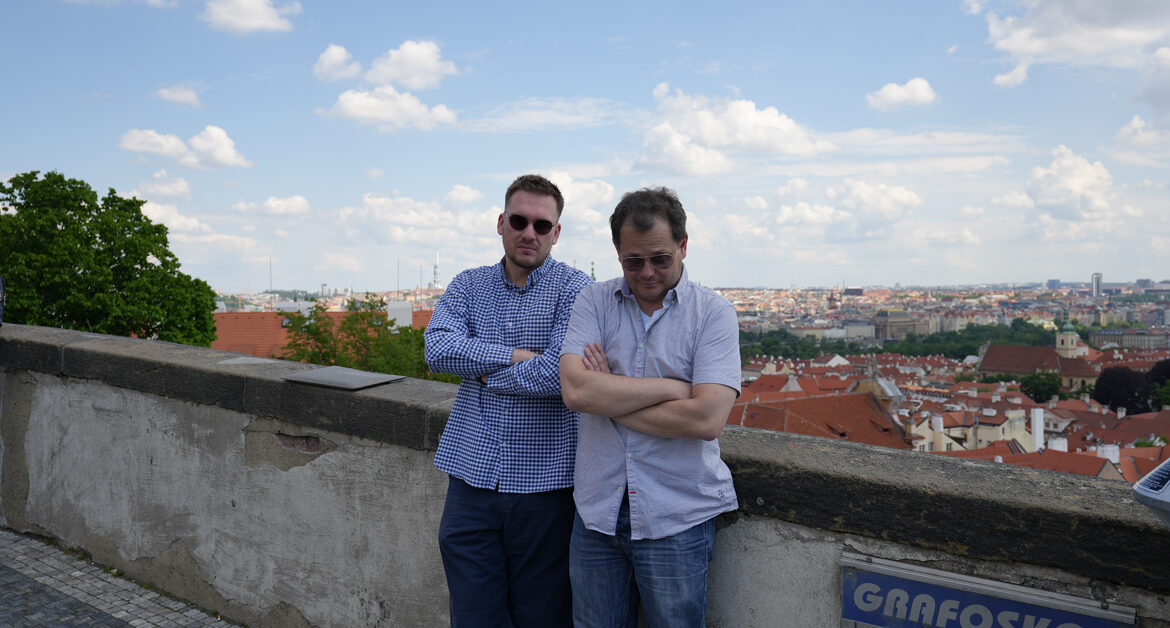 ---
Prague Costs –
Food, Drink & Leisure Costs: £430.27
Taxi Cost to City: £28.33
Hotel Costs: £240.96 (£120.48 each room)
City Tax: £7.6 (£1.9 pppn)
Airport Costs: £189.51
Jet A1 Uplift: £42.12 (23 Litres) @£1.83ltr
Sub-Total: £938.79
Erlangen Costs –
Food & Drink Costs: £205.20
Taxi to Erlangen: £43.12
Hotel Costs: £278.37 (£139.19 each room)
Taxi to Nuremberg Airport: 50 EUR Approx
Sub-Total: £568.69
Costs in Roppenheim –
Food & Drink Costs: £56.80
Flying Costs –
Lifejacket Hire: £20.00 (trip)
Aircraft Charges: £2,073.40 (@ £183 per hour (11 hours 20 minutes flown))
DFS Navigation Charge (Germany AIS): £24.00
Airport Fees: £328.62 (As above)
JetA1: (Wet Rate drawback) Credited £207.90(-) (GZANY) (165 litres at EGSG rate)
---
Total Cost –
Total Costs (Non-Aviation): £1275.85
Total Costs (Aviation): £2701.96
Total Costs (All): £3977.81
---
Version 1.0 – Last Updated 11/12/2022
Aircraft –
The aircraft is a DA40 TDI, which uses a Thielert "Centurion" 135 hp (101 kW) diesel engine and burns diesel or jet fuel. It has a constant-speed propeller and FADEC (single lever) engine control. G-ZANY is based at Stapleford Aerodrome, Essex, UK and was delivered as new in 2003.
Read more about the aircraft on the dedicated page

Supporting the YouTube Channel –
Support the YouTube Channel –
Welcome to The FLYING VLOG…
I am a current PPL(A), SEP (LAND), IR(A) SE/SP PBN, IR(R) & Night holder. Flying the world, exploring its hidden treasures. Taking pictures and vlogging the journey; I hope I can provide you with an oversight of my progression as I develop my skillset and airmanship in exclusive videos on my YouTube channel.
Now flying IFR in the Airways of Europe & beyond. Bringing you an exclusive niche to YouTube, flying in the same skies with commercial airliners.