One aeroplane, one pilot, lots of planning, severe storm winds, fog and heavy rain, 3 lads and a Cornish Pasty. What a trip, and what a weekend. The accumulation of 4 flights over one weekend in the Summer.
Planning my first trip –
Having just came over from a club based aircraft to an IFR equipped aircraft with touring capabilities, the idea to fly to Newquay came about late April, early May. I just completed the differences training on the Diamond Star DA40 as stipulated by the Civil Aviation Authority and I was getting used to the aircraft.
One thing I realised with the DA40 is that it was an incredible aircraft, with great performance. The aircraft uses Jet-A1 fuel and features an impressive IFR specification with long-range fuel tanks, with over 1000nm range.
Planning for this trip with three people and there bags for 220nm each way should be no problem…
Fly Newquay –
I emailed Flynqy Pilot training as the preferred handling organisation at Newquay Airport. This is for those who wish to use the aerodrome for training or require a weekend/night in Cornwall with a maximum take-off weight not exceeding 2.5 tonnes and who do not require handling.
I arranged parking, JetA1 and a taxi to/from our accommodation. I explained that we would use the ILS if we had any issues with marginal conditions.
I sent emails back and forth with this friendly organisation to keep them up to date on my plans. They offer an our of hours service, but if we did indeed land after the 1830hrs then we wouldn't required anyone at the facility.
The landing fee was £25, parking was £4.80 per night and JET A1 was reasonably priced at £0.68 per litre. As of writing these prices have increased somewhat, but not by much. This is a reasonable cost for a international airport on the North Atlantic Coast.
Accommodation Plans –
Newquay is a town on the north coast of Cornwall, in southwest England. It's known for sandy Fistral and Watergate Bay beaches, where waves from the Atlantic Ocean create strong surf.
I gave the booking privileges to one of my passengers. We would all stay in a 2-star hotel called the Legacy Hotel Victoria. Housed in a grand Victorian building, this elegant hotel sits behind the South West Coast Path and overlooks Tolcarne Beach, from which it's a 3-minute walk.
This was priced well, but for obvious reasons that would become apparent on arrival. Newquay is expensive in the peak season. So this would suit our budget. We paid just over £100 each for the two nights.
Fortunately there's plenty of options to choose from, but you must book early. Booking.com allows you to use a free cancellation and guarantee a hotel/apartment for cheaper on the website. This is great for last minute cancellations or changes, especially in the General Aviation world.
Weight & Balance –
One showstopper for the non-stop flight would be how heavy me and my passengers were. This would give very marginal fuel conditions and put us at max take-off weight. In consultation with the owner, and taking his advice I elected to stop each way at Gloucester so I had sufficient IFR reserves for the flight.
The basic empty weight of the aeroplane is 829kg. This gives a useful payload of 321kg. This is simply because the aircraft is heavily equipped for IFR flight and doesn't have the necessary modifications that the newer DA40's have for 1280kg MTOW.
Schedule fuel stop –
Because of the fuel restrictions due to our heavy payload, we would elect to stop at Gloucester which is ideally placed for our flight to Cornwall. At just over 100nm, Gloucester was a short hop in reference to the journey to South West England. It provided a little comfort break for all on-board and would only add an additional 1 hour to the journey time for re-fuel, checks of the aeroplane and any due diligence with the weather.
It was a bit frustrating for my passengers, but they seemed to grasp an understand safety and the need for accurate planning, extensive fuel reserves and the ability to get it right.
Night stop –
On the 30th June 2017 we would make our flight to Newquay via Gloucester. Having looked at the weather throughout the week, we soon realised that we probably picked the wrong evening of the Summer to fly our much needed trip away.
With an extensive trough of low pressure situated over the UK, stretching across Scandinavia, the weather on the day would prove to be challenging by most pilots standards.
With the first TAF I look at being the lunchtime TAF that morning for Newquay, I was already looking at cancelling the entire trip on the basis of the weather situation.
TAF EGHQ 301100Z 3012/3021 33020G30KT 9999 SCT010 TEMPO 3012/3021 7000 RA BKN008 PROB30 TEMPO 3012/3021 4000 BR BKN004=
It was reasonably acceptable that our decision for a tech stop was appropriate, but more so in the UK when flying under the privileges of an instrument rating as a single pilot or in my case an IMC Rating.
Not only would I be fighting a forecast of 40 knot winds at 2000ft, we would be flying through a frontal system with the threat of mist thereafter. Although this was indicative of the wind calming down and a gap may appear as the front dissipates as it hits a strong Azores high, it was something I wasn't overly keen on.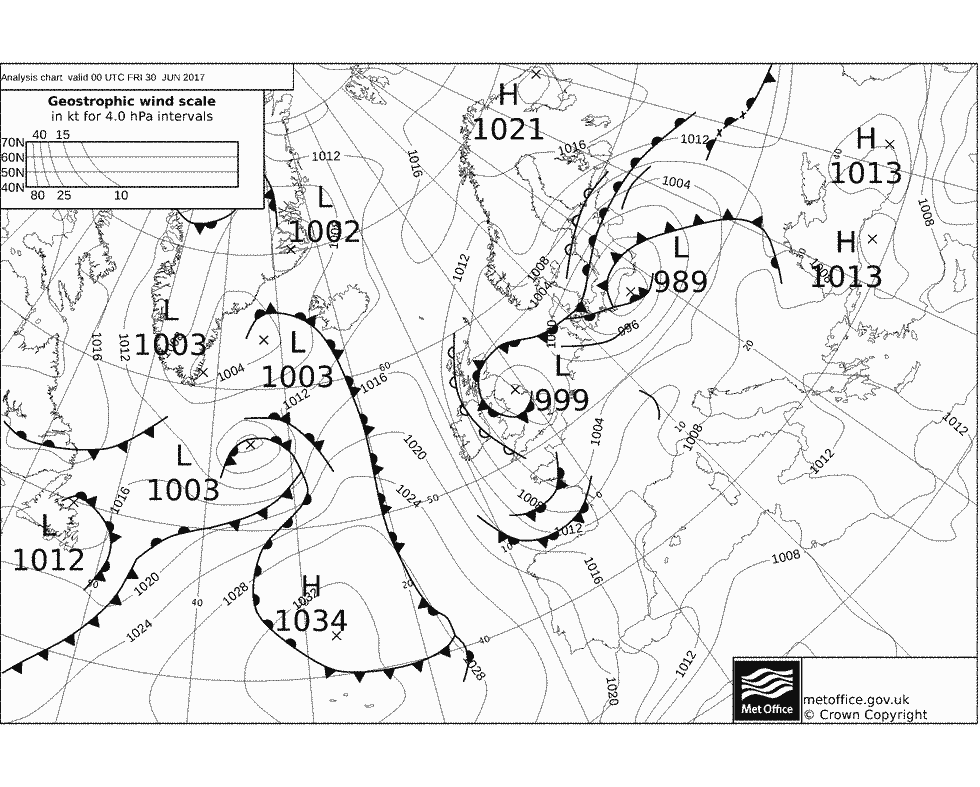 My judgement on the weather was trully accurate as the TAF would update later that day for somewhat an improving situation. With the threat of mist lingering. High Pressure won on this occasion.
TAF EGHQ 301355Z 3015/3021 34020G30KT 9999 SCT010 TEMPO 3015/3021 7000 RA BKN008 PROB30 TEMPO 3015/3021 4000 BR BKN004 BECMG 3018/3021 34010KT= 

TAF EGHQ 301658Z 3018/3021 34020G30KT 9999 SCT020 BECMG 3018/3021 34010KT TEMPO 3018/3021 7000 RA BKN012= 
The weather would improve as we flew to Gloucester, but I wasn't keen on limiting my options of a diversion to continue towards Newquay and then not being able to land. We would depart at 5pm, landing at 6pm. When I looked at the weather for Newquay, it was indicative of a frontal system dissipating. But the upper level winds would probably chew through any additional fuel reserves.
Something that was too risky, as there was so many variables. Threat of en-route weather, threat of stronger than forecast winds, threat of mist and or fog, threat of airports closing for the night. A combination of too many variables that would mean a night-stop is better.
Flight Video – Stapleford to Gloucester
The en-route weather to Gloucester was enough for me to consider that a night-stop is a more sensible choice with limited amount of IMC experience having never used the qualification.
This wasn't the first time that I became stranded in Gloucester, 7 years prior during my PPL training I backseated on a Bank Holiday Monday for some lunch. We had a fuel leak and I got stranded in the nearby Travelodge; strangely 7 years later this same place would be my rest for the night.
The hotel manager was quite helpful in putting 3 of us up for the night, and making an additional bed for us.
After speaking with our hotel in Newquay and providing the aviation organisation at Newquay with an update, we went into Cheltenham for some dinner.
By all means it had to be a cheeky Wetherspoons. A Chicken Gourmet Burger and some absolutely yummy Chicken Wings. Not forgetting a pint of Thatchers Gold, which incidentally is made not far from here down in Myrtle Farm, just south of Bristol in Winscombe.
We would then need some much needed rest, I am sure this was due to the overdose of food….
Flight to Newquay
After a truly miserable night of weather in the South West of England, night stopping us in Gloucester; we decided to make the 173 mile flight to Newquay, and after some intense deliberation regarding the weather we got airborne.
The aircraft was re-fuelled the previous night to the maximum weight we could carry. This was a particularly gruelling exercise weighing bags and people on any scales we could find. Thankfully the wind overnight dropped off substantially.
We woke up relatively early, had a coffee and the weather sadly wasn't all that. I wasn't keen on the extremely low overcast cloud, and my confidence was low to continue till later in the day. As we arrived at the airport, the cloud-base had gone up substantially and I thought it would be ideal to get the aircraft ready for our flight down to Newquay.
The forecast for Newquay wasn't that great. With some typical coastal weather in the evening. But the flight in the morning would be dooable, arriving just after lunchtime. Almost 24 hours later than we planned.
TAF EGHQ 011056Z 0112/0121 29010KT 9999 FEW014 SCT025 PROB30 TEMPO 0114/0117 BKN014 BECMG 0117/0120 BKN006 TEMPO 0117/0121 3000 -RADZ BR BKN003 PROB30 TEMPO 0118/0121 0300 DZ FG BKN001=

It was quite a busy departure with a helicopter to our starboard side, and an aircraft on a procedural service to our west preventing us climbing above any weather. So we was stuck below the base of clouds at 3000ft.
We wanted to route through the the Cardiff CTA, but they was very reluctant to get us across. Then out of nowhere a routing via CDF would be given, and we climbed up to 6,000ft. The view breaking out on the top was beautiful.
We would then make tracks towards Newquay, not before a beautiful view below of Cardiff. This was a relatively short delay, but one that reinforced my need for careful fuel planning on such lengthy cross country flights at almost minimum fuel and IFR reserves.
With 30 minutes at 6000ft and a view of beautiful scenery and the clouds well below us, after almost an hour airborne we began our slow descent into Newquay with radar for an ILS approach.
With a total 2 hours 20 minutes logged, we was in Cornwall. With no direct flights at the time to London, with Flybe having previously pulled out this must mean this was the ultimate and quickest way to travel to Newquay.
A train journey would be over 5 hours, and driving would probably be many more. A direct non-stop General Aviation flight would likely be under the 2 hours mark.
Flight Video – Gloucester to Newquay
Night in Newquay –
One of the first things we did on arriving and dropping our bags into Newquay was eating a Cornish Pasty. The recipe for a Cornish pasty, as defined by its protected status, includes diced or minced beef, onion, potato and swede in rough chunks along with some "light peppery" seasoning.
We found Warrens Bakery as being the oldest in the world. How fitting!
Tolcarne Beach overlooks Newquay Bay. So this was a nice spot as we made our journey around Newquay and had some later lunch.
Mexican in Cornwall –
Newquay's has a favourite Mexican restaurant for over 20 years, and it's called Señor Dick's and is said to bring you a taste of traditional Mexico like no other. It was connected onto our hotel, so this was a first choice for our dinner in our first and only night in Newquay.
It would be an interesting night with a few drinks in the local bars. The sun was setting on this trip very quickly and it was a realisation of the adventure we had the last few days of flying a small airplane to the Cornish coast. It's quite remarkable what you can do with such a small machine.
Fistral Bay –
Following a rather late night, we made the most of our last day in Newquay and after some thick fog clearing. Summer showed itself for one last hurrah.
The walk to Fistral Bay was impressive. The views were stunning and by the time we had walked along the coast, this was the end view. Fistral Beach is best known for surfing. Its west-facing aspect exposes it to Atlantic swells ensuring consistent waves suitable for surfing.
After some much needed lunch and rest from our walk in the Sun. We had to sadly head back towards the Airport to have a chance of making it to Gloucester before it closed for the night. This was sadly a pain, as we could have spent much more time if we flew directly. But sadly, the winds were not that sufficient despite topping out at FL70 on the way back.
Flight to London via Gloucester –
After what was a beautiful 28 hours in Newquay, overnight fog cleared and lifted in this hot Summers day for our flight(s) back to London.
With a nice steady tailwind, we reached our cruise altitude fairly quickly. In exactly 15 minutes.
We was treated by ATC to a rather nice view of Cardiff and the Airport. This was far more spectacular than the flight to Newquay which was obscured by a lot of cloud.
Flight Video – Newquay to Gloucester
After a relatively quick and routine fuel stop in Gloucester we departed for a pre-sunset flight back to London. The airspace was generally empty for this time of day, for this time of year. But having been badly sunburnt on the previous sector. It was great to be on the ground.
After just over 40 minutes re-fuelling and re-checking the aircraft for this final part of our weekend we headed back to Stapleford, after almost 72 hours from home.
Flight Video – Gloucester to Stapleford
Are you subscribed to The Flying VLOG Youtube channel?
(To receive a notification about each new video, hit the little bell icon)